Sentosa is one of Singapore's go-to place when it comes to relaxation and fun. Filled with varied attractions that cater to families, active and sporty types and those just looking to chill, here are 10 Sentosa points of interest that you should know about.
Sentosa Points of Interest
---
1. Sentosa's Beaches – Siloso, Palawan and Tanjong
Sentosa is home to some of Singapore's best beaches. Three sandy beaches line the southern coast of Sentosa. These are the hip Siloso Beach, family-oriented Palawan Beach and trendy Tanjong Beach. Grab a beach towel, some sunscreen and enjoy a day at the beach.
---
2. Universal Studios Singapore
Ride the movies at Universal Studios Singapore. Plan to spend the day at this Sentosa theme park, part of Resorts World Sentosa. You can explore different themed lands and enjoy rides such as Transformers and the duelling roller coasters, Human and Cylon. Universal Studios Singapore should definitely be on your list of Sentosa points of interest to visit.
---
3. S.E.A. Aquarium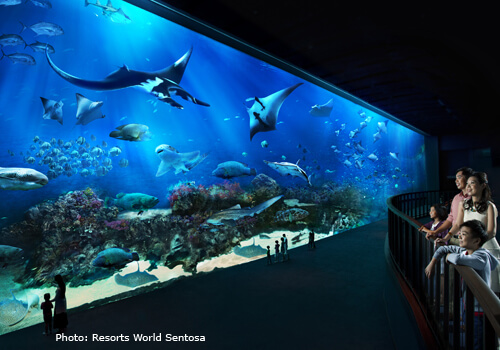 View one of the world's largest aquarium tanks at Resorts World Sentosa's S.E.A. Aquarium's Open Ocean Habitat. Marvel at sharks and manta rays swimming around in the massive exhibit. You can also view more intimate exhibits such as those of electric eels and colourful coral fishes.
---
4. Adventure Cove Waterpark
Resorts World Sentosa's water park, Adventure Cove, combines the thrill of water slides with the chance to interact with marine life. Snorkel with reef fishes, take on a water obstacle course and get propelled along on Singapore's only water roller coaster. It's all in a day of fun at Adventure Cove, one of Sentosa's points of interest.
---
5. KidZania Singapore
Located along Palawan Beach is one of Sentosa's points of interest that kids will not want to miss. KidZania Singapore allows children to play make-believe on a grand scale at the City. Kids get to be a fireman, doctor and aeroplane pilot, and earn money while doing so too!
---
6. Merlion Singapore
The towering Merlion dominates Sentosa's Merlion Plaza. It serves as an observation deck where you can survey the surrounding area from its mouth or top of its head.
---
7. Fort Siloso
Before Sentosa became an isle of fun, it was a British military base. One of the few places on Sentosa where you can still see glimpses of Sentosa's past is Fort Siloso. Entry to this Sentosa point of interest is free. Explore different trails that take you around old military installations and tunnels dug into the hillside. Find out more.
---
8. Trick Eye Museum Singapore
Experience 3D art and other optical illusions at Trick Eye Museum Singapore. Located at Resorts World Sentosa, close to the waterfront, you can take some unbelievable photos to send back home or post on Instagram. Many of the exhibits have also been augmented reality-enhanced, making them even more interactive. Find out more.
---
9. iFly Singapore
Go skydiving – indoors! iFly Singapore's wind chamber will let you experience the sensation of free-fall. You will need to get suited up, learn some basic positions before you step into the chamber with an instructor and then, off you go. This is one of the most adrenaline-fueled of Sentosa's points of interest.
---
10. Skyline Luge Sentosa
At Skyline Luge Sentosa, you get to race down Sentosa's Mount Imbiah on a luge – basically a tray with wheels that is powered by gravity. Steer your way expertly around corners as you zoom to the bottom of the hill. You can take a sky chair back to the top of the hill and have a go again because "once is never enough"!