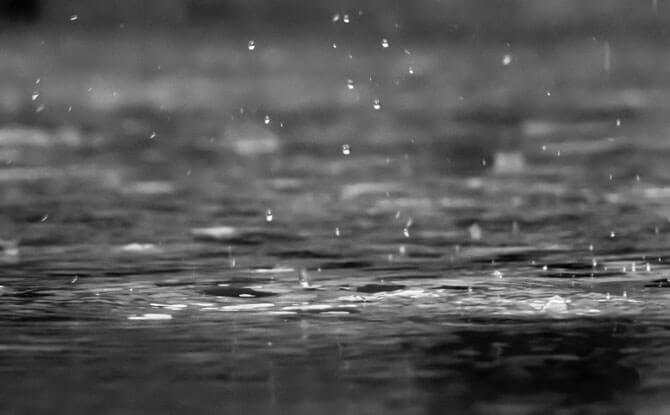 Don't let rainy days in Singapore stop you from staying active. Yes, it may be pouring outside but there are still fun and sporty things to do when it is raining in Singapore. For those who are itching to get out and get active, here are some sporty wet weather activities in Singapore you can do even when it is raining outside.
---
Sporty, Active Wet Weather Activities In Singapore
Rock Climbing
There are plenty of indoor rock climbing walls in Singapore.
Scale up the indoor climbing walls of climbing gyms such as Climb Central at Singapore Sports Hub, Clip N Climb at Our Tampines Hub and My Little Climbing Room for little ones.
When the rain comes down, it is not only the umbrella that needs to go up, you can too!
---
-- Story continues below --
---
Dodge Ball & Trampolining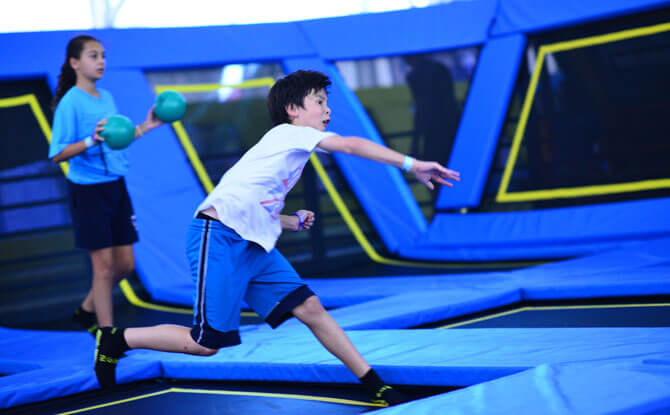 Don't just dodge puddles when it is raining in Singapore, play dodge ball instead.
There are trampoline parks in Singapore that have dodge ball courts where you can play and bounce about even while it is raining in Singapore.
---
Splash About Indoors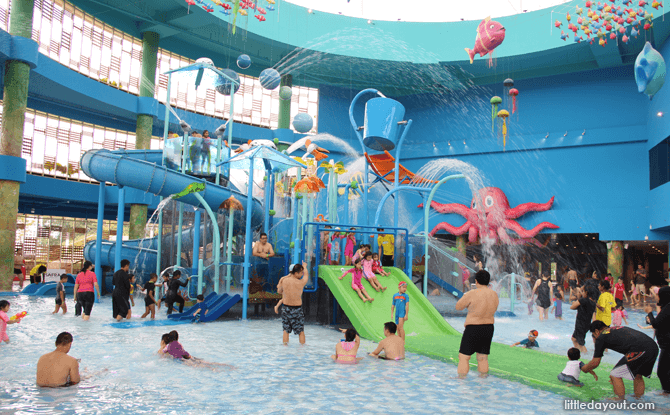 Just 'cause it is raining outside doesn't mean that you can't splash about indoors.
SAFRA Punggol's Splash @ Kidz Amaze is an indoor water park where kids from 18 months to 13 years old can have fun in any weather.
Those who want to get in some serious laps can do so at Singapore Sports Hub's sheltered Olympic pool.
There is also Aqua Adventure water park at HomeTeamNS Bedok Reservoir Park.
---
Badminton
It may be difficult to play badminton outdoors when it is raining in Singapore but you can still book an indoor court to play this popular racquet game.
Check a nearby community club or sports halls for court availability and get rallying.
---
Prawning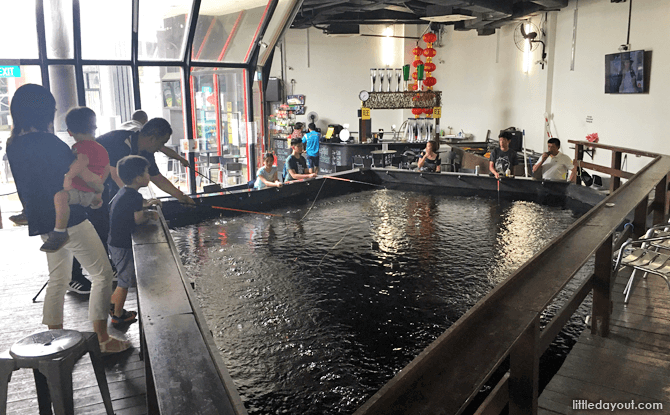 Not exactly sport fishing but prawning can still offer plenty of fun and thrills.
At indoor prawning spots such as Fish @ Bugis+ and Prawning at ORTO, you can haul in the catch where it is rain or shine outside. A great wet weather activity in Singapore.
---
Jogging Under Shelter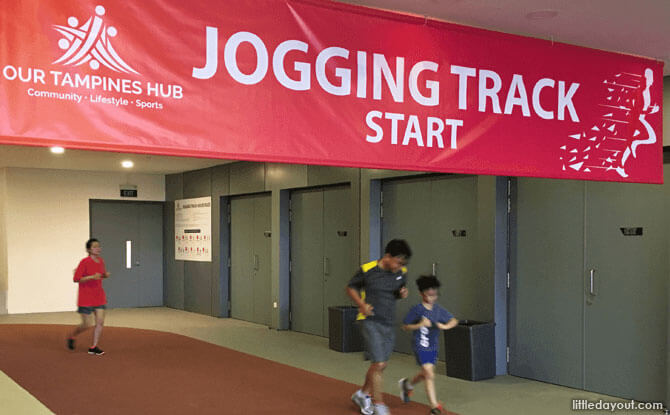 Need to get in some distance but confounded by the rainy weather in Singapore? Our Tampines Hub's sheltered jogging track is great for joggers who want to get in a run even when it is raining in Singapore.
Another wet weather alternative is the National Stadium's 888-metre-long, sheltered 100 PLUS running track.
---
Bowling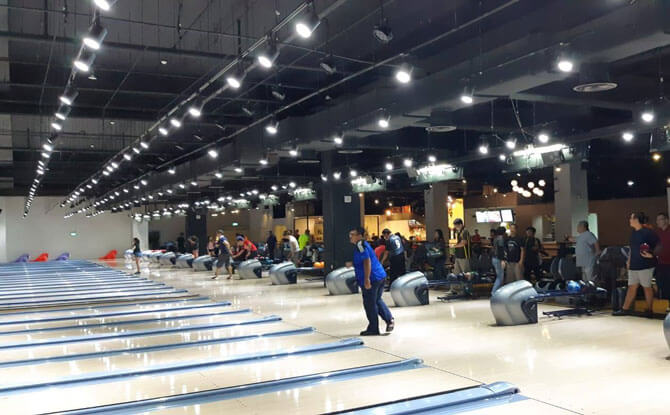 Hit the lanes and go bowling on a rainy day in Singapore. For kids and others who need a little assistance, pick a bowling alley where the lanes are equipped with guide rails help to keep the ball from rolling into the gutter – just for that little bit of encouragement!
Little ones can also check out the bowling game at Timezone's flagship outlet at VivoCity.
---
Ice Skating
Can't go inline skating because it is pouring outside, how about ice skating instead as a wet weather activity in Singapore?
Ice skating is a sporty alternative to heading to the parks when it is raining in Singapore. Skate over to one of the ice skating rinks in Singapore found in Jurong and Kallang.
---
Obstacle Course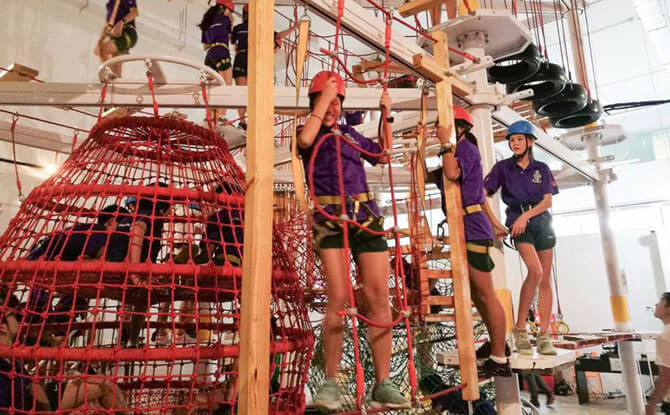 Tackle a high elements course even when it is raining in Singapore at obstacle courses such as Action Motion.
Challenge yourself and you are sure to forget about the rain pouring down outside.
---
Laser Tag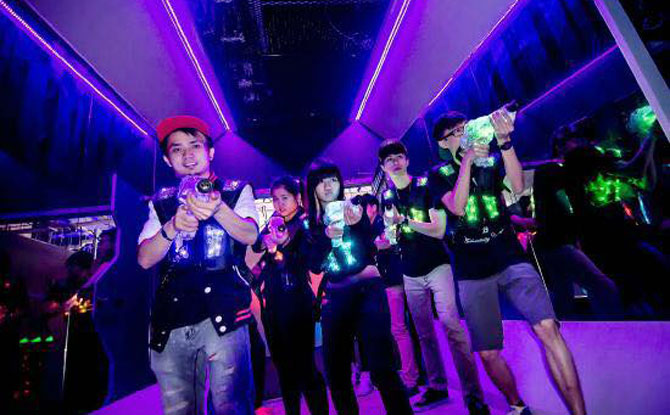 If you have ever strapped on a laser tag vest and run around trying to shoot others while avoiding being shot, you know how much of a workout laser tag can be.
You can play this indoor shooting game with friends at various laser tag arenas in Singapore.
Another alternative are VR shooting games where you can try taking down zombies and other baddies instead.