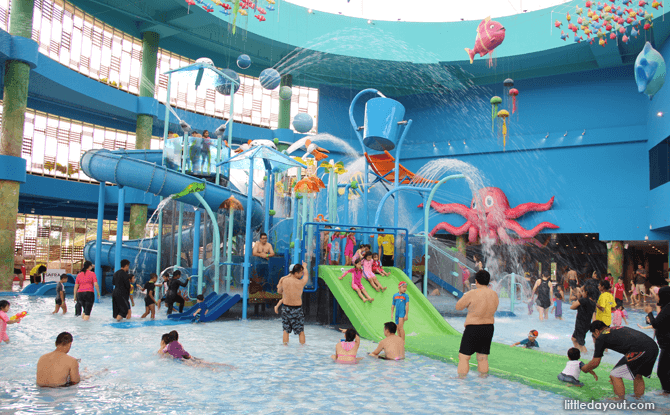 There is a little something for everyone at the newly-opened SAFRA Punggol clubhouse.
With offerings like a huge indoor water playground, a well-outfitted gym, a spa getaway, various restaurants and enrichment schools, the $64.4-million complex is a welcome addition to Punggol Waterway.
Located right next to the waterway – there are no gates – SAFRA Punggol is a curvy cascading five-storey building on a natural slope with direct access to the waterway footpath.
Here's Little Day Out's first look at this club with a riverside view.
FOR THE KIDS
Indoor water playground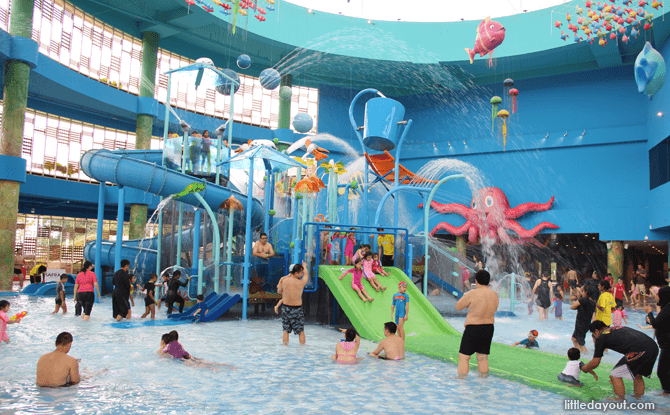 Young families in the northeast have been waiting with bated breath for Punggol's first indoor water playground to open.
Splash@Kidz Amaze features two sections: A towering multi-level play structure for older kids, and a spacious low-element zone for toddlers.
So, come rain or shine (or haze), kids can have their water play.
The water park is designed to the theme of 'Enchanted Deep Sea', which you would probably have guessed by now.
The mega play tower features eight play decks, five slides, and a themed splash pad. Watch out for the mega-bucket of water overhead that could tip over any moment!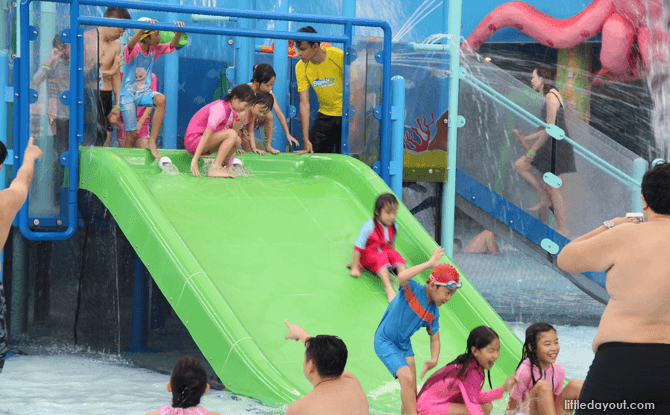 There is a super-wide slide that's good for… communal sliding. The meandering tube-slide looks especially fun. Or scary, depending on who you speak to.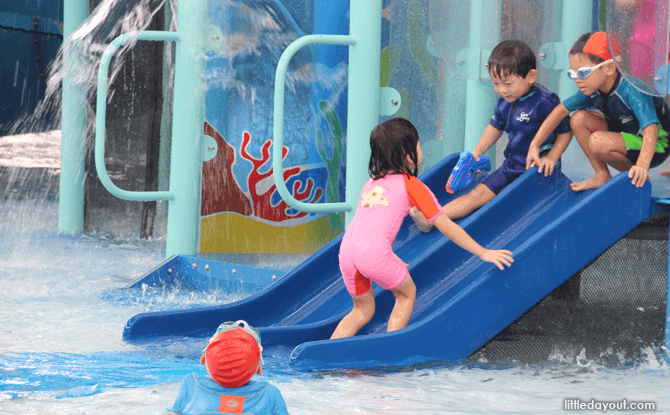 And there are also short little slides for little humans, who might be intimated by the giant slides.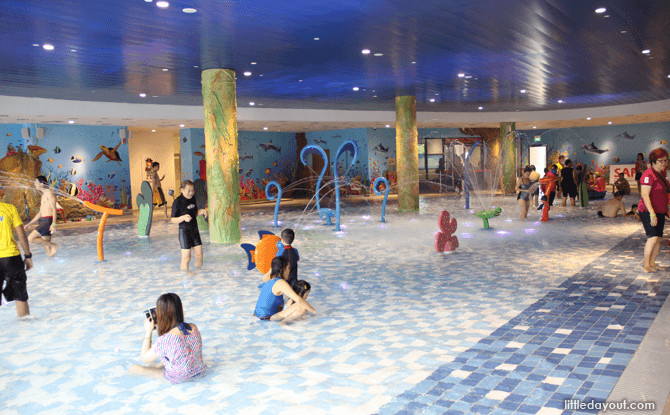 The area for younger kids is filled with sea animal structures that spray, squirt, and splash water.
At the side of the toddler area, there is a screen with augmented reality features. Kids can poke and touch the screen to interact with the sea animals onscreen.
Splash@Kidz Amaze also has three party rooms available for kids' birthday parties. This particular one has a pirate theme.
The other party rooms are designed to the theme of marine life and penguins.
Entrance fees start from $8. See here for fees, family packages, and opening hours. See here for party room booking rates.
Kids' indoor gym

BazGym Gymnastics School specialises in gymnastics movement classes for pre-schoolers, primal school students and special needs students.
Founded by ex-national gymnasts and gymnastics enthusiasts in 2003, the gym has a giant trampoline, a balance beam, a rock-climbing wall, and lots of floor space.
Enrichment schools

Children's art studio Artary offers art programmes for children aged three to 14 years old. Kids learn through songs, cartoons, playgroups and games.
LCentral English learning centre provides English literacy programmes for students from Nursery 1 to Primary 6.
StepUp Learning & Dance offfers dance and fitness programmes for kids and the entire family, from ballet to Zumba.
Also available: Taekwondonomics (open in June) for taekwondo lessons, Tien Hsia Language School for Chinese enrichment classes for kids three to 12 years old, Yamaha Music for music courses for children as young as two years old, and Stamford Education (open in June) for whole-brain training.
FOR THE GROWN-UPS
EnergyOne gym, one of six outlets islandwide, is the largest gym in the Punggol neighbourhood.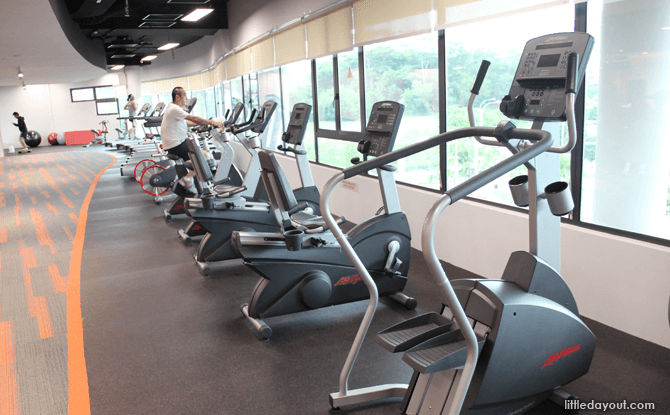 The 16,000 sq ft gym also allows NSmen to take the Individual Physical Proficiency Test (IPPT), as well as go for IPPT Preparatory Training (IPT).
iDarts Lava is a darts-bar chain, where players can see and play in real-time against other players around the world through the electronic darts board system.
Manekineko is a Japanese karaoke chain with decent prices (and a decent family-friendly environment) brought into Singapore by K Box.
Go bowling at Orchid Bowl (open in June), which has 24 lanes, or sweat it out at Yoga Inc, which offers classes such as hot yoga and prenatal yoga.
To relax and unwind, escape to The Spa by The Ultimate (opening date to be confirmed) while enjoying the view of Punggol Waterway through large windows.
FOR THE FAMILY

A cool feature here: Bikes@Waterway is a bike rental service which is part of the PCN Pitstop network.
Cyclists can rent and return the bicycles at any of the pitstops located along the Eastern PCN.
What does this mean? You can, say, rent your bike here at SAFRA Punggol and return your bike elsewhere, without having to make a return cycling trip.
There are tricycles and kids' bikes for rent here, too.
And SAFRA Punggol is the first SAFRA club to include cycling activities, no doubt due to its prime location next to the Punggol Waterway bike path.
Also, there are a few dining places to choose from, including Japanese casual dining outlet issho family restaurant, Jack's Place, Nom La La by Bakerzin, Cantonese restaurant and dim sum spot Pin Si Superior, Siam Thai Tuckshop, Heavenly Wang (open in May) and more.