School holidays also mean plenty of opportunities for PLAYDATES! Childhood buddies, classmates, family friends, kindergarten classmates, enrichment class best friends and more – time to get together for some non-serious fun. Most of the time, siblings and younger ones probably join in as well for playdates, that would mean a larger group of children of different ages that need to be catered for when coming up with playdate ideas in Singapore.
Apart from friends hosting playdates at home, it is also fun to explore various parks and playgrounds because it is always more fun with like-minded buddies! Of course, with more children, this often means higher costs involved but fret not, Little Day Out's list includes both free and affordable options!
---
Stay Dry and High (on Fun)
Singapore Botanic Gardens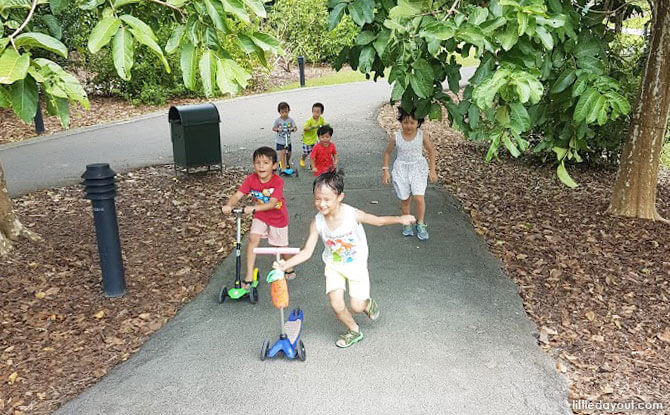 Centrally located, big sprawling grounds, plenty of places to run and scoot – we love having picnics at Singapore Botanic Gardens. Be in the Learning Forest, new Gallop extension or other parts, there is always something to learn and see.
Big pluses for stroller-friendly paths! Our favourite spot is the large grass patch near the Swan Lake where games of frisbee, soccer can be played while the younger ones watch the swans, sometimes otters and just enjoy the natural surroundings.
---
-- Story continues below --
---
Bishan-Ang Mo Kio Park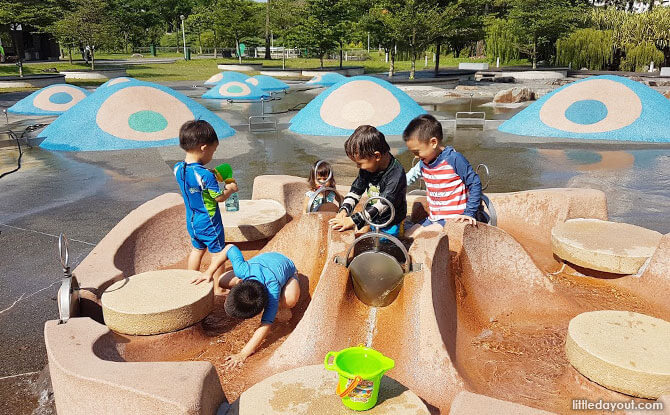 Another favourite spot of ours is Bishan-Ang Mo Kio Park. It has plenty of options to choose from – sandy playgrounds, water play areas, soccer spots, scooting paths and a stream where you can try catching (and releasing) longkang fish! Do note that the taps at the water play spots have certain operating timings.
---
West Coast Park
Aside from the fast food drive-through that draws the attention of the children (and adults), West Coast Park has large climbing structures, more than one playground and cycling paths.
While the older children enjoy the larger structures and more challenging activity spots, the younger ones would be delighted with sand play, creating music and going on the fire engine or pirate ship.
---
East Coast Park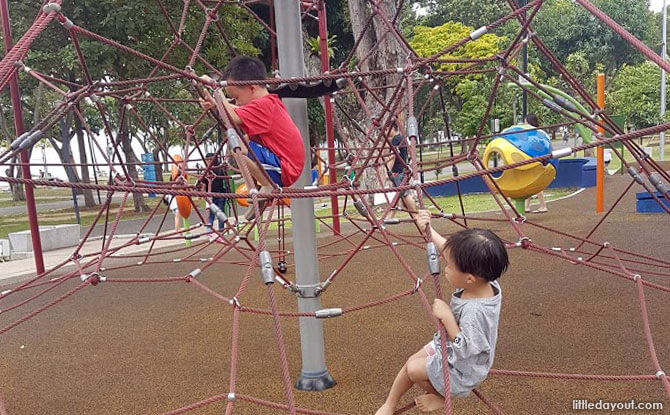 The Easties have their own park (with the same fast food outlet) where the large playground at Marine Cove is inclusive, with areas for younger kids as well. The other benefit of visiting Marine Cove is also more F&B options to choose from aside from fries and burgers.
If the children get tired of the playground, they can hop over to the nearby beach for some dipping in the sea and sand play. For a smaller and less crowded version, head to the Raintree Cove.
---
Admiralty Park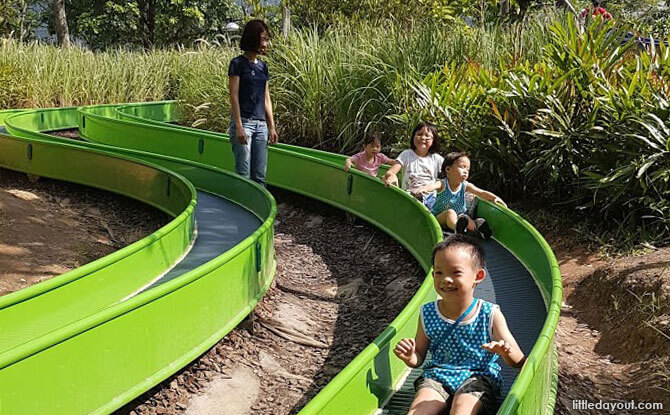 Super long slides, exhilarating flying fox, sandy playgrounds, climbing structures – Admiralty Park is one of the top playgrounds in Singapore. The playground more suitable for young children is located nearer the washrooms, while the older ones usually spend their time at the slides and climbing structures.
---
Coney Island Park
For a more adventurous playdate, mums, bubs, dads and kids can head to Coney Island Park for a cycling or exploration playdate. This makes for an exciting trip off the beaten path together with a group of familiar faces. So fear not if you encounter some wild beast or strange creature.
---
Jurong Lake Gardens
The newest park on the list – Jurong Lake Gardens has a large playground and plenty of wide paths for scooting, running and cycling. Forest Ramble particularly engages children on all levels, they get to climb, jump, swing, balance, slide, play with water and more!
It's just a pity there are few shaded spots in the area for weary parents. Hence, it's best to visit in the early mornings or late afternoons.
For more playgrounds, check out our video on "Top Ten Playgrounds in Singapore"!
---
Indoor, Air-conditioned Hangouts for Group Playdates
National Gallery Singapore
With different exhibitions to see, crafts to do, National Gallery provides artsy fun indoors. Be sure to catch Gallery Children's Biennale while it is still on. If not, there is still plenty to do at the Keppel Centre for Art Education.
---
Library@HarbourFront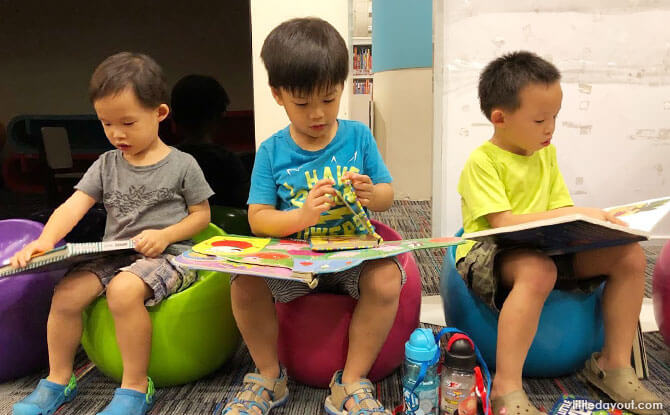 Our idea of playdates should ideally be screen-free most of the time. Going to the library with friends encourages them to discover new worlds through pages. Parents can also read to the children who are always eager for a story-telling session. The library at VivoCity has craft and colouring stations at Tinker Truck as well to keep hands busy.
---
Wet Playdates!
Kallang Wave's Water Playground at Splash-N-Surf, Singapore Sports Hub
With a shallow pool, splash zones and slides, any child will have a splashing good time. Free for all, the water playground at Kallang Wave is a great place to meet for group playdates. Plus it is located right next to the Stadium MRT station with plenty of f&b options at the mall.
---
Gardens by the Bay Far East Organization Children's Garden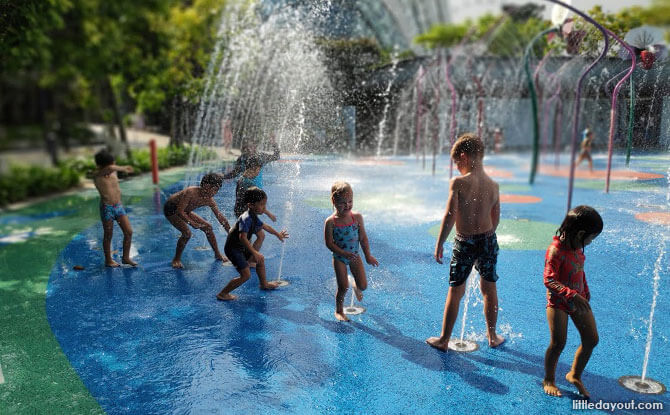 This is a personal favourite. Gardens by the bay's Far East Organization Children's Garden is one of the best places to meet for outdoor playdates. We love the waiting area for parents which provides a great vantage point while chatting. All of the children, regardless of age, will enjoy both the water and sand play. While the climbing structures and slides are more suitable for the older ones, there is plenty to explore and bounce on for the little children.
---
Public Swimming Complexes with Slides and other fun features
Singapore probably has one of the world's best public swimming complexes that boast plenty of play opportunities for the children. Apart from bouncy slides during certain weekends especially during the school holidays, pools in Sengkang, Tampines, Jurong, Choa Chu Kang, Pasir Ris, Bukit Panjang, Bukit Batok all have special features for the children to have a whale of time. Best thing is, entry just costs $1 per person. More details here.
---
Malls with Water Play Features
Apart from public facilities, playdates can happen at malls with super fun water playgrounds as well. Mums can take turn watching the kids while grabbing a cuppa, or shopping. How convenient. Easties, you might want to check these malls out. There is plenty to choose from around Singapore as well.
---
Indoor Playgrounds
HomeTeam NS T-Play
Located at HomeTeamNS Bukit Batok, HomeTeam NS T-play is one of the top-rated indoor playgrounds. It has a toddler area for safe-play amongst the younger children. Older children can choose to zipline, climb the rock-wall and other usual indoor playground constructs.
---
Bouncy Paradise
Bouncy Paradise is the largest bouncy playground in Singapore. Trampolines, ball pits, 20-lane slides, mazes, climbing towers will keep the playdate well and alive. There is a section for the younger ones as well. Just bring your grip socks and you are good to go!
---
KidsSTOP at Science Centre Singapore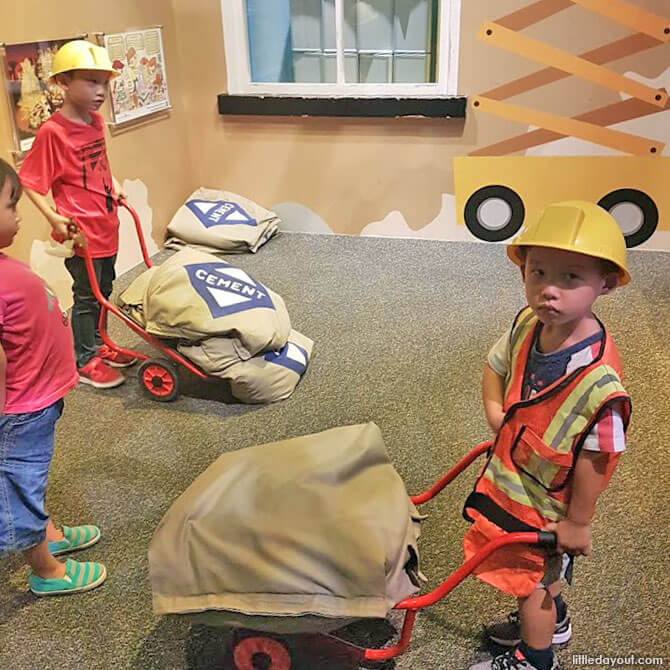 While KidsSTOP might be suitable for a group playdate for children below 8, it is lots of fun with play-pretend corners, fossil-hunting pit, climbing and sliding. Parents can be assured that their older children are safely playing in the compound while the younger ones take their time exploring in other areas.
---
Jewel Canopy Park
Jewel Canopy Park is worth the journey to the far eastern part of Singapore given its beautiful landscaping and also many things to see at Jewel. Most of the time would be spent at Canopy Park. The older children will love the Discovery slides while the toddlers would love rolling about at Foggy Bowls.  If that doesn't tire the children, the walk around Jewel, watching the lights at the HSBC Rain Vortex, entering the Shisedo Forest Valley would expend their energy.
---
Get Out and About – Group Playdate Ideas in Singapore
Our list of playdate ideas should be enticing enough for any parent to organise some fun playdates! Whether it's rainy or sunny, there are plenty of places to choose from for playdates. Enjoy the face-to-face bonding before they start bonding with screens.