With swaying buckets, curtains of mist and playful fountains of water, kids can have great fun splashing around water playgrounds. And with free access at most water playgrounds on the rooftops of malls, a trip to the water playground can be an inexpensive outing with the kids. Here are five of our favourite shopping mall water playgrounds found in the East of Singapore.
---
I12 Katong Rooftop Water Playground
[Update: The I12 Katong Playground has closed]
The water play area at I12 Katong's rooftop playground offers splashy fun in the form of swaying bird-shaped buckets and water cannons around the perimeter. Kids can run through little spray tunnels and play under a mushroom-shaped water fountain too. Located on the 4th floor of the Katong shopping mall. Get more details here.
[Update: The I12 Katong Playground has closed]
---
Changi City Point Water Playground
The shopping mall water playground at Changi City Point is a close cousin to the I12 Katong's rooftop water playground. In the case of Changi City Point water playground, in addition to splashing buckets and water fountains, an interesting feature is a carousel with little bucket seats at the wet playground. Read more about Changi City Point's water playground.
---
Tampines 1 Water Playground
This animal-themed rooftop playground provides a spot where kids can toddle around with hippos sprouting water from their gaping mouths and whizz down a polar bear slide.
---
Our Tampines Hub Swimming Complex Water Playground
The only water playground on our list that charges an admission fee is found at swimming complex on the rooftop of Our Tampines Hub. Inside the swimming complex, kids will not only get to enjoy the water play area at the Interactive Pool but its various other swimming pools too. Find out more about it here.
---
Kallang Wave Shopping Mall Water Playground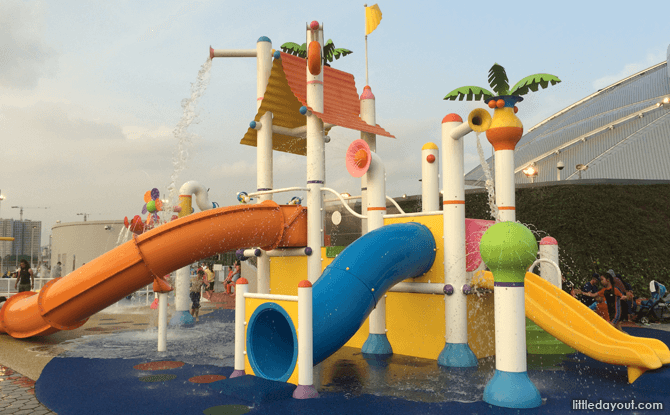 Located on the rooftop of Kallang Wave Mall, this is the top water playground on our list. Its key features include a shallow pool and a play structure with slippery slides for kids to have a dash of fun on. Plus, you can't beat the view of the city skyline from the rooftop playground. Read more.