The Tampines 1 Playground, found on the rooftop of the Tampines shopping mall, offers both dry and wet play areas for kids.
Rooftop Playground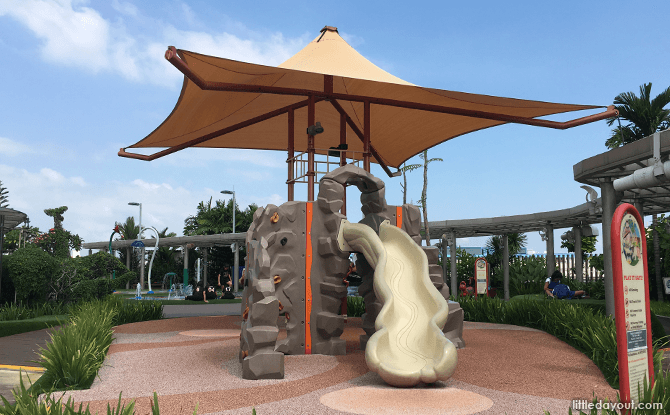 The dry play area at the Tampines 1 Playground consists of a faux rock climbing wall. Handholds situated within the wall let kids scale up the rocky wall. An archway in the wall is where a khaki-coloured slide with gentle curves extends from down to the ground. To reach the archway, kids can climb up an orange ladder set at the rear of the wall.
The Tampines 1 Playground dry play area is covered with a shade, which is good news for the times when the sun is directly overhead.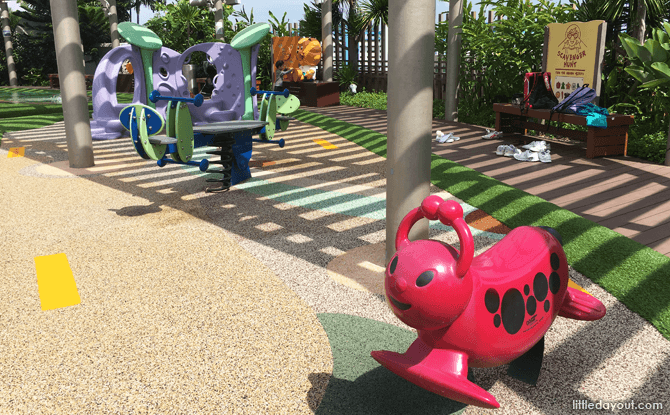 Other play equipment found at the Tampines 1 Playground include a toddlers' area for children between two to five years old. Here, there are teeter-totters and some activity walls where kids can engage in simple play activities.
At a purple play wall, there are arches for toddlers to climb through as well as a very low slide.
Wildlife Wet Play Area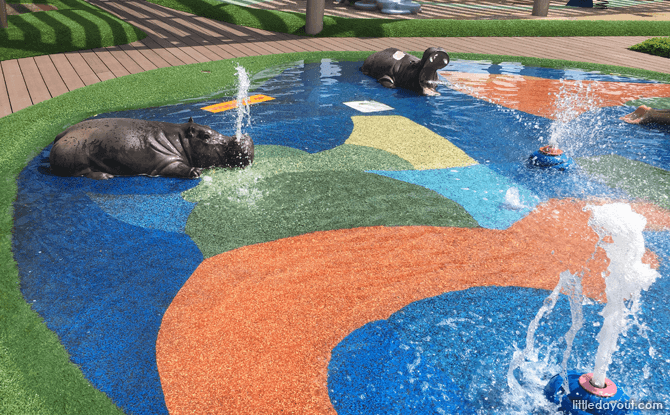 The Tampines 1 Playground has a wildlife-themed wet play area which consists of gushing fountains. These jets of water are surrounded by hippos, giving it a jungle-like theme.
There are also a variety of water showers for kids to play amongst.
At the far back of the rooftop playground is another wet play area which has an arctic theme with polar bears and seals.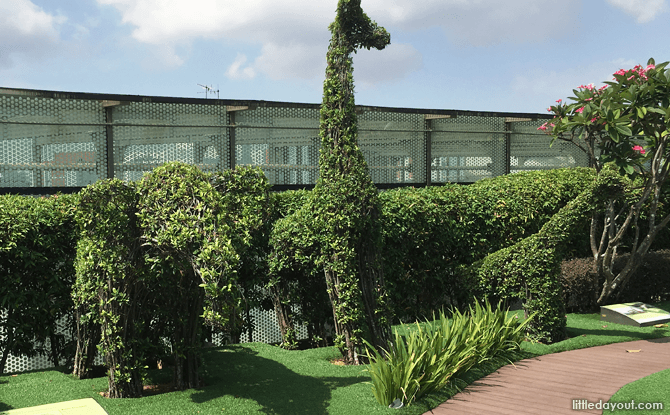 To round off the menagerie of animals found at the Tampines 1 Playground are a set of green topiaries. These come in the form of animals such as giraffes and decorate the side of the rooftop playground.
Other facilities found at the Tampines 1 rooftop include shower and changing areas. There are also vending machines found there.
Tampines 1 Playground
Address: Rooftop, 10 Tampines Central 1, Singapore 529536
Opening Hours: Mon 4 pm to 8 pm; Tue to Fri 12 pm to 8 pm; Sat/Sun, School & Public Holidays 10 am to 8 pm (except Mondays)