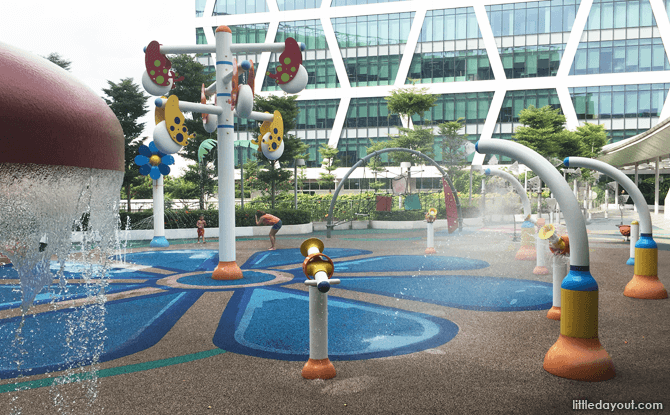 The Changi City Point Playground, The 3 House, provides a spot for kids to burn off some energy. Conveniently located on the second floor of the shopping mall, the outdoor Changi City Point Playground is designed for children under 12 or below the height of 1.4 m. It has both dry and wet play areas.
Obstacle Course
Changi City Point Playground's dry play area consists of an obstacle course. This low "rope course" provides a fun way for kids to test their motor skills and coordination.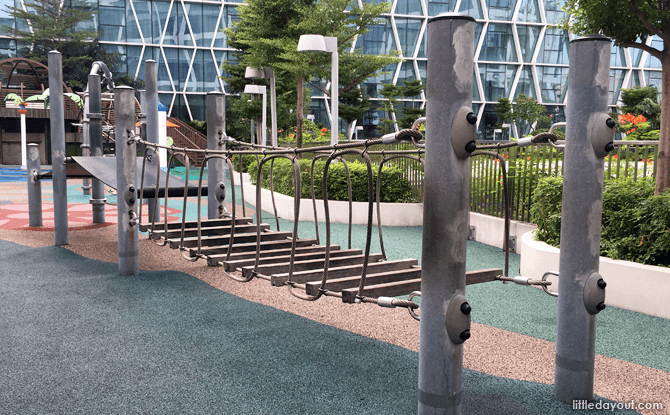 It begins with a little wooden suspension bridge. The bridge is fitted with 10 narrow wooden planks that kids can make their way across.
At the far end of the suspension bridge is the next obstacle, a flexible plastic bridge kids have to climb across.
---
-- Story continues below --
Once they have conquered that, it is on to a more challenging rope obstacle.
Commonly called a Postman's Walk, this obstacle consists of two ropes, one strung out above the other. Kids will need to shuffle their feet along the bottom rope while grasping the upper rope with their hands.
At the end of the Postman's Walk is a fun rope obstacle with climbing ropes fashioned into boxes and stretched out over a metal arc.
Water Play Area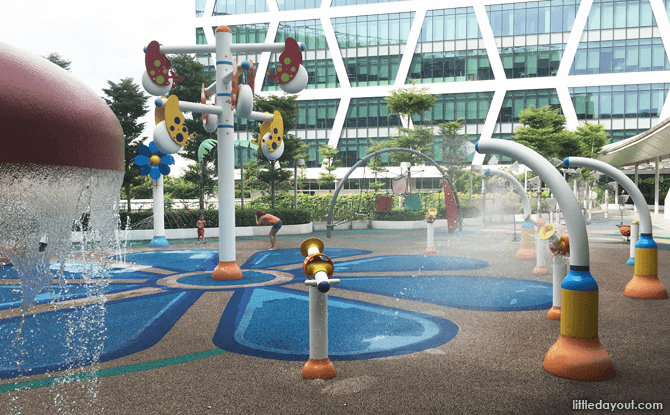 Those looking for some water-based fun will enjoy the playground's wet play area.
This is centred around a white mast fitted with buckets disguised as butterflies. Water comes splashing down from the buckets once they are filled up.
There are no less than four water cannons at the water play area at Changi City Point Playground. Kids can also get soaked in water spray tunnels or under a spinning water carousel too.
A kids' shower area nearby allows kids to wash up after playing in the water.
Escape to the Garden
Besides The 3 House playground, Changi City Point's rooftop also offers tranquil spots for those in need of a quiet break.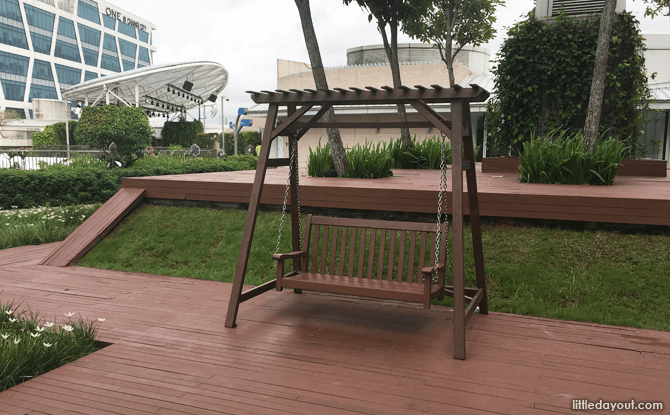 Located a floor above the playground is The Garden. Here, you will find landscaped greenery dotted with metallic sculptures. There is even a simple wooden swing here.
Changi City Point also has little courtyards at the basement and at level one. Perfect for keeping young children entertained looking at the koi in the ponds. At the basement, you can even buy food to feed the koi.
Changi City Point Playground – The 3 House
Location: Level 2, Changi City Point
Operating Hours: 10 am to 10 pm