[Update: The I12 Katong Playground has closed]
The 112 Katong Playground is located on level 4 of the shopping mall. Head through the glass door and step out on to the rooftop where the tropical-themed playground is located.
Water Play at 112 Katong
The outdoor playground is mainly for wet play. Oddly-shaped pipes come out from the padded foam ground, springing out water and creating the different play elements of the playground.
At the centre of the 112 Katong playground is a white "tree". 6 branches lead out from the trunk with green, blue and purple circular "birds" hanging off the ends.
Two more circular balls hang off nearby pipe structures while a flower-shaped pipe sprinkles out water to the ground in a circular pattern. Beside it, a low, yellow slide also spouts water from the sides.
Nearby, a row of three quarter-circle pipes creates a spray mist tunnel for kids to dash through.
Water runs off in torrents from a mushroom-shaped water fountain and water cannons guard the edge of the water playground.
The tropical theme of the 112 Katong playground is reinforced by a set of palm trees planted around the rooftop, as well as motifs on the playground's foam floor.
Sound Play
Besides the water playground, 112 Katong also has sound exploration play elements around its rooftop.
There is a gong that kids can sound off and a trio of metallic congas for them to beat on.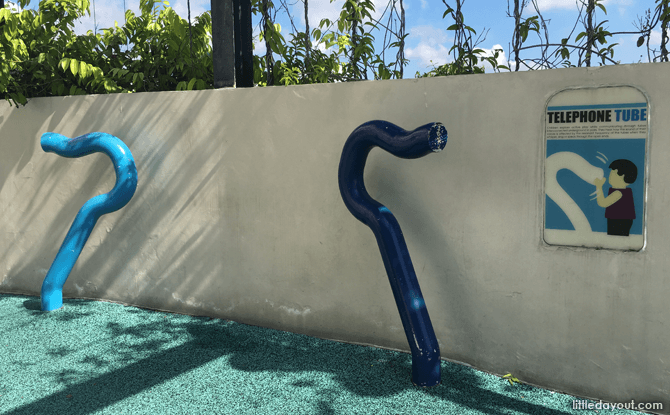 Echoing the tubular shapes found in the water playground, the sound exploration elements at 112 Katong include various sound tubes. These include telephone tubes that kids can speak through to each other.
An interesting pair of tubes acts as ears for kids. These sound tubes periscope up into the air and have a parabolic dish at the end of them. They provide a way to listen out for sounds coming from the surrounding Katong suburb.
The 112 Katong playground is open from 10 am to 10 pm daily. Children should be appropriately attired for play.
112 Katong Playground
Address: Level 4, 112 East Coast Road
Opening Hours: 10 am to 10 pm, daily
NEARBY: Chin Mee Chin Confectionary – Kaya Buns and Tradition