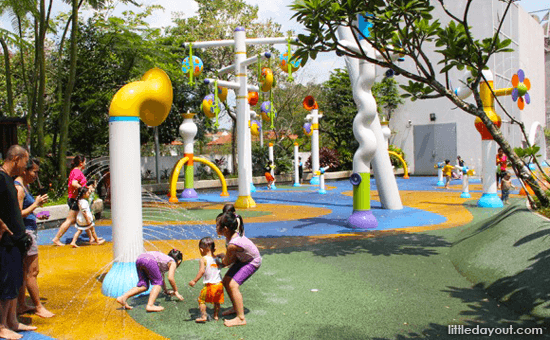 Looking for ways to cool off in the tropical heat? Discover the best shopping centres and malls around Singapore which have water play areas for little ones to indulge in a bit of water fun.
Get them suited up, slap on some sunscreen and head on out to enjoy a wet and wild day around Singapore, completely free of charge!
1. Westgate Wonderland, Westgate
With a gigantic, bright yellow watering can that sprays out bursts of water and mini-water jets for kids to revel in, the water play area at the 4th floor of Westgate, provides a magical place for kids to let their imaginations run wild. Abiding by the Fantasy Garden Theme found throughout the rest of the 11,000 square foot playground, facilities thoughtfully include a free blower for kids to dry off.
---
-- Story continues below --
Read more about Westgate Wonderland…
Open: 10 am to 10 pm daily
Westgate
3 Gateway Drive
Singapore 608532
(Next to Jurong East MRT station)
2. KidzPlay, NEX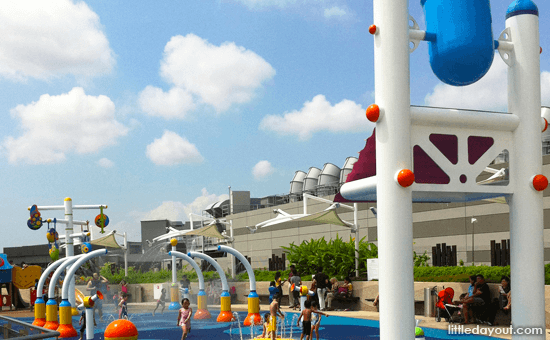 Found at the rooftop of the largest mall in Singapore's Northeast, KidzPlay has both wet and dry children's playgrounds. The open-air wet playground is equipped with spray tunnels, water cannons and water fountains. Make sure you watch out for the huge splash bucket sending hordes of water down to the pink roof below.
Open: 11 am to 9 pm daily
NEX
23 Serangoon Central
Singapore 556083
(Above Serangoon MRT station)
3. Lot One Shopping Mall
With an animal-themed water play area, kids can splash around amongst a giraffe fountain and water tunnels at the Roof Garden. The open-air wet playground also has a sheltered dry playground just beside it.
Open: Weekdays – 12 pm to 2 pm, 5 pm to 8 pm; Weekends 12 pm to 8 pm
Lot One Shopping Mall
21 Choa Chu Kang Ave 4
Singapore 689812
(Next to Choa Chu Kang MRT station)
4. Splash Park, Sembawang Shopping Centre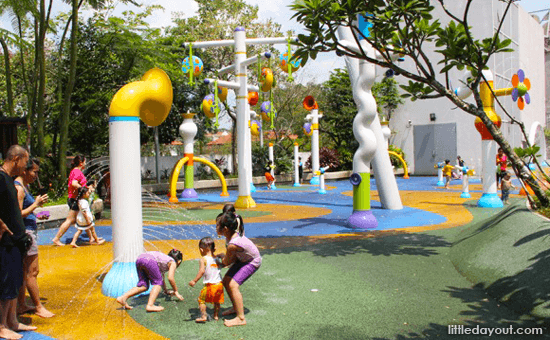 With a swirling windmill of water, water cannons and water spray tunnels to duck under, Sembawang Shopping Centre's rooftop has a 15,000 square feet "sprayscape" for kids to enjoy.
Open: Weekdays: 11 am to 2 pm, 5 pm to 8 pm; Weekends: 11 am to 8 pm
Sembawang Shopping Centre
604 Sembawang Road
Singapore 758459
5. Kidz@play, Northpoint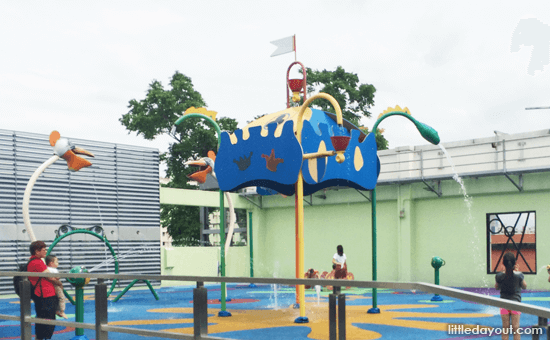 A blue-bodied dragon with a green head sprouting out water awaits at Northpoint's aquatic rooftop play area. Surrounding water cannons and water spouts provide interactive play elements for young children.
Open: 10:30 am – 2 pm and 5 pm to 9 pm daily
Northpoint
930 Yishun Avenue 2
Singapore 769098
(Opposite Yishun MRT station)
6. The 3 House, Changi City Point
Located just outside Koufu on level 2, the wet playground at The 3 House boasts water sprays, swirling swings to hitch a ride on and a huge mushroom curtained by water to take shelter away from the sun.
Open: 10.30 am to 9.30 pm daily
Changi City Point
5 Changi Business Park Central 1
Singapore 486038
(Near Expo MRT station)
7. Tampines 1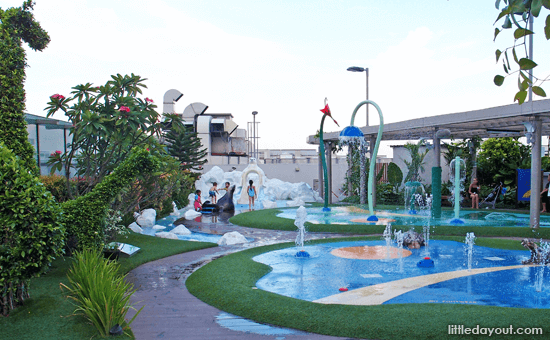 Tampines 1's wildlife-themed playground has little water ponds with fountains alongside sealion and polar bear slides. Wild hippos spout out water and animal topiaries by the edge of the wet and dry play areas add to the wildlife theme.
Open: 10 am to 9.30 pm, except Mondays from 4 pm to 9.30 pm
Tampines 1
10 Tampines Central 1
Singapore 529537
(Next to Tampines MRT station)
8. VivoCity
The expansive wading pools at the rooftop of VivoCity provide a place where children can splash about refreshingly cool water. One floor below, water fountains provide playful fun for little ones at the VivoCity playground. Out at the front of VivoCity, larger fountains invite daring kids to dash amongst them.
Read more about VivoCity: Popular Children's Playground…
VivoCity
1 HarbourFront Walk
Singapore 098585
(Near HarbourFront MRT station)
9. Garden Plaza, IMM
The swirling flowers and dancing fountains at IMM's water playground invite little ones to cool off from the heat. Found at the Garden Plaza, beside the dry playground at the third floor.
IMM
2 Jurong East Street 21
Singapore 609601
(Free shuttle from Jurong East MRT station)
10. I12 Katong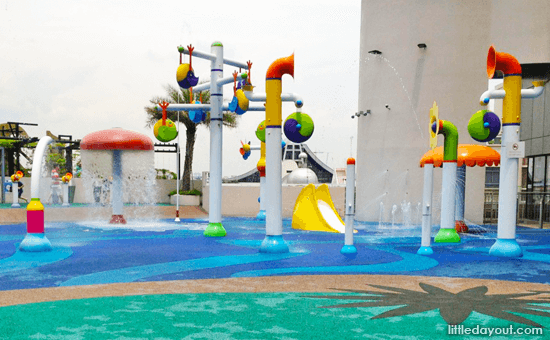 Spraying water and tumbling buckets at this Eastside shopping mall provide a space for younger kids to indulge in some wet, wet fun.
Open: 10 am to 10 pm daily
I12 Katong
112 East Coast Road
Singapore 428802
11. Jem Play, Jem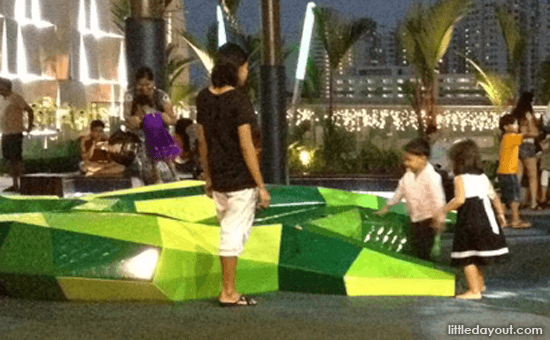 Jem Play, a simple marine-themed play area beside the foodcourt on Level 5 has a yellow, net tunnel and waterfalls trickling down the wall. Structures reminiscent of giant mudskippers sprawl out at the play area and young ones can have a splash at the slender water channel flowing along the back of them.
Open: 10 am to 10 pm daily
Jem
50 Jurong Gateway Road
Singapore 608549
(Next to Jurong East MRT station)
12. Splash-N-Surf, Kallang Wave Mall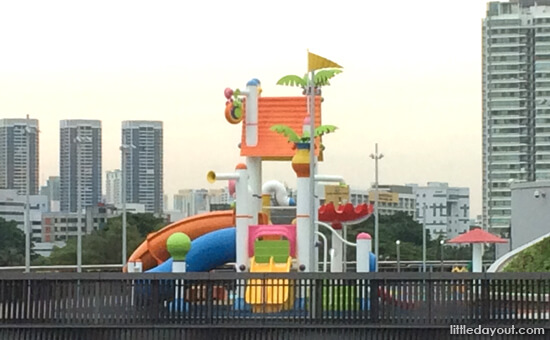 Look out for Splash-N-Surf, a unique water play area for families with young children at Kallang Wave Mall, where the adventurous can head over to the half-pipe surfing facility that provides bodyboard and skim board riding at the Stingray. Young children and families can also enjoy water fun at the kid's water playground (0.5 metres) and there is even a 1 metre deep Lazy River.
The water playground is not yet open, but when it is open, it will be operational from 8 am to 10 am.
Kallang Wave Mall
1 Stadium Place
Singapore 397628
(Next to Stadium MRT station)
13. Bugis Junction Water Fountain
An old favourite, the Bugis Junction water fountain makes a splash in the city, providing parents out on a shopping spree with the kids a whimsical distraction for the young ones.
Bugis Junction
200 Victoria Street
Singapore 188021
(Above Bugis MRT station)
14. The Star Vista Water Fountain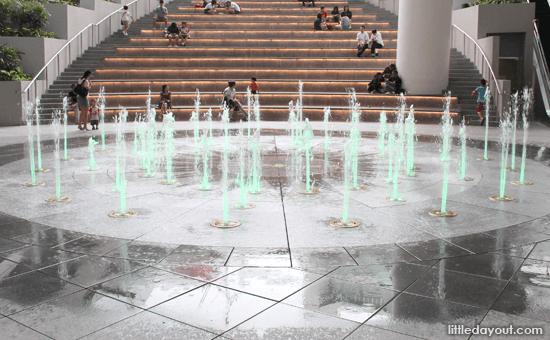 The water fountain at the heart of Star Vista provides a playful area for children to dash in and out of, when the atrium is not in use for promotions or special events.
The Star Vista
1 Vista Exchange Green
Singapore 138617
(Near Buona Vista MRT station)
15. Greenwich V Water Fountain
This quaint shopping mall at Seletar Hills has an intimate water fountain area where kids can cool-off from the afternoon heat.
Greenwich V
1 Seletar Road
Singapore 807011