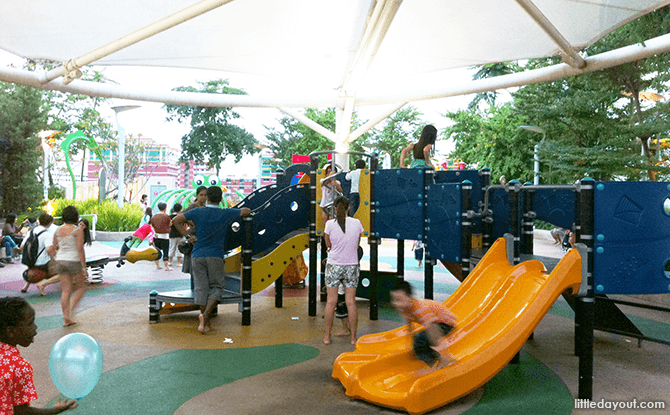 Located on the rooftop garden of the Choa Chu Kang mall is the Lot One Playground. This playground includes both wet and dry play areas for children between the ages of 5 to 12 years old.
Sheltered Play
The dry play section of the Lot One Playground can be found under a tarp-shelter. It consists of a yellow-and-blue play structure that kids can scamper about on.
A flight of stairs leads up to a platform where a gently twisting slide leads back to the padded ground. At the other end is a bright yellow dual slide where kids can slip back down side-by-side with each other.
There are various other ways to climb up to the play structure. These includes a ramp and a corkscrew-like metal railing.
The shelter overhead provides some respite from the sun during the day time.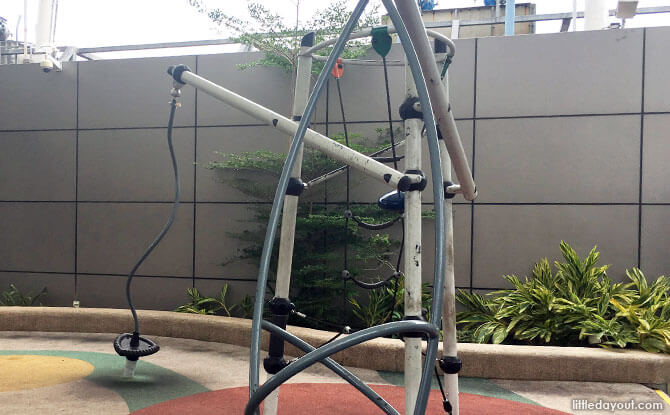 Another piece of play equipment consists of bars and a standing "swing" that adventurous children can swing themselves around on. It also has some webbing for kids to climb.
A three-way teeter-totter and a circular merry-go-round complete the play equipment found at the dry playground section of the Lot One Shoppers' Mall Playground.
Water Play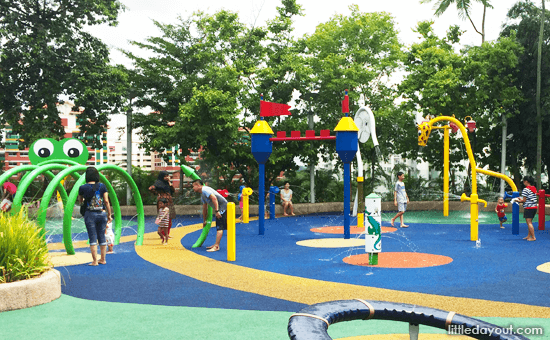 For kids looking to cool off, Lot One Shoppers' Mall Playground includes a colourful water play section. This wet play area has an animal theme. A bright yellow giraffe sprays out water while there are also spray tunnels and water cannons for children to play with.
There are also tipping buckets that send water downwards at regular intervals.
Take note that the wet play area only comes on between 12 pm to 2 pm and 5 pm to 8 pm on weekdays. The dry play area is open from 10 am to 9 pm daily.
Lot One Shoppers' Mall Playground
Where: 21 Choa Chu Kang Ave 4, Rooftop Garden, Singapore 689812