Osaka is a great base for exploring the Kansai region of Japan which includes the cities of Kyoto and Nara. Even though it is a large metropolis, overshadowed only by Tokyo, Osaka has its fair share of family-friendly attractions. Here, we share our Osaka family vacation itinerary, which included day trips to Nara and Kyoto.
Osaka Family Vacation Itinerary
Day 1
We arrived in the evening and made from Kansai International Airport to Umeda by train. This involved taking the Nankai Limited Express to Namba Station, followed by the subway on the Yotsubashi Line.
Umeda, Kita is one of the major districts in Osaka and has plenty of shops and restaurants which open till late.
---
-- Story continues below --
This meant that after checking in, it was easy to venture out for dinner (okonomiyaki!) and to explore the area.
Day 2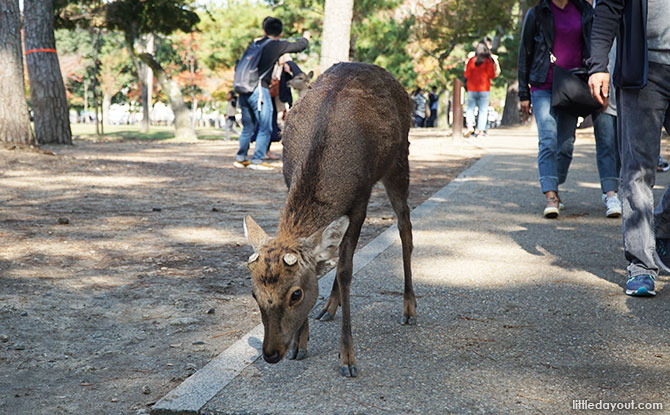 On the second day, we ventured off to Nara, Japan's ancient capital – which even preceded Kyoto.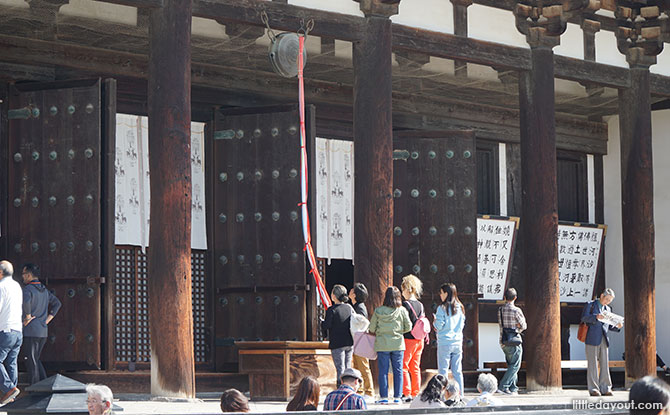 From Nara train station, it was a relaxing half-day spent feeding the deer at Nara Park, visiting the Todaiji Temple and exploring the city's shopping streets. More details can be found here.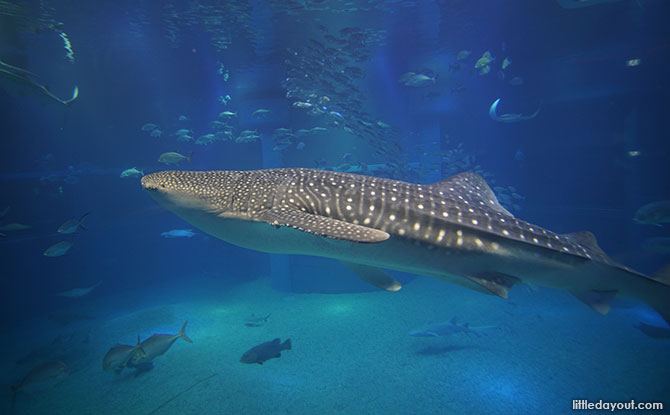 By the afternoon, we decided to head by to Osaka and pay a visit to the Osaka Aquarium Kaiyukan. The star attraction of the aquarium is a pair of whale sharks but there is plenty more to see around this massive aquarium. Starting from the top of the building, we made our way downwards, past different habitats and amazing creatures.
Next to the Osaka Aquarium Kaiyukan is the Tempozan Harbour Village's marketplace which includes shops, restaurants and Legoland Discovery Center, Osaka. However, instead of settling down for dinner there, we headed back to Namba to visit Dotonbori.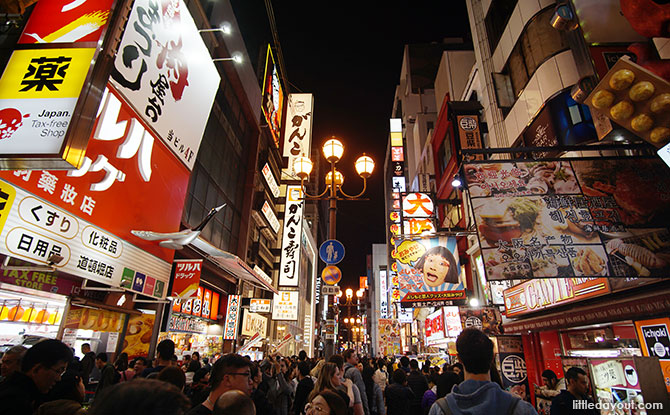 Dotonburi is a major tourist destination in Osaka. Filled with kitsch, oversized food displays hanging at the storefronts, the food street is a bright, overdose for the senses.
Eventually, we settled down for a dinner which included kushikatsu before heading back out for more street food including takoyaki. We couldn't leave before paying a visit to the famous Glico running man along the Umezu River either.
Day 3
We were off to Kyoto! The train ride to the Kawaramachi downtown district of Kyoto took around 45 minutes on the Hankyu Kyoto Main Line. This is the modern part of Kyoto with big name shops such as Daimaru.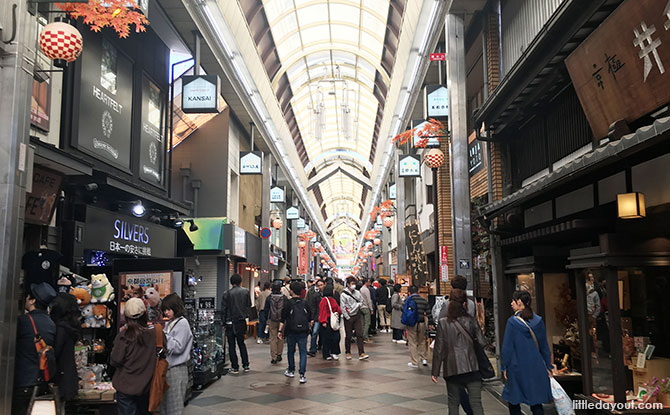 We took a walk to the covered shopping streets of Nishiki Market where there was plenty of food and wares to see at. These range from knives to dried fish to grill Kobe beef.
Kawaramachi is next to the Gion district, the traditional geisha and entertainment district of Kyoto.
From Gion, we made our way upwards towards Kiyomizu-dera temple. The traditional streets were extremely pretty but extremely tourist-filled as well. Be prepared to share the view with many others.
After getting our fair share of hill-climbing in, we decided to skip the mountainous Fushimi-inari Shrine and head to Arashiyama instead. Getting to this picturesque district of Kyoto required us to take a bus and a train from the East to the West of Kyoto.
It seemed as if everyone had also descended on to Arashiyama and everyone was heading to the Bamboo Path like we were. The district is very popular and you can expect plenty of other tourists there.
From Arashiyama, it was back to Kyoto JR station and then Osaka JR station.
Day 4
For a change of pace and a break from sightseeing, we decided to head to EXPOCITY, North of central Osaka on Day 4. This is a large complex with shopping and entertainment attractions.
Our first stop was NIFREL, an indoor aquarium and zoo which presents its various animals in unique and interesting ways. Even though we had visited the Osaka Aquarium Kaiyukan on this trip, we still found NIFREL a worthwhile attraction to visit.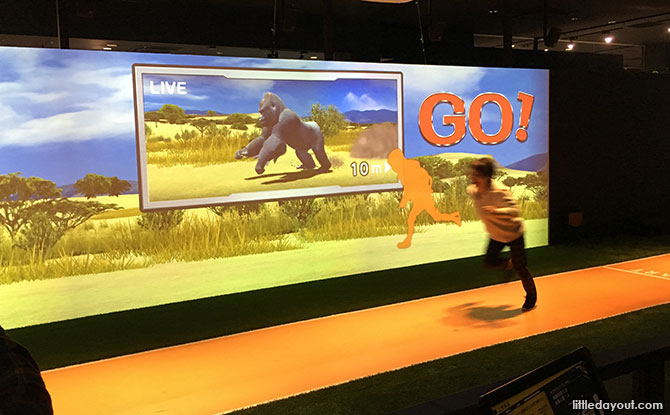 Another attraction at EXPOCITY (besides the huge LaLaport shopping centre) is VS Park. This is an electronic entertainment centre by BANDAI NAMCO where we played different games and sports with an electronic twist. It is a bit like Wii Sports on steroids – while on a crazy Japanese TV show.
Day 5
This day was devoted to Universal Studios Japan. This day was filled with memorable rides and attractions. Highlights included Hollywood Dream – The Ride and Harry Potter and the Forbidden Journey.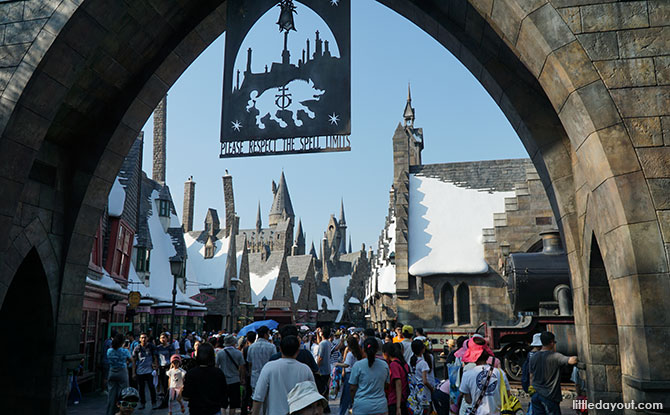 Just visiting The Wizarding World of Harry Potter was amazing in itself.
Day 6
After squeezing in more food in the morning, it was time to pack our bags and head off to Kansai International Airport, taking back with us fond memories of our Osaka family vacation.
More Osaka Family Vacation Itinerary Ideas
On this trip, we were selective about the places to visit but there is plenty more to see and do in Osaka.
Other attractions around Osaka include Osaka Castle and the park surrounding it. Close by to Osaka Castle Park is the Osaka Museum of History. To experience old Osaka, you can also visit the Osaka Museum of Housing and Living.
Shinsekai is an old district filled with restaurants. It is located next to the Tennoji Park (where the Tennoji Zoo is located).
Across Tennoji Park is Abeno Harukas, Japan's tallest skyscraper, which has an observation deck 300 metres up.
Those with younger children can pay a visit to Kids Plaza Osaka or the Osaka Science Museum. There is also a VR attraction located at HEP Five shopping mall in the Umeda area.