Japan is a wonderful destination for anyone who loves travel – whether you travel alone, as a couple, with family or a group of friends. Not only is it safe and very clean, its unique culture, history, food and geography have something to offer every visitor to Japan. For families, the mega metropolis that is Tokyo can sometimes be a little daunting so it is with this in mind that I chose an Osaka family vacation with my little family of two adults and one 2 ½ year old toddler.
Most parents go to Osaka with kids because they are visiting Universal Studios Japan (USJ). There will be people who tell you that you can't visit Osaka without going to USJ.
Yes, you can!
I am here to tell you what you and your young toddler can do in Osaka when your little human doesn't qualify for rides in USJ, and/or is too young to know (and understand) Harry Potter and his wizarding world.
Top 10 List of Things To Do on an Osaka Family Vacation with a Toddler:
1. Eat Okonomiyaki
For those of us who were foodies before we had kids (when you have kids you eat what the kids want to eat), you will know Osaka is famous for Okonomiyaki. It is basically a savoury pancake made of batter and shreds of cabbage, with additional ingredients such as pork slices or octopus topped with mayonnaise.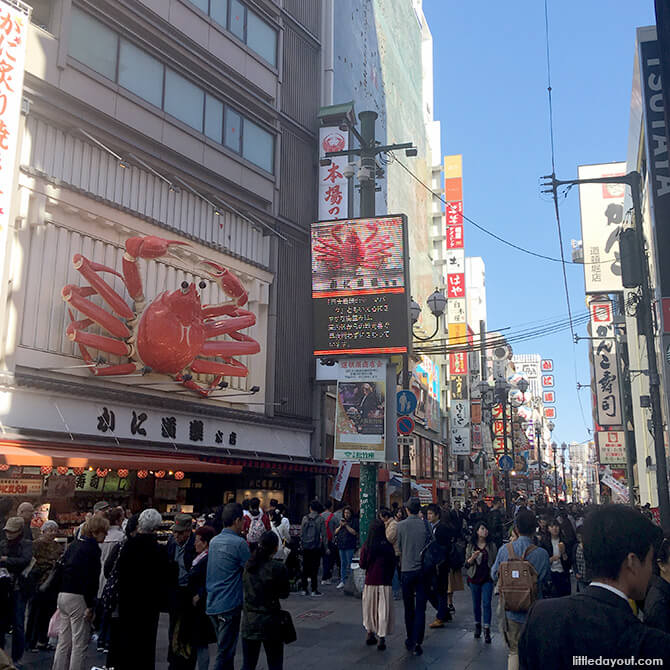 There are many restaurants in Osaka that serve this, although the street-side stalls are probably the best. Walk along Dotonbori and you will find numerous restaurants that offer this. Toddlers are notoriously fussy with food, but I can almost guarantee you when you tell them it is Japanese salty pancake they will try and may even love it!
2. Experience the Food Halls of Department Stores and Kuromon Ichiba Market
My supermarket trips in Singapore are real educational trips for my Little Human. Indeed it is where he first learnt about fruits and vegetables. Hence, visiting the food halls of any large department store in Osaka, like Takashimaya, Hankyu or Daimaru, was super fun for us.
We were there around Halloween and it was wonderful looking at the creative ideas the pastry and cake shops came up with using the humble pumpkin! These big supermarkets are also where you can buy fresh fruits to eat, and we all know how deliciously sweet Japanese fruits are! Ever seen a square watermelon? Oh the look of amazement on my Little Human's face when he first saw it – priceless!
Besides supermarkets for fruits, the Kuromon Ichiba market is also worth a visit. It sells fresh fruits and vegetables, and seafood. Show your kids a giant slab of fish or octopus!
3. Have Fun at Bornelund Toy Store and Indoor Playground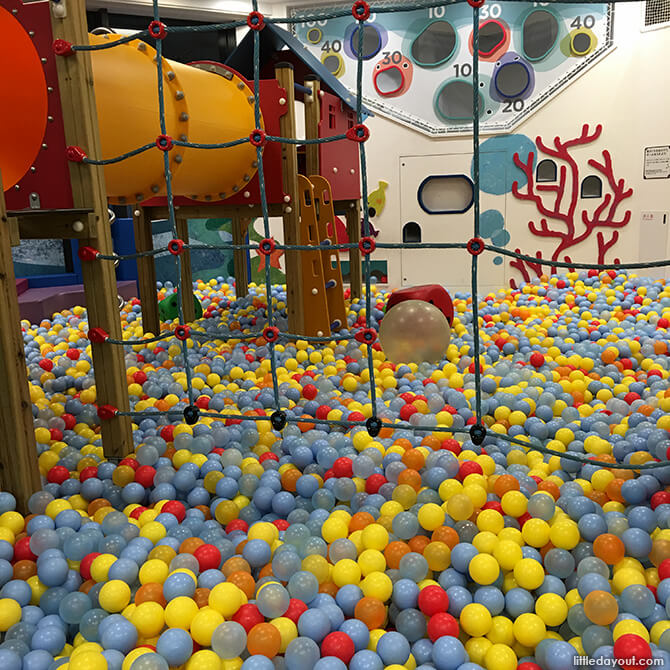 The BorneLand Toy Store and Indoor Playground on the third floor at the Grand Front Osaka is a great indoor playground. Grand Front Osaka itself is a nice shopping and food destination minutes from the JR Osaka Station, and since I stayed at the wonderful InterContinental Osaka, which is connected to the mall (where a huge Muji Store is), the Bornelund Toy Store and Indoor Playground was literally just downstairs.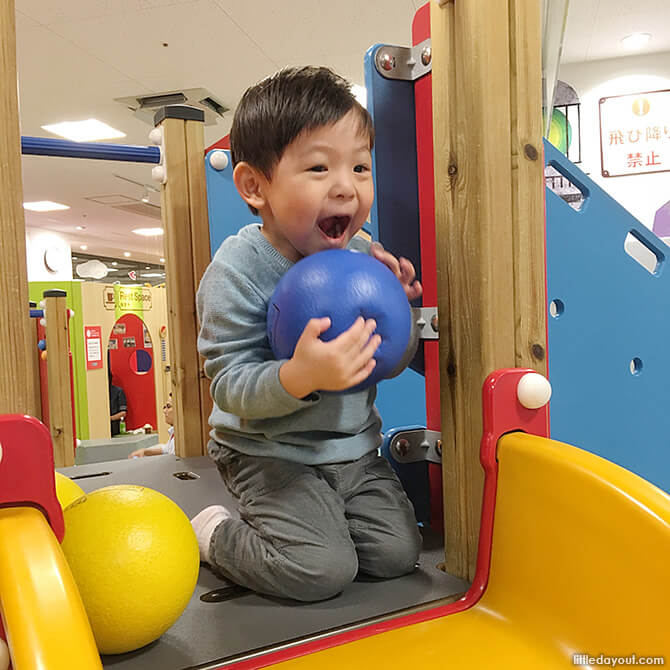 Why is this indoor playground special? It has one of the biggest ball pits I have seen (and the cleanest!). It also has a huge inflatable hamster wheels, a child-friendly climbing wall, a bouncing runway, a dress-up station, spaces for train and car play, a kitchen play area and a play area with foam blocks and magnatiles. My Little Human still talks about this indoor playground today.
There is a small entrance fee for kids and adults. Day passes are also available if you plan to shop in the area and want to keep returning to the playground throughout the day. The website for BorneLund is in Japanese only. However, once you get to Grand Front Osaka, you should be able to navigate or check with the information counter to locate it.
4. Learn at Kids Plaza Osaka
If your toddler is a bit older, you definitely must visit Kids Plaza Osaka. This is a top attraction for those visiting Osaka with toddlers and truly one of a kind. It is an experiential museum for kids which embodies the philosophy that "children learn best through play" – a real mini hands-on arts science museum that is a combination of our ArtScience Museum and Science Centre. It will keep most kids (from preschool to pre-teen) occupied for hours.
An indoor "Kids Town" designed by Austrian artist and architect Friedensreich Hundertwasser forms the main structure of the fourth and fifth floors. There are slides, plenty of hands-on, interactive exhibits that explain various aspects of nature, physics, technology and the world in general.
For the Little Human, one of his favourites was this bubble machine where he could stand whilst a gigantic bubble was created around him! What endless joy for the kids just thinking they are in a bubble. I would definitely go back to Kids Plaza Osaka again.
Read more about Kids Plaza Osaka.
5. Be Mesmerised at the Osaka Aquarium Kaiyukan
Everyone would surely have heard of the Osaka Aquarium Kaiyukan, located at Osaka's bay area. It is one of the largest aquariums in the world. It is so big that it accommodates a whale shark, the largest fish species in the world.
The Aquarium recreates the natural environment of the Pacific Rim, covering over 600 species of fish and marine life including seals and rare fish like the mola mola.
The Husband and I love marine life and The Husband, in particular, is very knowledgeable about marine fish. He had the most wonderful time sharing his knowledge with our Little Human.
Located just next to the Aquarium are the Tempozan Giant Ferris Wheel and the LEGOLAND Discovery Centre, which kids will surely love.
Read more about the Osaka Aquarium here.
6. Have a Picnic at Expo'70 Commemorative Park or Banpaku Kinen Koen
For those of you who love nature and enjoy beautiful gardens, don't miss visiting the Expo'70 Commemorative Park or Banpaku Kinen Koen in Suita City, a little further outside of central Osaka and away from the main tourist areas.
The World Expo was held in Osaka in 1970 and after the exhibition, the massive site was re-purposed into a commemoration park, which includes the famous "Tower of Sun" statue created by famous arties Taro Okamoto, a Japanese garden, a nature garden, culture and sports facilities and just wonderful big fields, big trees and fields of flowers.
If you are here in April to May, the cherry blossoms are spectacular. In Autumn, the colours and the Autumn flowers will charm you. Bring a picnic basket and spend a couple of hours just walking around.
My useful tip would be to bring a stroller so you walk further. We didn't do this as the Little Human simply sat on his father's shoulders but hey, the Husband is Mr Strong at home. This park is my personal favourite on this trip.
7. Go Further Afield to Expo City Osaka
Expo City is an exciting entertainment and retail destination located near Banpaku Park. It has everything to offer from shopping to entertainment and fun so make this a day trip for your family (including visiting the Park above).
There really is so much to do: Red Horse Wheel, English Village, Pokemon Expo Gym, Nifrel (see below), 109Cinemas, Orbi, Entertainment Field and Lalaport Shopping Centre (see below). My family spent a day out at the Expo City and still felt we could come back for another day. Expo City is accessible by train on the Osaka Monorail. You will need a few Osaka subway transfers, so give yourself 45 minutes to an hour to navigate to the Park and Expo City.
8. Be Intrigued at NIFREL
Nifrel is a unique aquarium (by the same people as the Osaka Aquarium) which presents unusual and interesting fish life regrouped in different thematic zones of "shapes, abilities, colours and wonder moments".
It calls itself an Aquazoo and is relatively small, but it is probably two hours well spent. There is an interesting light show and also other multi-sensory installations. It is unique because of its emphasis on using technology and is fascinating for older toddlers.
9. Shop till you drop at Lalaport Shopping Centre
You can tell I am Singaporean by listing three shopping experiences in Osaka! Besides the usual shopping places in central Osaka, the Lalaport Shopping Centre is a must-visit if you are already in Suita City for Expo City.
The one unusual shop you must visit is the pet shop in this mall. It is huge, and showcases everything from cute little puppies, to cats, birds, fish, hamsters, rabbits, snakes and lizards.
The Little Human was fascinated by a gigantic rabbit the size of a large cat! The shop sells everything related to pets – collars, food, kennels, strollers, dog diapers, toys, clothes. If you have a pet at home, bring your child here to get something for his furry buddy back home.
10. Feed Deer at Nara Deer Park (奈良公園)
Nara Deer Park is located in Nara City, which is not in Osaka, but about an hour out of Osaka. Several beautiful sites with temples in this city are on the UNESCO World Heritage List. With a toddler in tow, temples were not the focus of our trip to Nara, although we did visit the Todaiji Temple and the Kohfukuji Temple (bring stroller for these long walks).
What would be fascinating for kids is to see the free-roaming deer. The deer have roamed freely here since the 1800s. You can buy Shika Senbei or deer biscuits and feed them to the deer. Be careful though, because some deer can get very excited seeing the biscuits, and be sure to avoid stepping on deer 'poo poo'! My Little Human's favourite animals are antelope and deer so seeing them up close made his day.
Travelling is one of the best forms of education there is – we learn about life outside of our world, how things are different in different places or the same. And, theme parks are one of the best things in life ever, and often the reason for a family vacation in the first place. However, if theme parks aren't an option for your family (yet), like in the case of my family, I hope my list above gives you an idea of what else Osaka offers young children.
So, Keep Calm and Visit Osaka with a Toddler.