A colourful kid-sized city tower, fun tinkering experiments and tons of other amazing experiences await at Kids Plaza Osaka – a children's museum in Japan which blurs the line between playing and learning.
Filled with experiences that appeal to a child's sense of wonder, Kids Plaza Osaka is one attraction that families with young children should not miss in Osaka, Japan.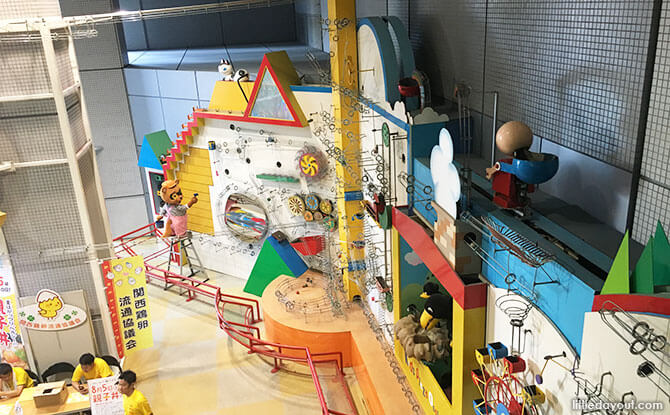 A Ball Circus first greets kids entering into Kids Plaza Osaka. While it is easy to stand and watch the balls circulate about the colourful circuit, it is only a prelude of what is to come at Kids Plaza Osaka.
---
-- Story continues below --
---
Discovery Time
A short elevator ride up to the fifth floor and kids will be thrust into a cacophonous world of discovery.
Here, amazing activities seek to engage a child's natural curiosity at the Science section.
At the centre of the room is a Pump Playground. Kids can operate a handle to send water up an Archimedes Pump and flowing around various tubes and channels.
Want to have more fun with water? Head over to the bubble area. Kids get soapy making their own bubbles or even get inside a giant bubble themselves.
At Kids Plaza Osaka, children get to experience various scientific principles in action and have hands-on fun while doing so.
At the Nature section, children can view different species of fish that can be found in the Yodo River and Osaka Bay. Children can also take an investigative approach to looking at plants and flowers through hands-on activities.
Kids Plaza Osaka also exposes kids to different cultures from around the world.
Children get to try out percussion instruments from around the world, including Japan too.
Toys such as spinning tops allow kids to learn how people around the world play. There are also dress-up studios for kids to learn about culture through the clothes people wear.
---
Kids Town – A Towering Block of Play
While there are plenty of activities to see and do, Kids Plaza Osaka's "wow factor" lies in the colourful Kids Town – a play structure which spans the fourth and fifth floors of Kids Plaza Osaka.
The creation of Austrian artist Friedensreich Hundertwasser (1928 to 2000), this amazing structure offers kids a smorgasbord of fun.
Venture across a red suspension bridge to reach the central tower, scale the walls or peek out from one of Kids Town's many windows and archways.
This impressive indoor play structure is pure fuel for a child's imagination.
---
More to Explore Around Kids Plaza Osaka
If you can tear your child away from the Kids Town play structure, there is more to explore around Kids Plaza Osaka.
At Kids Street, children can engage in role-play at a hair salon, post office, food outlet and more.
Kids Plaza Osaka also has play areas that make use of digital devices for learning.
Babies and toddlers get their own space too. Peek-A-Boo is Kids Plaza Osaka's play area with age-appropriate toys for young ones.
Programmes and workshop are also conducted with the aim of nurturing a child's creativity and self-expression. Take note that these are conducted in Japanese.
---
Fun and Discovery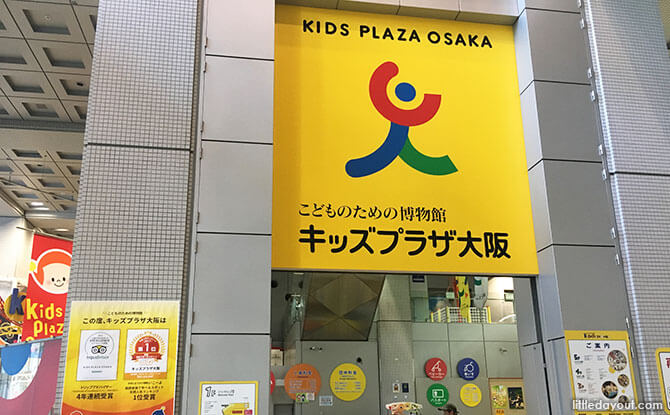 Kids Plaza Osaka is a place where families with young children can easily spend a couple of hours enjoying its various activities.
It combines learning with play and, most importantly, offers tons of fun!
It is located in the building with a huge duck in the front.
As a bonus, for kids who still have energy to spare after their visit, there is an outdoor playground to the rear of the building where Kids Plaza Osaka is located.
---
Kids Plaza Osaka
Where: Ogimachi 2-1-7, Kita-ku, Osaka, 530-0025 Japan
Website
Originally published in August 2018 and updated in August 2022.