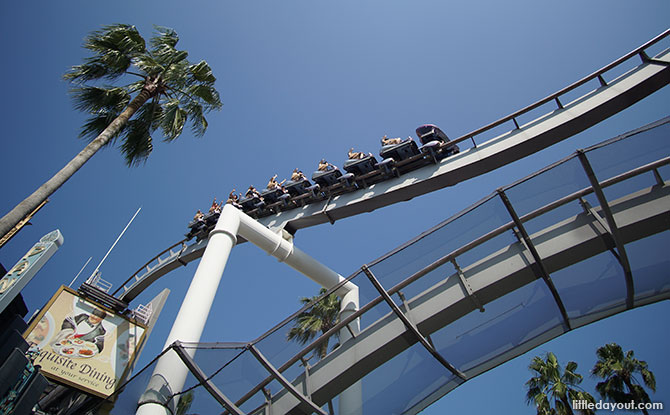 Filled with thrilling rides and movie-inspired attractions, Universal Studios Japan is one of the top attractions in Osaka. We share with you some Universal Studios Japan tips and tricks to help you get the most out of your day at the massive theme park.
Universal Studios Japan Tips and Tricks
---
1. Park Overview and Orientation
Universal Studios Japan consists of various themed zones.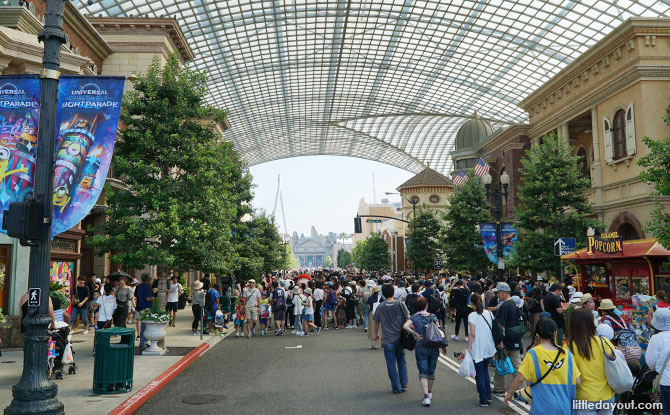 The first zone that visitors will have to pass through upon entering the park is Hollywood. This is where you find shops filled with mementos to bring home from your visit to Universal Studios Japan.
At the end of Hollywood, you will find the other themed zones with the park's rides, shows and attractions. These are laid out roughly in an oval shape around the lake at the centre of Universal Studios Japan.
You can choose to either go straight which would lead you towards the New York themed zone, followed by Minion Park, San Francisco and then Jurassic Park, or head right, towards down Hollywood Boulevard, Universal Wonderland, The Wizarding World of Harry Potter and Amity Village before linking back up to Jurassic Park.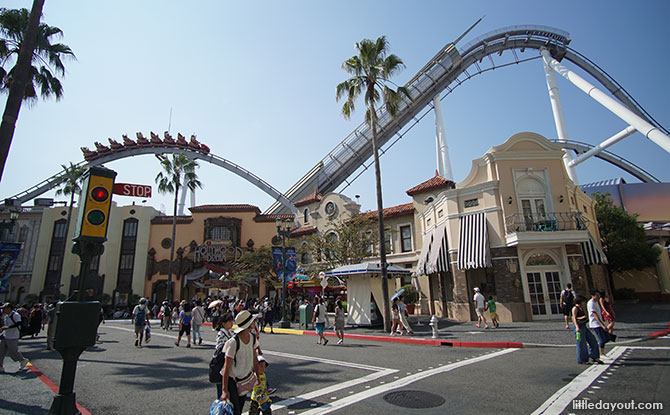 You will find that many people turning right (and even running) to head towards The Wizarding World of Harry Potter. Turning right also leads to Hollywood Dream The Ride – one of the park's major rollercoasters. Whether you wish to join them depends on your own priorities.
Here is the link to the Universal Studios Japan map.
---
2. When to Go
One of the best Universal Studios Japan tips we can give you is to try to visit on a weekday. Universal Studios Japan can get very, very, very crowded – especially on weekends.
One further Universal Studios Japan tip that we would recommend is to make your visit on either Tuesday, Wednesday or Thursday. Even Mondays and Fridays can get very busy at the USJ.
You can refer to this unofficial Universal Studios Japan "Congestion Forecast Calendar" website to get a gauge of how busy the park will be on the day of your intended visit. It is in Japanese but you can use Google Translate to translate it to English. It is probably best to avoid days when Universal Studios Japan is "violently crowded".
---
3. Buy Your Tickets In Advance
This one is a no-brainer. Buy your tickets in advance online unless you enjoy queuing to enter the park.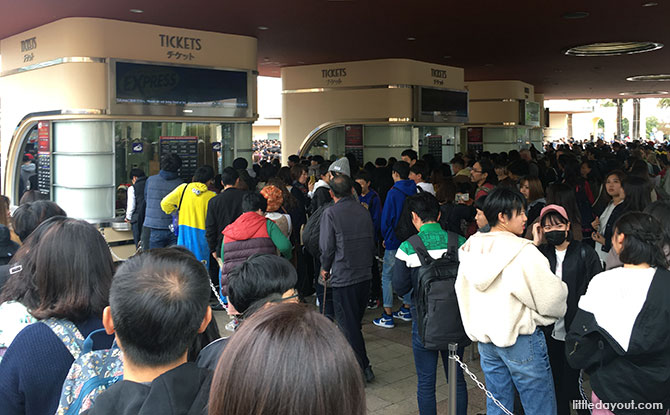 If you arrive at Universal Studios Japan without a ticket, you will need to queue to buy your tickets from the ticket vending machine. After that you will need to join a second queue to enter the park.
On the other hand, if you buy your e-ticket in advance, just proceed to join the queue and enter the park. Save your "queuing energy" for inside the park.
Unlike Tokyo Disneyland, Universal Studios Japan tickets cannot be booked directly from the park's website. Instead, they will need to be purchased from authorised ticketing agents such as Klook and Voyagin'.
Once booked online, you will receive a voucher with a QR code. Go directly to the entrance turnstiles, scan the QR code and enter Universal Studios Japan.
---
4. Check Park Opening Times Online
Universal Studios Japan's opening hours vary even within a week. It can open as early as 8.30 am or as late as 9.30 am. Similarly, the park's closing times can vary as well, closing anywhere between 7.30 pm and as late as 10 pm.
Check online at the Universal Studios Japan website to get the latest information to plan your visit.
---
5. Arrive Early
It is best to arrive early at Universal Studios Japan to get the most out of your day because the queue times at the park's attractions can be very long.
You will find that the queues in front of the USJ entrance gates start to form very early on. If the park opens at 8.30 am and you arrive at 8.30 am, you will find yourself deep in line.
Bear in mind that there will be multiple queues – some for the ticket vending machines and some to enter the park. If you have followed our Universal Studios Japan tip #3, join the park entry queue and wait to enter the park.
From what we observed, the queue time is due to the bag checks which are conducted just before the park entrance.
---
6. Queue Times
We keep mentioning this but the queues at Universal Studios Japan can get horrendously long.
Popular rides such as Hollywood Dream, Harry Potter and the Unexpected Journey and The Flying Dinosaur regularly have queue times that stretch up to 100 minutes and more.
It is par for the course at Universal Studios Japan unless you get a Universal Express Pass. More on that later.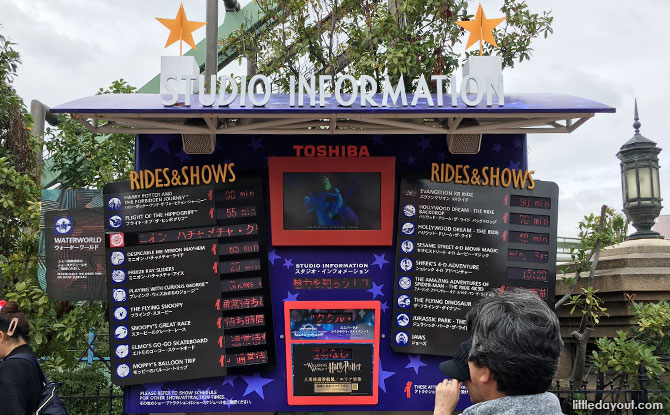 Around USJ, you can find two electronic signboards which tell you the various park rides and shows. One is located at Mel's Drive-in diner and the other at the bridge connecting Jurassic Park and San Francisco. You can use these to gauge the expected wait times and mentally prepare yourself for the queues.
On busy days, you can even expect to have follow a pre-determined time to enter The Wizarding World of Harry Potter. Not the ride, the themed zone.
---
7. Know Which Are Your Must-do Rides
With such long wait times, it pays to know what are your must-do rides in Universal Studios Japan.
Here is a quick summary of the major attractions at Universal Studios Japan.
For Thrill-seekers
The Flying Dinosaur – Rollercoaster ride with loops and barrel rolls
Hollywood Dream – High-speed rollercoaster. No loops but plenty of dips and turns.
Hollywood Dream Backdrop – Hollywood Dream backwards!
Flight of the Hippogriff – A rather short rollercoaster.
For Movie-tie Fans
The Amazing Adventures of Spiderman – 4D ride, similar to Transformers at Universal Studios Singapore but older technology.
Minions Mayhem – Motion simulator ride where you "transform" into a minion.
Jurassic World – Get into a boat to view dinosaurs and expect a surprise at the end.
Jaws – Go boating and, dum dum, dum dum, guess what happens next.
Harry Potter and the Forbidden Journey – An. Amazing. Ride.
For Young Children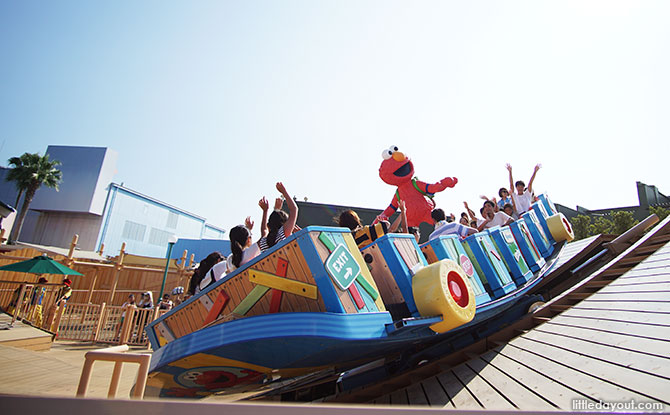 Universal Wonderland – Themed zone for young children which features Sesame Street, Snoopy and the Peanuts gang, and Hello Kitty.
Minions Park – Rides and amusements based on Gru's yellow henchmen.
Playing with Curious George – Activity area for kids based on the Curious George cartoon.
Wondering which rides kids can go on? There is a height restriction chart available here.
As an additional point for those visiting Universal Studios Japan with toddlers, take note that some rides may scare young children. For example, we have seen little kids burst into tears on Jaws because they were scared, but then quickly got over it.
---
8. Universal Express Pass
For those who don't want to queue and don't mind paying more, there is the Universal Express Pass.
At Universal Studios Japan, the Universal Express Pass can either be bought beforehand or within the park at the ticketing machine or at the California Confectionery to the right of the entrance after you enter the park. However, take note that Universal Express Passes are limited and can be sold out.
The Universal Express Pass comes in several variations. There is the Universal Express Pass 3, 4 and 7. The number refers to the number of attractions where you can skip the main queue and join the much-shorter express queue. The greater the number of attractions, the more expensive the price of the Universal Express Pass.
Within the Universal Express Pass 4 and 7, there are further variations. For example, there are Universal Express Pass 7s which cover different attractions, Universal Express Pass 7 – The Flying Dinosaur and the Universal Express Pass 7 – Backdrop. So, select the Universal Express Pass that covers the rides you want to go on.
Furthermore, for some of the attractions on your Universal Pass will have fixed entry timings. For example, you may only be able to use the Universal Pass to enter Harry Potter and the Forbidden Journey during a predetermined half-an-hour timeslot during the day that is stated on your Universal Express Pass.
For the attractions which do not have fixed entry timings, you will have a choice of using the Universal Express at one of two possible attractions. For example, you may be able to choose to use the Universal Express Pass at either Jaws or Backdraft.
If all this sounds complicated, it kind of is.
To further add to your consideration on to whether to get the Universal Pass or not, the ticketing conditions on platforms such as Klook have a caveat that they cannot guarantee that a single group booking of multiple Universal Passes will all have the same predetermined entry timings for the rides. Decisions, decisions, decisions.
---
9. Bring a Battery Pack
We also recommend bringing a battery pack to the park.
This is for two reasons.
Firstly, if you are going to be spending some time in queue, you may well be using your device and so you'd want to have enough juice to last the day.
Secondly, if you do decide to purchase the Universal Express Pass, you can use the eVoucher on your phone for entry to the Universal Express Pass queue. The eVoucher has a QR code which needs to get scanned. If you only have the eVoucher inside the park and your phone runs out of battery, you won't be able to use it.
Alternatively, if you have booked your Universal Express Pass in advance, you can print out a hard copy to use in the park – no batteries required.
---
10. Backdraft
Backdraft is a rather old movie dating back to 1991 but Universal Studios Japan has an attraction based on it. It is a "show-and-tell" type of attraction where you will get ushered around three sound stages that provide a peek into the making of the special effects used in the movie. It is similar to the Lights, Camera, Action attraction at Universal Studios Singapore.
In the first "sets" at Universal Studios Japan's Backdraft attraction, director Ron Howard gives an introduction – in Japanese. We've seen people walk out of the room because they couldn't understand what was being said. Rather than doing that, we recommend staying around because there is a pay-off at the end.
---
11. Get Your Butterbeer
You will undoubtedly find yourself at The Wizarding World of Harry Potter at some time during the day and wonder about trying out the butterbeer.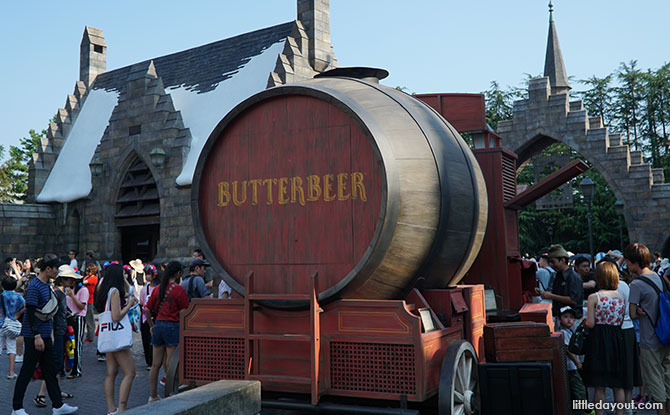 Close to the entrance of Hogsmead, there is a huge barrel-shaped kiosk selling this non-alcoholic beverage. The way it works is that you buy a ticket from the side window and come to the front to pick up your cup of this frothy drink.
On busy days, the queues can get rather long. Here are three Universal Studios Japan tips on getting this concoction.
Tip number 1: There are queues on both sides of the barrel. Sometimes people see others lined up on one side of the barrel and join the queue even though there is no queue on the other side. Check both sides of the Butterbeer kiosk and decide which one to join.
Tip number 2: Most people will gravitate towards the butterbeer kiosk that they see when they first enter The Wizarding World. However, there is a second kiosk at the other end of Hogsmead, close to the entrance of The Flight of the Hippogriff ride. Queues can sometimes be shorter there.
Tip number 3:If you are planning to have a meal at The Three Broomsticks, the restaurant at Universal Studios Japan's Wizarding World of Harry Potter, you can also order Butterbeer to go along with your meal and give it a try with traditional pub grub.
---
12. Details at The Wizarding World of Harry Potter
Any fan of the J K Rowling books and the movies will have a field day at The Wizarding World of Harry Potter at Universal Studios Japan. There is plenty for fans to take in and enjoy. Be sure to duck into the shops to see some of iconic items from the series. For example, the Marauder's Map can be found at the souvenir shop at the exit of Harry Potter and the Unexpected Journey and the Monster Book of Monsters at Owl Post.
Another experience for Potter-heads is to go into Ollivanders wand shop via the side door (you may have to queue) to experience the wand selection process conducted by a wizard.
---
13. The Hidden Ride
With so many themed zones at Universal Studios Japan, you may over look Universal World unless you are there with very young children. Those who want to go on every coaster at Universal Studios Japan may wish to know that there is an indoor rollercoaster at the Snoopy Studio inside Universal Wonderland.
We personally found this to be a fun ride, especially with the various Peanuts characters along the coaster's track.
---
14. Riding Harry Potter and the Forbidden Journey With No Queue
One trick which we heard about and which worked for us was on how to ride Harry Potter and the Forbidden Journey without having to queue.
The queue times for this ride can be really long.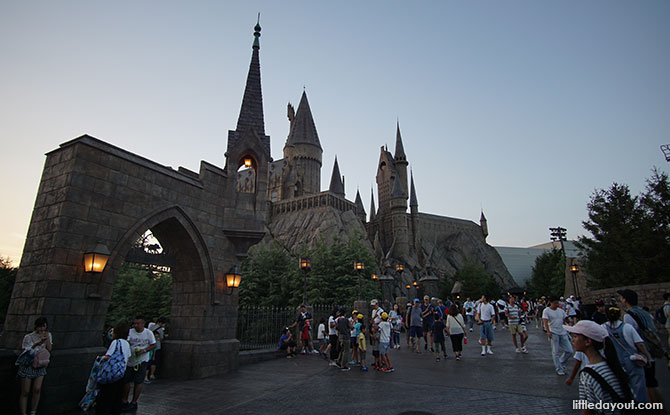 However, if you go an hour or so before the park closing time, it is possible to ride Harry Potter and the Forbidden Journey with no or very little queuing as most of the park's visitors would have either started leaving or be busy watching the evening parade.
Use this little trick to have a last hurrah before leaving the park and you may even be able to ride Harry Potter and the Forbidden Journey multiple times.
Enjoy Your Day At USJ, Osaka!
We hope you've found these set of Universal Studios Japan tips and tricks useful and have a great day out when visiting the Osaka theme park.
Purchase your USJ admission tickets
We bought our Universal Studios Japan e-tickets from Klook, an authorised re-seller of USJ tickets. When you purchase your tickets, you will receive an e-voucher with a QR code. Proceed directly to the gates and scan the QR code to enter the park.
You can purchase your Universal Studios Japan e-tickets from Klook here.
Little Day Out is an affiliate of Klook. Little Day Out receives a small commission for each ticket purchased for Universal Studios Japan through our Klook link.