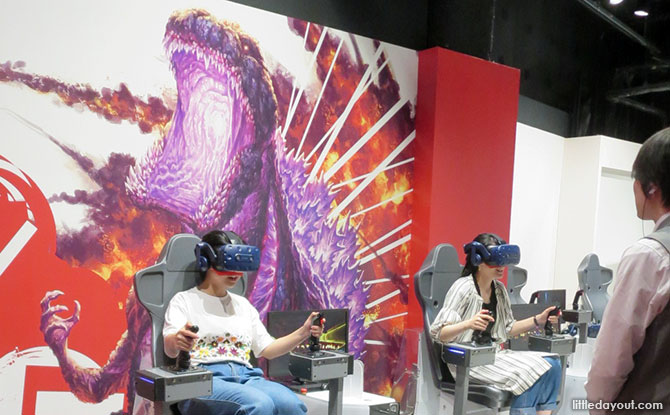 Conveniently located on the eighth floor of the HEP Five mall, VR Zone Osaka is just a five-minute walk from Umeda Station in Osaka, Japan. Having never been to such a VR entertainment facility, all we knew was that we had to put on VR goggles to try out different experiences.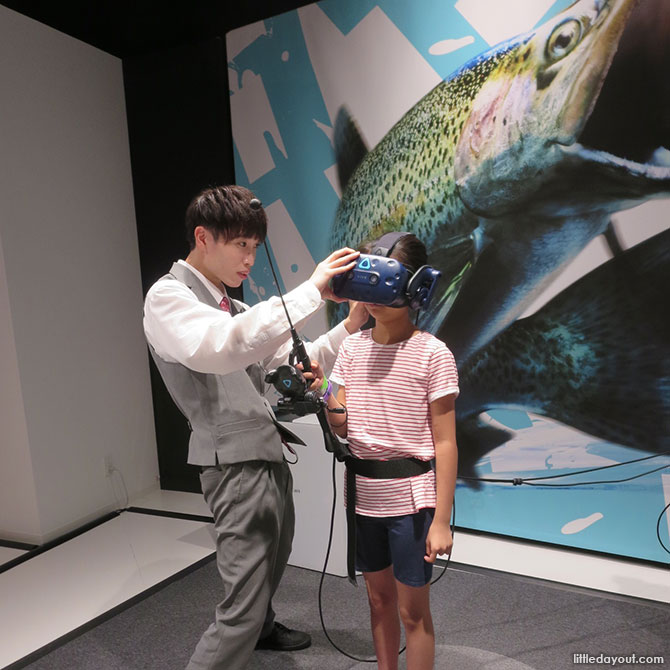 But boy, we had no idea what a fun adventure we were about to embark on, entering different imaginary worlds and attempting extraordinary activities.
What is in VR Zone Osaka
VR Zone Osaka, much like the rest of Japan, is clean and well organised. The virtual reality entertainment facility is spread over two floors.
There are 12 VR activities ranging from ski simulators and flying on winged bicycles to dinosaur survival runs and Gundam unicorn aerial clashes, a Panic Cube – Giant Balloon Burst Room and a Dragon Quest larger field VR Zone Arena on the upper floor.
Evidently, not all activities are suitable for younger or shorter children. Participants have to be at least 7 years old and 140 cm in height. Parents and guardians are advised to accompany their children less than 13 years of age and take a 10-minute break after they go through each activity.
Through Klook, we booked 12 experience tickets and we could share the use of these tickets amongst the four of us. Some activities could accommodate groups of up to four people at the same time.
Although the staff spoke limited English, they were friendly and helpful, and tried their very best to explain how things worked to us. While waiting for our turns, we were given a manual in the language of our choice to read through. It described how we could use the gear we were given when we were all dressed up.
Virtual Reality of Fishing in the Wild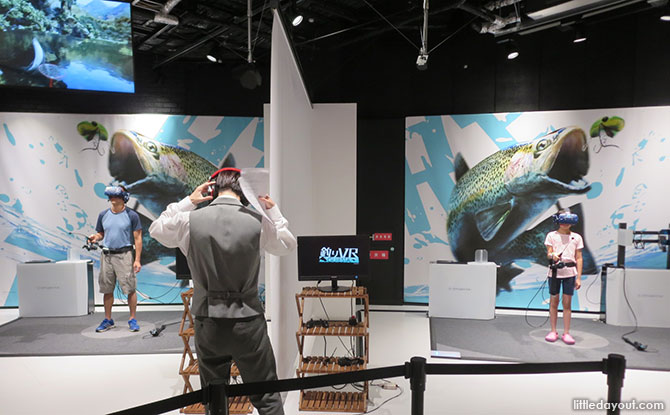 Altogether, we partook in four activities. The first Fishing VR activity was a little challenging for first-timers like us.
However, with the patient guidance by the staff, my 10-year-old daughter and husband had a blast.
Within 15 minutes, by trial and error, using the rods given to throw and reel, they caught three large fishes each!
Conquering Heights at VR Zone Osaka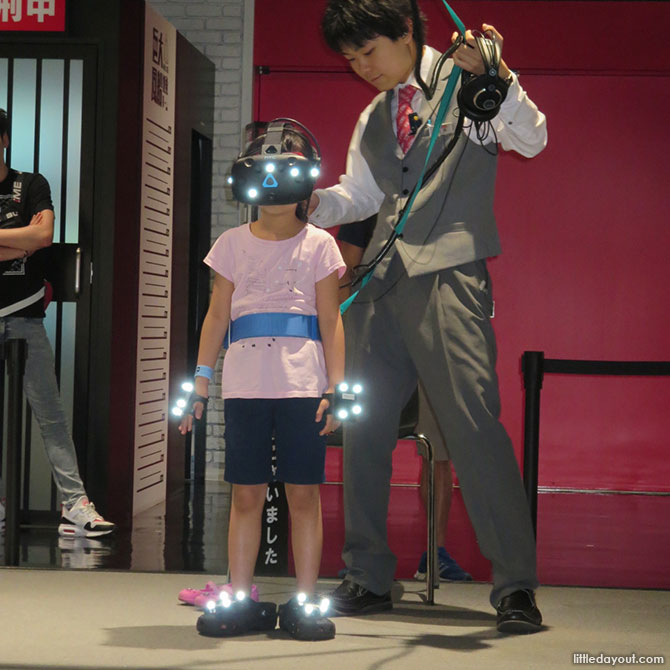 The second activity – Extreme Courage Test Machine: The Big Fear of Heights Experience – was attempted by both my seven- and 10-year-old daughters.
Beware of this activity if you have a fear of heights as this tests the limits of your courage. You have to edge yourself one step at a time on a plank raised 200 metres above the ground just to rescue a cat.
My seven-year-old daughter was so nervous yet excited throughout the experience. "This is so fun!" she exclaimed.
Godzilla VR
As a family, we tried our next activity – Godzilla VR – and were part of an attack helicopter crew assembled to fight against Godzilla. This was extremely exciting and we were screaming non-stop! We were so thrilled that we were able to complete the challenge as a team.
VR Adventure Rapid River
For our last activity, we decided to use the four remaining tickets for another group challenge. The VR Adventure Rapid River activity turned out to be our favourite.
We had to work together to make it through treacherous white water rapids and search through mysterious hidden ruins. This required quite a bit of coordination and strong teamwork.
Our only regret was that we didn't have someone to take pictures of us while we were all in gear.
We highly recommend this attraction in Osaka and we believe we do not do VR Zone Osaka any justice with this one article. You simply have to experience it yourself!
VR Zone Osaka
Address: 5-15 Kakuda-cho, Kita Ward, Osaka City, Osaka, HEP GIVE, 8-9F
Tel: 06-6366-3734
Opening Hours: 11 am to 10.30 pm, last entry 9.30 pm (activities may close earlier if there are many people waiting in line.