Tampines is a town located in the far East of the island and surrounded by more than 20 parks and gardens. It is also Singapore's first model cycling town. With all the green spaces to explore in Tampines, here are five of the best parks in Tampines that you should visit.
---
5 of the Best Parks in Tampines
Tampines Eco Green
Want to reconnect to nature? Tampines Eco Green is a patch of nature located by the Tampines Expressway, Tampines Avenue 12 and Sungei Tampines. It's a great space for visitors who want to escape from the bustle of Tampines Town.
Elements of the park to experience include the Marsh Trail, secondary forests, freshwater wetlands, vegetated swales and open grasslands. There are also several bird hides located around The Tampines Eco Green park for bird watching.
Read more about Tampines Eco Green here.
---
Tampines Forest Green
Surrounded by the flora and fauna of Tampines Green Forest Residences, this impressive park and playground can be seen from a distance away. It has a large playground structure, a fitness corner and a tall tower with cargo nets and a huge slide.
The large surrounding space of Tampines Green Forest Park is an ideal location for a run or a stroll around the area. There are jogging paths with great scenery, as well as lawn spaces for outdoor activities.
Read more about Tampines Forest Green here.
---
Tampines Central Park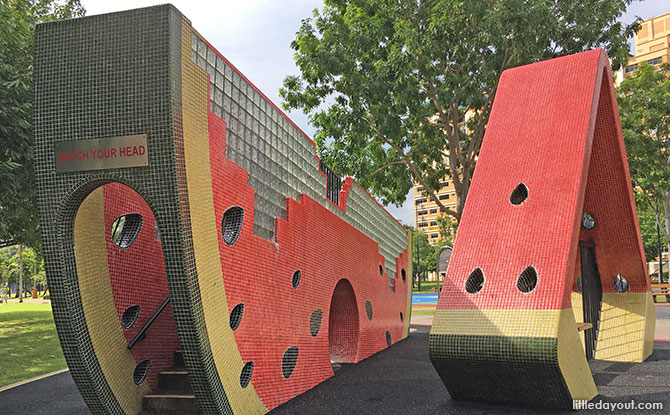 Some might be familiar with the Watermelon Playground and the Mangosteen Playground in Tampines which was inspired by the fruit farms that were once found in Tampines. This iconic playground is located in Tampines Central Park and is a great spot for imaginative play as well as a nice photo or two.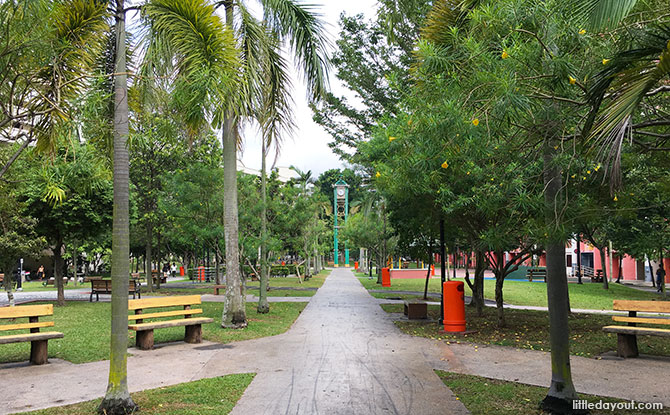 Besides the playgrounds, other amenities within Tampines Central Park include exercise stations and a fenced-off dog run as well as a footpath to the Our Tampines Hub, making it convenient to visit the park from the integrated centre.
Read more about Tampines Central Park here.
---
Tampines Maze Garden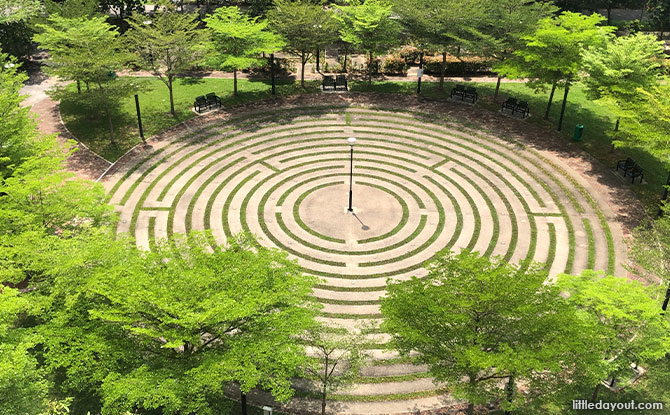 The Tampines Maze Garden is at Blk 944 of Tampines Avenue 5, opposite Our Tampines Hub. It has not one but three mazes for visitors to explore and walk around.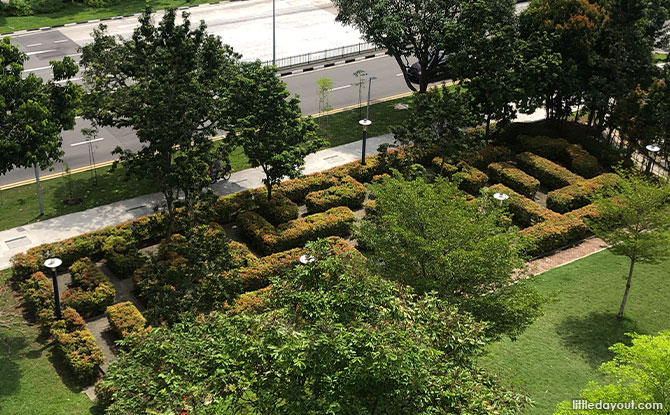 The central maze has no tall grass or hedges. Instead, visitors are invited to navigate through the different outlines and paths demarcated by little patches of grass. There are also two other mazes in the same space, benches as well as exercise equipment spread out around the area of the park.
Read more about Tampines Maze Garden here.
---
Sun Plaza Park
Sun Plaza Park in Tampines can be found at Tampines Avenue 7 and 9. It offers a lush green spot to exercise and several interesting features such as a Sense Discovery Garden, which consists of 10 stations that engage the senses.
Another highlight of Sun Plaza Park is the woodball course as well as the various exercise facilities that visitors can use to work a sweat and take in the fresh air. Families can also enjoy the sand-based playground includes equipment such as swings and climbing obstacles.
Read more about Sun Plaza Park here.
Check out a list of all the parks in Tampines here (scroll down).