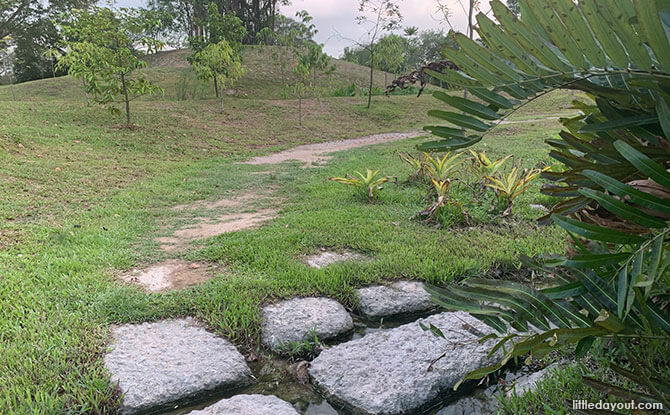 We are all familiar with East Coast Park, West Coast Park and Pasir Ris Park. These wonderful green spaces provide much-needed recreational spots for people to escape from the bustle of urban life. On the downside, these popular parks in Singapore can get pretty crowded too. That's why it can be fun to head out and explore off-the-beaten path parks in Singapore.
There are parks in Singapore which are less crowded. Often you may only come across a couple of people on your walk through the park or walk, sometimes, even no one at all.
Here are some off-the-beaten-path parks and nature spots in Singapore where you can head out and spend some time communing with nature, far from the maddening crowd.
Before you head out, you can also check on how crowded the parks are with the Safe Distance @ Parks website.
Less Explored Nature Spots & Off-the-beaten Path Parks in Singapore
---
Kranji Marshes
Tucked away in the Kranji Countryside, Kranji Marshes is one of the largest freshwater marshes in Singapore. There are no themed playgrounds, no digital installations – just nature and two shelters. It is a place where you can take it easy and commune with nature.
---
Chestnut Nature Park
There are the two sections to Chestnut Nature Park – North and South. There are various hiking trails to explore which head past streams and along rocky paths. At the northern end of the park is Chestnut Tower, a lookout tower with a double helix staircase. Find out more about Chestnut Nature Park.
---
Singapore Quarry

Sticking with the Bukit Timah Nature Reserve Area, a trek to Singapore Quarry is another less well trodden path. Part of Dairy Farm Nature Park, Singapore Quarry can be reached by a paved path which then leads to a platform which overlooks the granite cliffs of the quarry.
---
Kent Ridge Park
If you are looking for a tranquil park in Singapore, pay a visit to Kent Ridge Park. While most people know it as part of the Southern Ridges Walk, connecting to Hort Park, the park has spots such a pond which you can explore. Of course, since this park in Singapore is built on ridge, you can expect to do a bit of climbing. You can also stroll along the Canopy Walk for views of HortPark below. If you have energy to spare, make the walk down a series of switchbacks to HortPark below. There are playgrounds there for the kids.
---
Labrador Battery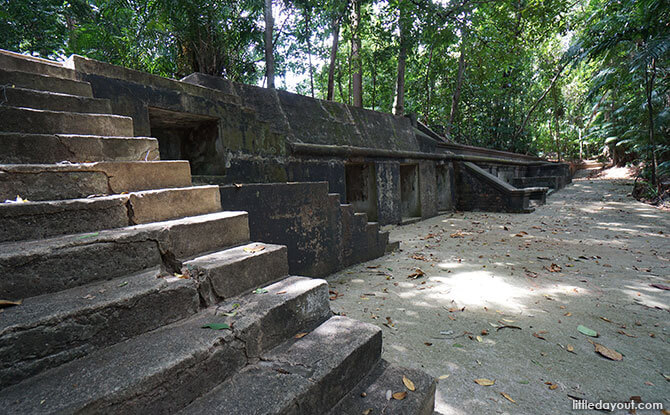 Labrador Nature Reserve is a seaside park which attracts families. However, venture up the hill to Labrador Battery and it is a completely different world. The remnants of gun emplacements that once protected Keppel Harbour make it an interesting spot to explore.
---
Tampines Eco Green
Explore a freshwater swamp environment just minutes away from a housing estate at Tampines Eco Green. Head over to the wetlands and try your luck at spotting water birds and other animals that call the habitat home.
---
Changi Beach Park
Even though Changi Beach Park is a large park, it rarely feels crowded. Another plus of the park is that there are not only playgrounds but other amenities such as BBQ pits and a bike rental station in the park too. Read more about Changi Beach Park.
---
Lower Peirce Reservoir Park
One of the older parks in Singapore, Lower Peirce Reservoir Park is a nice open space for kids to stretch out and have a walk. The fishing grounds are popular with those trying to snag a yabby or two (hint: it requires some skill) and there are also boardwalks to explore.
---
Neram Streams
Everyone who visits Jurong Lake Gardens always congregates at the northern end of the park, close to the Forest Ramble Playground. However, if you head south, close to the ActiveSG Park, there is a section of the park which is much quieter and less crowded. Here, you can explore the naturalised streams that flow down towards Jurong Lake.