Do your little ones enjoy going to indoor playgrounds? Save up to 16% and get access to up to 4 playgrounds with one pass when you purchase the Playgrounds Pass – Bundle & Save package exclusive to Klook. The pass includes general entry to all-time favourites indoor playgrounds such as Kiztopia, Tayo Station, Pororo Park Singapore and more.
---
Price of Klook Exclusive Playgrounds Pass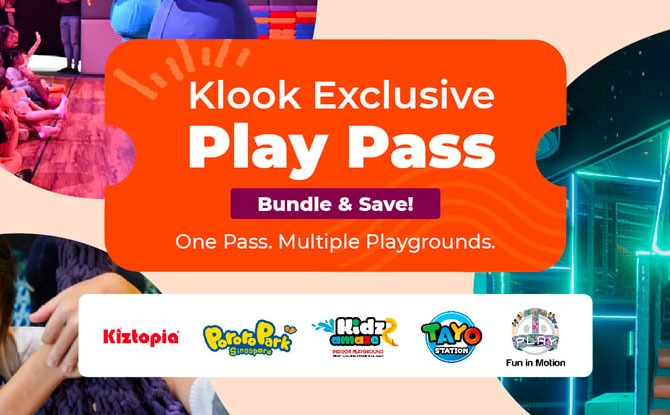 Available at the starting discounted price of $65.99, customers can choose to purchase a 2, 3 or 4 attraction pass that is valid for one year.
With the Klook Exclusive Playground Pass, the holder has the flexibility to pick and choose where and when they would like to go for the indoor playground adventure.
Locations to use the Klook Exclusive Playgrounds Pass
The pass is valid for one adult and one child. Holders of the pass can choose from any of the four playgrounds:
This pass is not inclusive of personal expenses or any playground add-ons. Upon purchasing the pass, customers will automatically get promotion codes for each pass they purchase in their Klook account.
The codes cannot be stacked, thus if one is making a booking for more than one person with their passes, they will need to purchase the tickets separately.
The Klook-exclusive Playgrounds Pass is available for purchase at the site here.
This story contains affiliate links. This means we earn a small fee if you purchase something through a link from our website. There is no additional cost to you and goes towards supporting Little Day Out's efforts to deliver the best news and reporting for families.