Quite a number of indoor playgrounds in Singapore reopened in Phase 2. An exception has been SAFRA's Kidz Amaze playgrounds – at least until now. Kidz Amaze at SAFRA Jurong, SAFRA Toa Payoh and SAFRA Punggol will be reopening on 1 September 2020.
Kidz Amaze consists of two indoor playgrounds – one at SAFRA Jurong and the other at SAFRA Toa Payoh. The third location is an indoor water park, Splash @ Kidz Amaze, at SAFRA Punggol.
All three locations will reopen on 1 September 2020 with new Safe Management Measures in place.
---
Kidz Amaze Reopening 1 September: Things to Note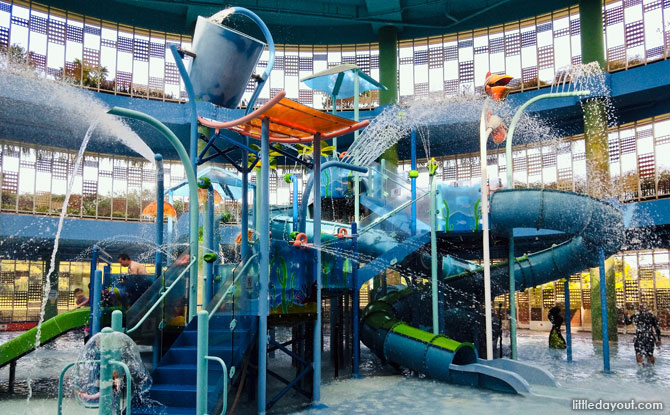 Some of the key things to note there will be a limit of 50 persons per play session. The play sessions at Kidz Amaze will be limited to 1.5 hours.
There will be fixed play timing sessions. These are
Monday to Friday: 1 pm to 2.30 pm, 3 pm to 4.30 pm, 5 pm to 6.30 pm
Saturdays, Sunday, Public Holidays and School Holidays: 11 am to 12.30 pm, 1 pm to 2.30 pm, 3 pm to 4.30 pm, 5 pm to 6.30 pm
There is a half-an-hour break between each play session to allow the indoor playground to be sanitised.
Reservations are recommended and can be made up to seven days in advance. Kidz Amaze will hold the reservation for 15 minutes from the allocated start time of the reserved play session.
Reservations can be made by emailing:
Kidzamaze@safra.sg (SAFRA Jurong)
tpkidzamaze@safra.sg (SAFRA Toa Payoh)
splash@safra.sg (Splash@SAFRA Punggol)
---
Safe Management Measures at Kidz Amaze in Phase 2
Only one adult is allowed to accompany each child into Kidz Amaze when it reopens.
Face masks (not face shields) will need to be worn at all times, even by children, within the indoor playground. Those who are at Splash @ Kidz Amaze will also need to wear masks, except when playing in the water. More details of the new safety requirements at Kidz Amaze outlets can be found here.
Those who wish to head down can also call ahead to check on the capacity. The contact numbers are
Kidz Amaze Jurong: 6686 4321/22
Kidz Amaze Toa Payoh: 6355 4550/51
Splash@ Kidz Amaze Punggol: 6585 8710
Get more ideas on what to do with kids during the September school holiday 2020 in Singapore.