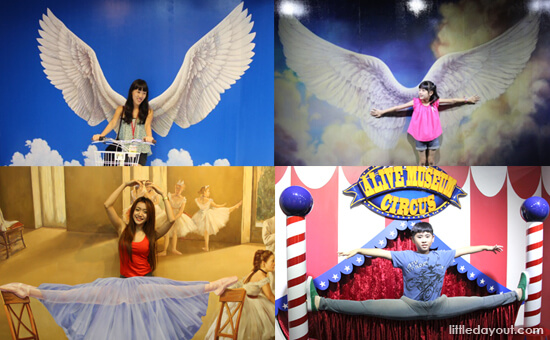 There were many splendid little days out with the family in 2014, given the number of new places and events for the little tykes.
At Little Day Out, we believe that spending time with the young ones and making discoveries as a family makes play-learning a family-wide affair and draws everyone closer together. If you know where to go and what to do when you get there, it doesn't have to be expensive.
Here's the Little Day Out team's round-up of the best events, places and experiences of 2014.
---
Gardens by the Bay's Far East Organization Children's Garden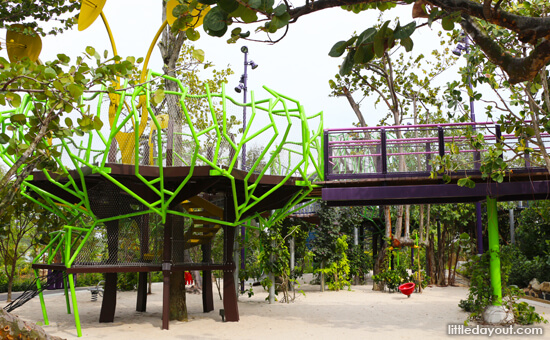 What
A big play area with five sections designed for one- to five-year-olds and six- to 12-year-olds, the Children's Garden mixes the business of playing with the pleasure of a natural environment. The Adventure Trail takes little "hikers" under fig topiaries and through tunnels, stepping pads, and various slides. The tall Treehouses offers climbing adventures via a bridge, little hammocks, and hanging rope baskets. At the Toddler Play Area, one- to five-year- olds can can build up their confidence and skills on a balancing beam and other challenging structures. The Water Play Area has water jetting up from the ground to familiar kids' tunes. The Fish Fountain is for the younger set, two- to five-year-olds, where 17 fish sculptures shoot jets of water. For hot meals and refreshments, there is the Children's Garden Café. For an in-depth look at the Garden, see our full review.
Why It Makes a Great Little Day Out
It isn't just a playground. The designers have gone through pains to blend in the various play structures with greenery and flora. And at night it becomes magical when the soft lighting dresses up the Garden and it transforms into a fantasy land of an enchanted forest in colourful hues. The water show at the water play area, well, simply steals the show.
When: Opened 21 Jan 2014
Where: Gardens by the Bay
---
Pasir Ris Park Playground Reopens
What
Part of Pasir Ris Park's Playground had been undergoing renovation for the longest time. This year, it finally reopened with a new play area for the kids to explore. With more play structures, more swings and more bridges, what's there not to love about Pasir Ris Park. Check out our rediscovery of Pasir Ris Park Playground.
Why It Makes a Great Little Day Out
There are few places in Singapore where you can enjoy an idyllic and shady park that overlooks an offshore kelong while the kids go crazy in the playground.
When: Mid 2014
Where: Pasir Ris Park, near Elias Road
---
Early Literacy Library

What
Purpose-built to help nurture the love of reading in young children aged six and below, the Early Literacy Library at Jurong Regional Library is the first of its kind in Singapore. It offers a casual and inviting space filled with easily accessible bookcases, and a selection of 60,000 books for younger children. Read more about the Early Literacy Library.
Why It Makes a Great Little Day Out
This is no fuddy-duddy library with a librarian telling you to "Shhhh!!!". Here, the learning experiences go beyond books alone: Parents can use hand puppets to tell stories; kids can don costumes to bring their favourite tales to life; and play-learning involves puzzles and learning aids to complement the books. Great effort by the National Library Board to cater to the needs of parents and young children.
When: Opened 10 April 2014
Where: Jurong Regional Library
---
New Malls
What
Two major kid-oriented malls that have recently opened are OneKM at Katong and The Seletar Mall at Sengkang.
The third level of OneKM is devoted to learning, with familiar names such as I Can Read Learning Centre, MindChamps Reading & Writing and Global Art occupying the floor. Of special note is My Imagination Kingdom, a quaint little bookshop is dedicated to helping children discover the joy of reading.
Seletar Mall hits all the right spots for young families. With four storeys and two basement levels, the mall not only has plenty of shops, enrichment centres and eateries, but significantly, it is also home to a cineplex that Sengkang and Punggol residents have been awaiting for years.
See our other story for details of the malls that opened in the last quarter of 2014.
Why It Makes a Great Little Day Out
OneKM is a new development by UOL, the same folks who run United Square. So the tenant mix is a choice selection for families with young ones. As for Seletar Mall, the shops are surprisingly geared towards young families. There's also a small but cleverly designed outdoor playground on the rooftop for the kids to let off some steam. Also, there is a large NTUC Fairprice Finest supermarket that can let you grocery-shop to your heart's content.
When: Opened 30 Nov 2014 (OneKM); 28 Nov 2014 (Seletar Mall)
Where: Katong and Seletar
---
Westgate Wonderland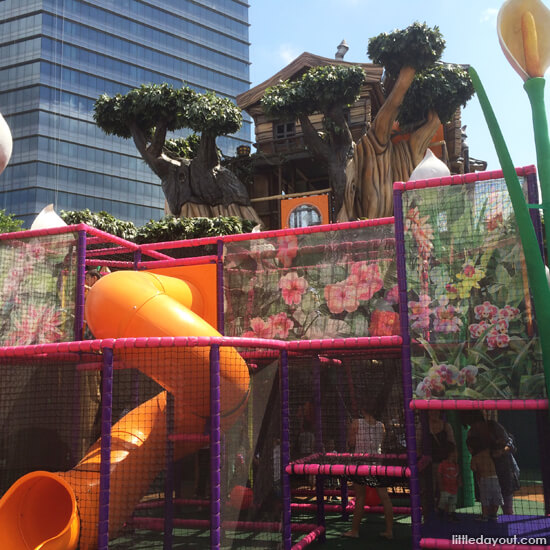 What
Hop into the rabbit hole at Westgate Wonderland, the fantasy garden-themed playground at Westgatemall. Gargantuan flowers and larger-than-life insects rule this wonderland, which is an 11,000 square-foot affair. Touted as the largest playground in a mall in Singapore, a lot has been packed into this brightly-coloured place. The main play area is designed for children between five and 12 years old. The tallest structure is a ten-metre tall tree house, connected to climbing aids and a winding slide; meanwhile, an over-sized flower pot play structure offers a tangled weave of nets, tunnels and slides. The water play area here is surprisingly small, given the generous size of the entire playground. Younger kids between two and five years old can enjoy the more age-appropriate toddler playground at the other end of Westgate Wonderland, where there is small space to run around. See our full review for a closer look at the place.
Why it rocks
Sure, this larger-than-life garden playground could use a little trimming. There is a sense that too much has been crammed into this rooftop play area. But the play structures offer a lot to the little tykes with high-octane energy; and the colours really pop. And who wouldn't want to follow Alice down the rabbit hole in Wonderland?
When: Opened 26 February 2014
Where: Westgate
---
Human Body Experience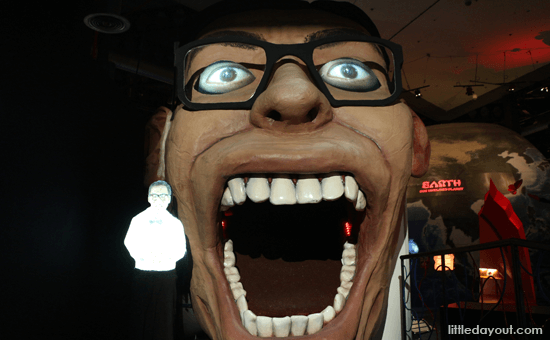 What
Go inside the human body and discover how it works from the inside-out. A mix between a fun house and a mad-scientist's experiment, start your journey by climbing into an oversized mouth and make your way though the respiratory system, circulatory system and digestive system. See our full review here.
Why it rocks
Combining science with the quirkiness of a carnival funhouse, we love the way it presents science in a fun and different light. With its high-touch elements, it brings a new meaning to "hands-on" discovery and learning.
When: Opened 31 May 2014
Where: Science Centre Singapore
---
Little Day Out Adventure Quest
What
Our adventure quest during the June holidays was such a hit, we would be remiss if we didn't do some shameless self-advertising. We crafted two cool downloadable maps of historic Kampong Glam and modern Changi Airport T3 and made these places come alive for parents and their kids. Armed with the maps, which highlighted certain landmarks with relevant questions, parents had to take their little ones on this hunt to find the answers to the questions. Participants who submitted the right answers online won a really neat Little Day Out Adventure Quest badge.
Why It Makes a Great Little Day Out
Other than the fact we designed it? Little Day Out's carefully designed Adventure Quest really hit it home with the LDO spirit: Family fun is about discovering things together on a little day out, and it doesn't have to be expensive. Cheers to that!
When: June 2014
Where: Kampong Glam and Changi Airport
---
KidsSTOP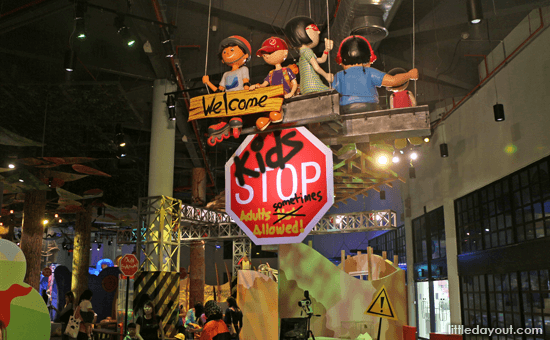 What
KidsSTOP is a one-of-a-kind edutainment science centre that aims to engage children from 18 months to eight years old, aiming to expose them to science in their formative years. It provides a safe and fun environment for kids to engage with the world around them through unstructured, but purposeful play. With 17 interactive zones and feature areas, kids and their parents can experience and discover how things work. For instance, the role-play zone includes an airplane cockpit, a supermarket, and a construction site. KidSTOP's Giant J Slide is perfect for thrill-seekers, where the seven-metre slide allows participants to experience a moment of weightlessness. The Critters Zone, for example, displays live animals like hermit crabs, amphibians and chicks. See our full review here.
Why It Makes a Great Little Day Out
Play-learning is a terrific way to keep the tykes engaged. Learning about science is not confined dusty blackboards or dry-as-bone lectures – instead it's interactive, fun, and larger than life. Pretty cool, we must say.
When: Opened 5 June 2014
Where: Omni Theatre Building, Science Centre Singapore
---
Trick Art in Singapore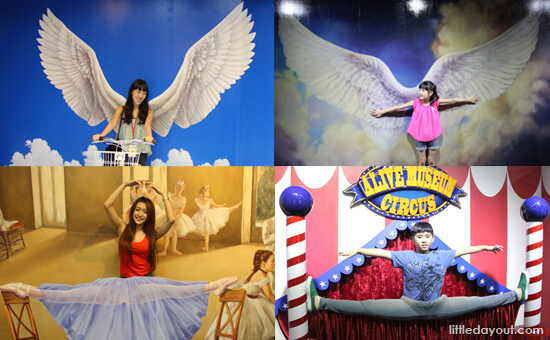 What
Not one but two trick art museums opened in Singapore within the month of June. Get ready to pose at the Alive Museum Singapore at Suntec City and Resort World Sentosa's Trick Eye Museum. Take amazing photographs and gravity-defying shots, that are instantly "Facebookable". Read a comparison of the two museums here.
Why It Makes a Great Little Day Out
Everyone loves photos and the quirky ones you can take at Alive Museum Singapore and Trick Eye Museum are fun too!
When: Opened June 2014
Where: Suntec City and Resort World Sentosa
---
Octoburst! 2014 – A Children's Festival by Esplanade
What
Held over a four-day long weekend, starting on Children's Day, Octoburst! was a treasure trove of mesmerising performances, engaging workshops and tons of free activities. Theatre highlights included UK production Something Very Far Away by theatre group A Unicorn Production. A beautiful and sweet puppet show, it combines live puppetry, music and sound, to tell a moving story of loss. The Singapore Dance Theatre's Dance Appreciation Series: Introduction to Ballet Classics was a specially curated performance for children ages two and up, which gives the little ones an introductory experience to ballet classics like Swan Lake and Nutcracker. Hands-on workshops included Kamishibai Storycrafting, the Japanese art of visual storytelling, as well as Kirigami Pop-up Card Making, where kids learn the Japanese art of paper cutting and folding to create a 3D pop-up card.
Why It Makes a Great Little Day Out
It's a fun, interactive, and unobtrusive way of introducing our little ones to the arts. The age-appropriate shows and workshops makes the arts relatable to kids. And that's what the arts is anyway – expressive, colourful and engaging.
When: From 3 – 6 Oct 2014
Where: Various locations at The Esplanade
---
Little Lit!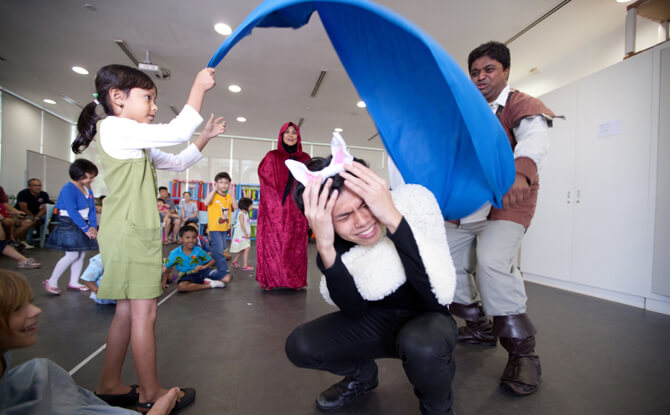 What
Part of the Singapore Writers Festival, Little Lit is an extravaganza for kids that has grown so popular over the years that the programme this year was expanded. Tailored for children between the ages of four to 12 years old, activities this year included story-telling sessions like Brave Hearts and hands-on workshops like Fire Up the Imagination for young writers aged nine and up. Other cool events like Pai Pai Chor Dialect Nursery Rhymes brought nursery rhymes of yore back to life in different Chinese dialects.
Why It Makes a Great Little Day Out
Kids got to meet the authors of children's books, including the festival's youngest, Amon Chua, who is only 12. Some of the storytelling sessions included a fun interactive element where the littlies joined in the story performance as characters in the tale. Other fun activities like art and crafts, as well as music performances make the art of stories come to life. See the five reasons to visit Little Lit! 2014.
When: 1-2 November, 8-9 November 2014
---
Cavalia
What
Horse and man worked together to create magic under a gigantic white tent in breathtaking equestrian theatre Cavalia. Using multimedia and the sheer hard work of horsemanship, the show celebrates the strength and beauty of horses and their bond with man – riders, acrobats and dancers. The Singapore audience met the stars of the show – 50 magnificent horses flown in on a chartered 747 aircraft. Cavalia has travelled to over 64 cities. See where horses are the stars of the show.
Why It Makes a Great Little Day Out
Mesmerising and creative, the show draws gasps of wonder from the crowd just by the sheer beauty of the horses galloping across the stage. That, and the spectacular visualscapes which form the backdrop to agile horse-riding performances and other acrobatic stunts. This is a show that both adults and kids would love. See our review of Cavalia.
When: 12 Aug – 13 Sep 2014
Where: White Theatre Tent, Bayfront Ave next to Marina Bay Sands
---
Kranji Countryside Farmer's Market
What
More than 4,000 locals flocked to Kranji Countryside Farmer's Market in October – the second one so far – to get a dose of local fresh produce. It was a relaxing weekend of fun at this quarterly market, which was much larger than the previous one held in June this year. From fresh veggies to fried crocodile meat to crafted nut butters, there is something among the 40 stalls for the outdoorsy, the foodies, and plenty of activities for those with kids in tow. The next one will take place on 17 and 18 Jan 2015. See their Facebook page for details. In fact, they are calling for volunteers to help out at the event on their page.
Why It Makes a Great Little Day Out
Because we love to support local! Singapore's very own farmers set up shop at this market, offering a wide variety of fresh produce, artisanal foods, and workshops. Besides the festive vibe and lots to taste and look at, there was even a bouncy castle of kids!
When: 18 – 29 June 2014, 4 – 5 October 2014
Where: D'Kranji Resort (June), 240 Neo Tiew Crescent (October)