Escape the steel and concrete of the city and head out to an airy farmer's market, where fresh veggies and produce await, the smell of lovingly-cooked food lingers, and handcrafted wares and trinkets beckon.
Bye-bye, mass market instant food, and hello, artisanal homemade goodies! Ever since the farmer's market at Loewen Gardens started in 2010, touted as Singapore's first such market, many others have since mushroomed all over the island.
It's a heady experience for the entire family to join in the festive buzz of these markets, where you can see and smell the earth still crusted on fresh produce, and meet the real people who cooked or baked that morsel in your mouth. Here's Little Day Out's pick of the best and brightest.
Singapore's Farmer's Markets:
1. Kranji Countryside Farmers' Market
When it comes to farmer's markets, this one is the motherlode.
The Kranji Countryside Farmer's Market supports local in a big way, bringing together a coalition of 40 local farms and many other vendors – fresh produce including vegetables, fruit, herbs, eggs, fish, dairy; homemade condiments like jams and sauces; crafts, educational and outreach booths and family activities.
Organised by the Kranji Countryside Association, the market is held quarterly in different parts of the Kranji Countryside, home to some of Singapore's last farms
The first Kranji farmer's market held in June offered a wide range of goodies, like fresh goat milk from Hay Dairies, quail eggs from Lian Wah Hang farm, greens from Quan Fa farm, and even tilapia fish.
Spacious and airy, the sprawling market is a great place for kids to run around as dad and mum hunt down the freshest produce.
Keep your eyes on their Facebook Page for upcoming farmer's markets. Support local!
Kranji Countryside Farmers' Market
Different parts of Kranji Countryside
Every 3 months
https://www.facebook.com/farmersmarketsg
2. The Common Man Green Project
Common Man Coffee Roasters, known for its good coffee and hearty brunches, recently launched a farmer's market in August. And the guys at Common Man are aiming to have it once a month.
The latest farmer's market in Singapore, The Common Man Green Project will offer fresh, organic and sustainable produce from the likes of The Edible Garden and Quanfa Organic Farm.
From what went down in their first market in August, other cool artisanal munchies include Eastern Granola and Mofo Chilli. Also present were local indie bookstore BooksActually and charity pottery outfit See No Clay.
Follow The Common Man Green Project's Facebook page for the latest updates on the next farmer's market.
The Common Man Green Project
Common Man Coffee Roasters
22 Martin Road, Level 1 and 2
https://www.facebook.com/commonmangreenproject/timeline
3. PasarBella
Touted as Singapore's first permanent farmer's market, PasarBella at The Grandstand Bukit Timah is kind of like an air-conditioned Marché for markets.
Well-known for their fresh meat and seafood, organic veg, and wines, artisanal baked goods, homeware and lifestyle products, families with young kids can have a go at the market experience.
PasarBella is more a dining and lifestyle destination than a farmer's market in the traditional sense – but you get both the fresh veg and produce, as well as the gourmet food and drink.
Tired from shopping around at the market? Sit down and enjoy some good coffee – or pick from a wide variety of gourmet food options like roast beef, roast pork knuckle, pastas, seafood and more.
There is just enough space for strollers, but it's better to do without.
PasarBella
The Grandstand, 200 Turf Club Road, Bukit Timah, Singapore 287994
Monday – Sunday: 9.30 am – 7.00 pm
Some restaurants open till 10.00 pm
http://www.pasarbella.com
4. Bollywood Veggies
This household name in local farming has been harvesting fresh, homegrown produce for more than a decade since 2000.
Bollywood Veggies was started by a dynamic couple Ivy Singh-Lim and her husband Lim Ho Seng. Ivy is currently the President of the Kranji Countryside Association.
This eco-friendly farm uses no chemical fertilisers, pesticides, growth hormones, or genetic modification.
Its farmer's market, called Bolly Jolly, is held on the last weekend of every month, showcasing young entrepreneurs and their locally-made artisanal produce. Think homemade jams and spreads, granola with an Asian twist, natural balms and lifestyle products, organic vegetables, and even doggie treats.
Their kitchen, called Bollywood Bhanchha (kitchen) has been offering fresh farm-to-table cuisine since 2009. There are also cooking classes for young kids from the age of five.
You can take the family to check out the Bollywood Veggies farm on most days, even when the farmer's market is not open. There is an in-house bistro where there is food and drink.
Bolly Jolly Farmer's Market
Last weekend of every month
Bollywood Veggies Farm & Bistro
Wednesday – Friday: 9.30 am – 6.30 pm
Saturday, Sunday & Public Holidays: 8.00 am – 6.30 pm
Monday – Tuesday: Closed, except on public holidays
100 Neo Tiew Road, Singapore 719026 (Kranji)
5. The Weekend Farm
A less well-known farmer's market, run by Kok Fah Technology Farm, is The Weekend Farm. The name explains itself – the retail marketplace is open only over the weekend and on public holidays.
It's a nice way to spend the weekend. The vegetables sold here are no more than 3 hours old, from the time of harvest.
Besides the rows and rows of veggies growing in the soil, the kids can look at colourful birds, geese, goats, stingrays and fish in a series of pens and ponds.
See our in-depth review of The Weekend Farm.
The Weekend Farm
18 Sungei Tengah Road, Singapore 698974
Tel : 6765 6629, Fax : 6765 6619
www.weekendfarm.com.sg
Saturday, Sunday & Public Holiday: 
9.00 am – 6.00 pm
Farm Tours (by appointment only):
Tuesday – Friday, Saturday & Sunday: 10.00 am – 4.00 pm
6. Farmer's Market at Loewen Gardens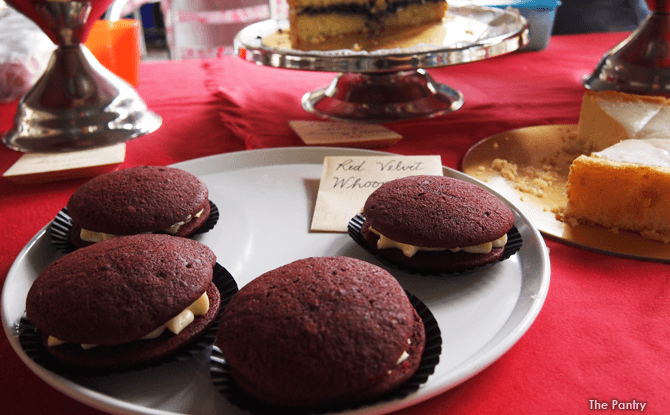 Of course we wouldn't forget the Farmer's Market at Loewen Gardens, known to be the first of its kind in Singapore.
Held on the first and third Saturday of every month, the farmer's market is run by bakery-bistro The Pantry at Loewen Gardens.
From fresh coffee to Spanish paella, wines, dips and spreads, organic produce, cheeses, breads, bakes and other homemade wares, it's a fun place to be on a Saturday.
With a small playground and trampoline in the corner, this farmer's market will keep the littlies entertained.
Loewen Gardens Farmer's Market
The Pantry
75 E Loewen Gardens, Tanglin Village
First and third Saturday of the month, 8.30 am – 2.00 pm
http://thepantrycookeryschool.com/farmers-market/