Posh suburban shopping malls are popping up all over Singapore like mushrooms after a torrential downpour. With modern facades and bright lights, these neighbourhood malls offer an enticing alternative to downtown destinations.
Two major malls that have recently opened are OneKM at Katong and The Seletar Mall at Sengkang.
Eastpoint, a stalwart of the Simei neighbourhood for many years, has also reopened after major renovation works.
Elsewhere, two smaller malls, East Village at Simpang Bedok and HillV2 at Upper Bukit Timah's Hillview Estate, are chic additions to the suburban landscape.
We paid these malls a visit to find out what parents with young children can look forward to in their neighbourhoods.
---
OneKM
11 Tanjong Katong Road, Singapore 437157
Standing at the intersection of Tanjong Katong Road and Geylang Road where the Lion City Hotel formerly stood, OneKM is a new development from UOL, the same folks who run United Square. With such a pedigree, you can expect that the mall does not miss out on the young children demographic.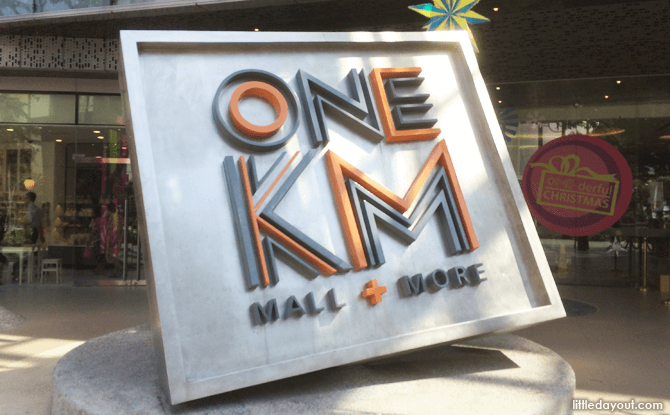 The mall's third level is devoted to learning, with familiar names such as I Can Read Learning Centre, MindChamps Reading & Writing and Global Art occupying the floor.
Of special note on the third floor is My Imagination Kingdom. This quaint little bookshop is dedicated to helping children discover the joy of reading. Carrying both local and international titles, books are neatly sorted on the shelves by age group. What's more, free storytelling sessions are held on Saturdays and Sundays at 12 noon and 2.30 pm.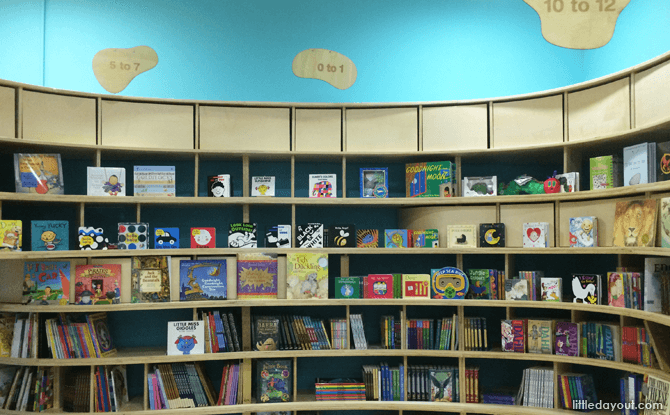 My Imagination Kingdom Outlet at OneKM Mall.
Free storytelling sessions on weekends.
Disappointingly, OneKM does not have a free children's playground. However, on the bright side, indoor playground Happy Willow has opened its second branch in the mall. This cheery indoor playground can be found on the second floor, directly opposite Delifrance. Inside is a colourful playscape, two large party rooms and a place for parents to take a breather.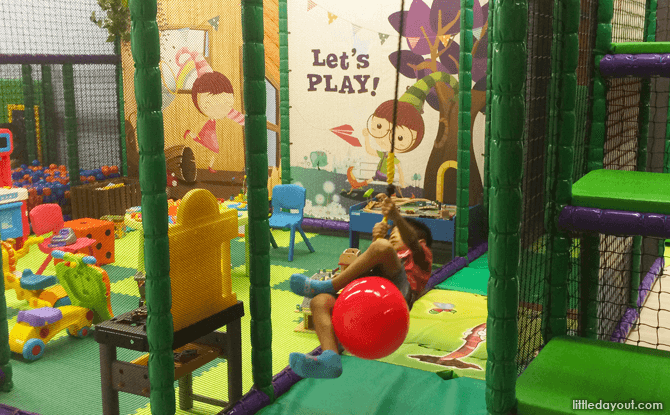 Playscape at Happy Willow OneKM.

Party room at Happy Willow OneKM.
The rest of OneKM is the usual mix of dining and shopping with a supermarket, Cold Storage, located in the basement.
---
The Seletar Mall
33 Sengkang W Ave, Singapore 797653
Sengkang is an enclave of young families. Unsurprisingly, The Seletar Mall is extremely family-oriented.
With four storeys and two basement levels, the mall not only has plenty of shops, enrichment centres and eateries but significantly, it is also home to a soon-to-be-opened cinema that will serve the Sengkang and Punggol area! Hurray!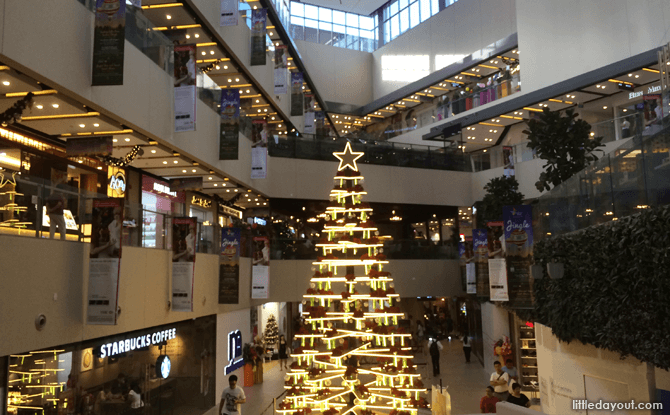 Seletar Mall all decked out for Christmas
Shaw Theatre at The Seletar Mall getting ready to open
1010 Mother & Child Essentials, a shop that caters to young families, stocks its shelves with everything from diapers to kiddy toys to baby snacks. It even has a small activity table and kiddy shopping carts (which would probably be hard to manoeuvre around the shop's tight aisles). This is 1010 Mother & Child Essentials second location after their first at City Square Mall.
1010 Mother & Child Essentials at The Seletar Mall.
Activity table at The Seletar Mall's 1010 Mother & Child Essentials.
Other child-oriented shops at The Seletar Mall include toy stores Lamkins and Early Learning Centre, Mothercare and even a party favours store, V-Force Party & Novelties – perfect for preps for a child's birthday.
Educational toy shop Lamkins.
The gamut of enrichment centres can also be found at The Seletar Mall, including Mind Stretcher Learning Centre, HiArt, The Ballet & Music Company and HAN Language Centre amongst others.
Of course, you can let your child skip the enrichment centres and head straight to the free outdoor playground on the fourth floor. Here, they can play among the structures at this outdoor playground.
The Seletar Mall's free outdoor playground.
If the heat outdoors gets to you, a cooler alternative is indoor playground Hokey Pokey. Their outlet at Basement 1 allows kids to enjoy themselves in air-conditioned comfort while parents spectate from bar stools beside the play area.
Indoor playground Hokey Pokey at The Seletar Mall
---
Eastpoint
3 Simei Street 6, Singapore 528833
Reopened on 2 December 2014, the revamped Eastpoint Mall is now home to a 24-hour NTUC FairPrice on the fifth floor, just above the new Food Junction food court.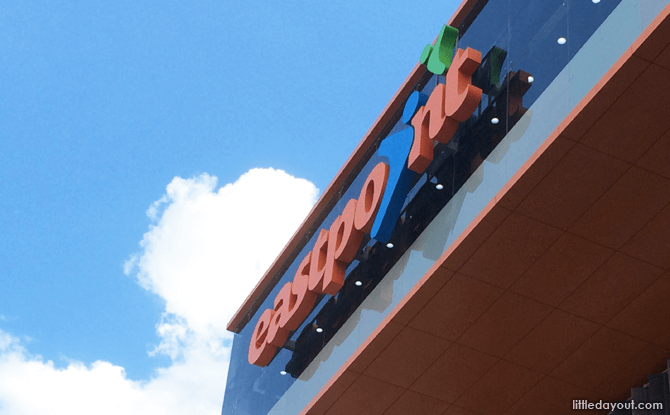 Many shop units are still unoccupied as of the beginning of December. However, families with newborns till toddlers of the age of four can head to the Tom & Stefanie on the second floor. There are also enrichment centres on the sixth floor.
If your kids need to let off some energy, head to the outdoor, nautical-themed playground on the sixth floor. Ship-shaped play equipment and climbing nets allow kids to imagine they are sailing the high seas, amidst the surrounding condos and HDB flats.
Outdoor playground at Eastpoint Mall, Level 6
Playground ahoy! Eastpoint's outdoor playground.
---
HillV2 and East Village
HillV2 – 4 Hillview Rise, Singapore 667979
East Village – 430 Upper Changi Road, Singapore 487048
HillV2 and East Village are much smaller developments compared to the former three malls.
HillV2 is a suburban hipster's paradise. With a neighbourhood Starbucks, designer grub, stylish bakeries and ice-creameries, it is a place that invites you to chill and relax.
Don't expect toy shops and the like here. Other than Cold Storage on the second floor, the majority of the shops are eateries. Kids can head to Cold Stone Creamery for a cold treat or browse through the Korean snacks at Hil Seoul Mart for cute Korean snacks.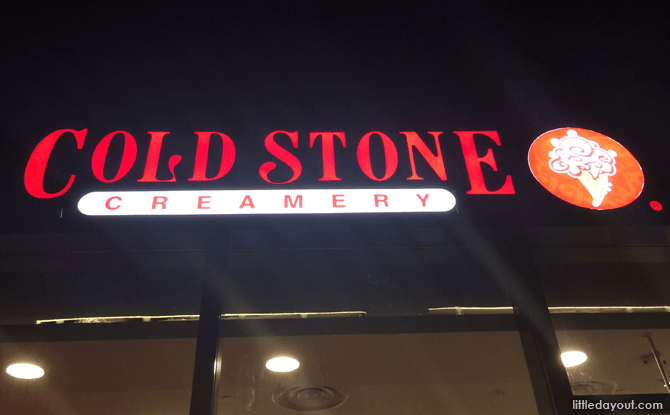 Ice cream treats at HillV2.
Korean goodies on sale at HillV2.
You can also choose to amuse them by sending them through the dancing fountains on the second floor – if they dare that is.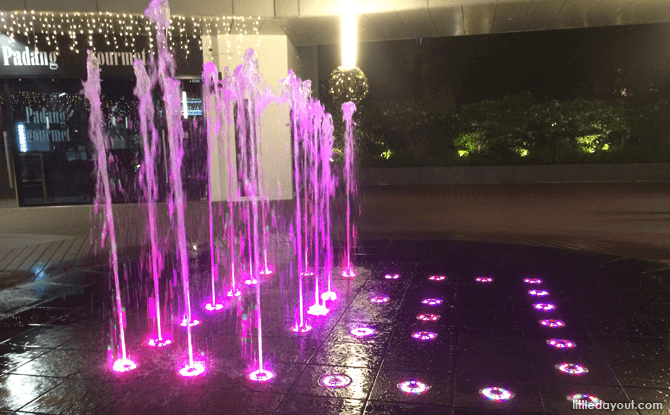 HillV2's dancing water fountain at night
Just like HillV2, East Village is part of a mixed residential and commercial development. The development is very new and, as of early December 2014, many of the shop spaces are unoccupied. Once again, Cold Storage is the anchor tenant. If visiting, check out Sarah's, a Pancake Café, and Salty Peanut, a Gelato Café. For cupcakes, cakes and sweets pastries, head to D'elish Treats.