Little Lit!, part of the Singapore Writers Festival, takes place this weekend and next.
This year, Little Lit! has expanded exponentially and now includes more than 40 free programmes, workshops and activities, all aimed at cultivating the love of books among children from as young as four years old.
Little Lit! takes place at various venues throughout the National Museum of Singapore. If you are wondering whether to make your way down over the weekend, here are five reasons for you and your little ones to take a Little Day Out to Little Lit!
#1 – Meet the Authors
Get to meet the authors of children's books, including the festival's youngest, Amon Chua, who is only 12. Amon and his father Andy will be sharing how their passion for fossils led to the book series, Fossil Finders. Get to meet Sally Rippin, author of the Billie B Brown series and Norwegian author Tone Alhmjell will whisk the audience away into the world of the Twistrose Key. Pop-up book authors Anouk Boisrobert and Louis Rigaud will also be sharing their love of the environment and pop-up books with young audiences. Other authors who will be at Little Lit! include Jacqueline Harvey and Lynette Morrison.
#2 – Story Time
Little ones can listen to enchanting tales and engaging yarns. Lively storytelling sessions by animated storytellers will take place over the two weekends of Little Lit! With a high degree of audience participation, kids can act along with the narration, pretend to be one of the heroes and even read a "book without words". Join Sheila Wee for Awesome Asian Adventures, Chuah Ai Lin in Can You Hear the Earth Speak? and travel through the jungles of Singapore, Malaysia and Indonesia with Juriah Atan. There are many other storytelling sessions for all ages too.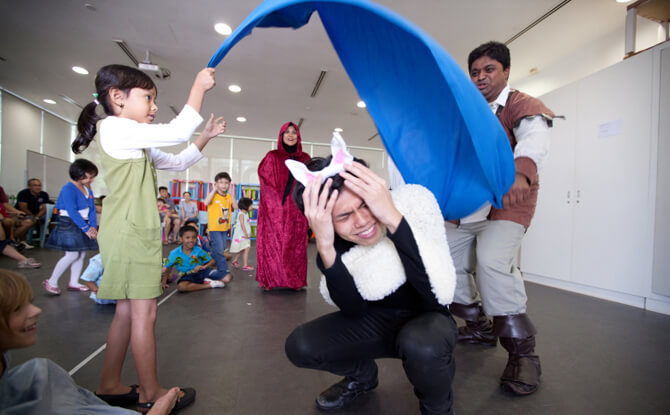 #3 – Art and Crafts
Make some dino art with Katherine Mah, doodle along with illustrator of the Diary of Amos Lee,Stephanie Wong, at the Doodle Wall and even make your own picture storybook with simple paint and paper. Kids can even make their own pop-up cards in a workshop by Anouk Boisrobert and Louis Rigaud, the authors of Wake Up, Sloth!
#4 – Creative Writing Workshops
Always wanted your child to develop their creativity and flair for writing? Little Lit! presents a unique opportunity for children to hear directly from the authors on their creative process and get ideas on how to come up with their own creative storylines.
Among others, fantasy writer, Tone Alhmjell, will share on how to write a fantasy story, Hemang Yadav explains how random ideas such as pictures, paper shapes and drama games can be combined into a unique storyline, and Sally Rippin explains how experiences from her childhood turned into her popular Billie B Brown and Hey Jack! books. Also look out for workshops by Radhika Puri, Jacqueline Harvey and Roger Jenkins.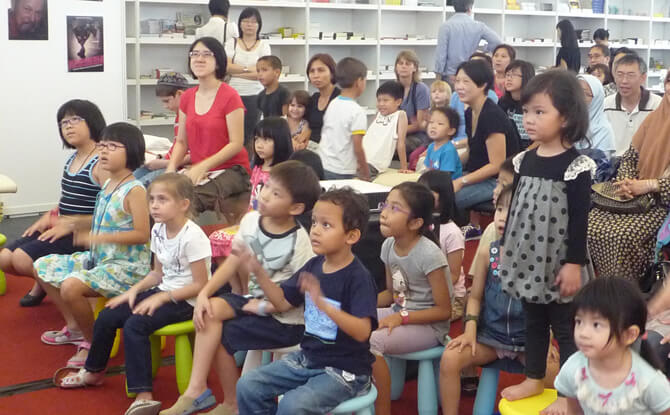 #5 Performances
The National Museum of Singapore comes alive with music performances during Little Lit! with visitors welcome to join in a raucous sing-a-long of nursery rhymes in Cantonese, Teochew, Hokkien and other dialects led by the children from the Wu Jia Ban Singing School, listen to Gillian Tan and Sebastian Ho spin stories together with music, and enjoy popular tunes performed by the ensemble,Couzins+.
For a full schedule of programmes and activities taking place during the Little Lit! over the weekends of 1 & 2 November and 8 & 9 November, download the Little Day Out Guide to Singapore Writers Festival Little Lit! below. Click on each programme within the Guide for more details.
Do note that participants are required to register for the workshops with registration opening onsite an hour before the start of the sessions. Workshops are limited to 30 participants unless otherwise stated. A parent or caregiver is required to remain with children below eight years old for the workshops.