Strength, grace and beauty.
These are the words that come to mind as Cavalia: A Magical Encounter Between Man and Horse unfolds under the white tent pitched beside Marina Bay Sands.
In a perfect pairing between horses and humans, Cavalia is a brilliant and spectacular show that lavishly plays out the bond between horse and men through multimedia, music and plain, old-fashioned horsemanship.
Created by Normand Latourelle, one of the co-founders of Cirque du Soleil, inCavalia's stable are 50 horses comprising 11 different breeds such as Pure Spanish Breed, Arabian, Paint Horses and even a Miniature Horse.
The four-legged animals take turns to cavort in front of a 60 metre-wide, curved projection screen and share the stage with skilled acrobats and dancers. Under their spell, the sand-and-dirt arena transforms into a magical dreamscape where the relationship between man and equidae gets artfully presented.
It is hard not to feel a burst of exhilaration when the horses first arrive on stage. Galloping at full tilt and backed by the heroic music from the live five-piece band, it is easy to come to grips with man's long-held admiration for these animals.
The grace of the horses is matched by the troupe's acrobats and dancers.
Balancing on an oversized ball, acrobat Noureddin Barhihi had the audience swaying along with him as he rolled effortlessly across the stage. Aerialists Elizabeth Williams, Marie-Elaine Mongeau and Jennifer Lecuyer also delivered ethereal performances as they floated through the air, dancing alongside riders on horseback.
Special mention must go to the Guinean acrobats whose tumbling antics and amazing human pyramids had the audience astonished and entertained.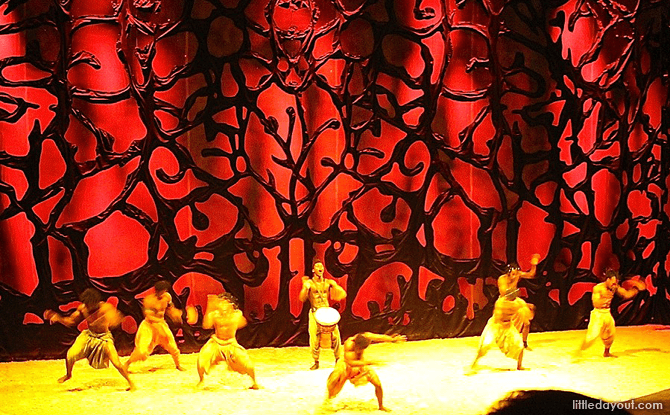 Not to be outdone, the horse riders were also eager to show off their skills. With displays of Roman Riding, where a rider straddles two horses with one foot on each horse, Trick Riding and other amazing stunts, the riders drew constant "woahs" from the crowd for their bravado and horsemanship.
However, the true stars of the show were the horses. At times, majestic and noble, and at other times, playful and gentle, they charmed the audience into a deeper appreciation of the special bond between humans and horses.
Cavalia is a wonderful spectacle.
Through the use of multimedia and music, the audience is brought on a horse-laden journey from bright, open plains to gentle, lush forests and magical mountains that seem straight out of Middle Earth. The show constantly surprises with its innovativeness and just when you think you have seen it all, it comes up with even more. By the end of the evening, audiences can expect be thoroughly amazed by the strength, grace and beauty that is possible when creature and man come together.
---
DETAILS: CAVALIA
Dates & Times:
Tue, 12 Aug – Sun, 14 Sep 2014
Tue – Fri: 7.30pm
Sat: 2pm & 7.30pm
Sun: 12pm & 5.30pm
*Please note that there will be no performance on 13th,19th and 26th August 2014.
Venue: Under the White Theatre Tent, Bayfront Ave next to Marina Bay Sands
Tickets: Available from SISTIC: Price range from $58 to $308