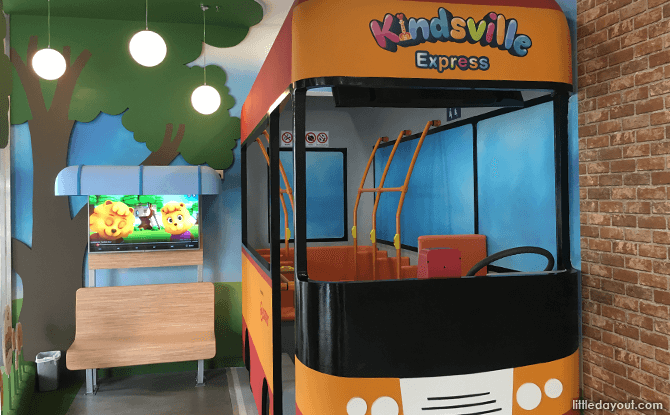 When you are in town and kids are feeling a bit restless, what do you do? If you plan to give them a little break from the shopping, you could be looking for a little play spot suitable for little ones. Perhaps, you would be interested in looking for free children's playgrounds in town?
So, where exactly are these free children's playground in town? Don't worry, we have you covered with our roundup below!
Free Children's Playgrounds in Town
---
Paragon Junior Children's Playground
Level 5, 290 Orchard Road, Singapore 238859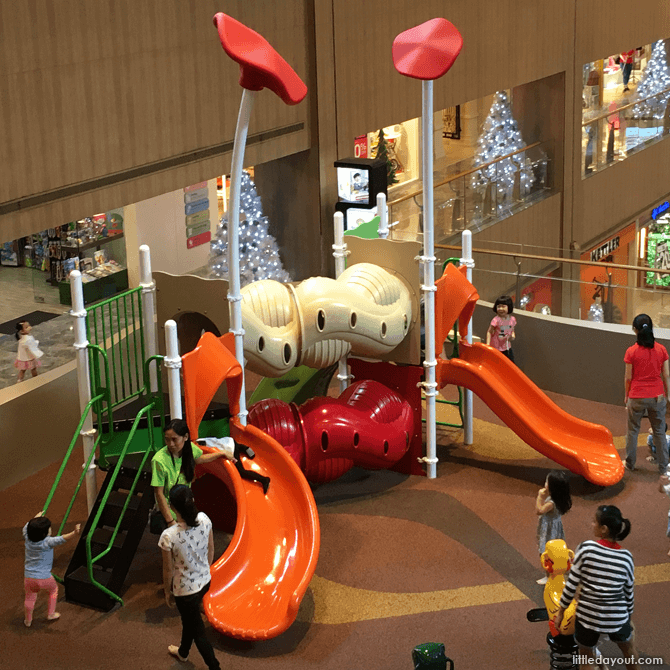 The upmarket Paragon shopping mall is not only home to swanky shops but a highly-popular free children's playground in town. The Paragon Junior Children's Playground can be found on the mall's fifth floor and is suitable for kids between two and six years old. Besides the Children's Playground, there are also coin-operated rides on the same floor.
---
-- Story continues below --
---
313 Somerset Children's Playground
Level 5, 313 Orchard Road, Singapore 238895
313 Somerset has a free children's playground located on level five. Found at the mall's Sky Terrace, it is accessible through the Food Republic food court. This outdoor children's playground includes a sectioned-off area with a few small play features for young children.
---
Suntec City Children's Playground
Level 3, 3 Temasek Boulevard, Singapore 038983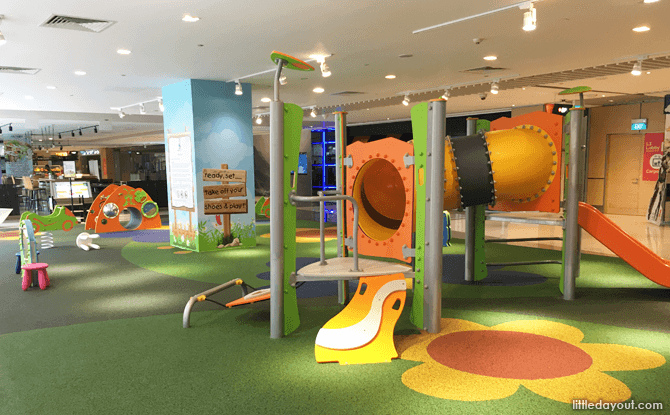 Found in the shopping mall area on the third floor between Towers Two and Three, the free Suntec City Children's Playground includes activity stations, teeter-totters and a little play structure. Seats located around the indoor playground allow parents and caregivers to keep an eye on the kids while taking a rest.
---
Marina Square Playground
Level 3, 6 Raffles Boulevard, Singapore 039594
At the Marina Square Playground, kids get to play on a vehicle-themed playground which has a red fire engine – complete with fireman's pole – as its main play structure. There are other transport-related teeter totters at the playground and some animal-themed activity stations at a nearby corridor. The playground is found close to Mothercare on level three.
---
The Kindness Gallery
61 Stamford Road, #01-08, Singapore 178892
Inside The Kindness Gallery at Stamford Road is a little bus to Kindsville that kids can "ride" on and a treehouse for young children to climb into. Take note though that The Kindness Gallery is only open from Mondays to Fridays.
---
PIP's PLAYBox @ Esplanade Theatres on the Bay
Level 4, 1 Esplanade Drive, Singapore 038981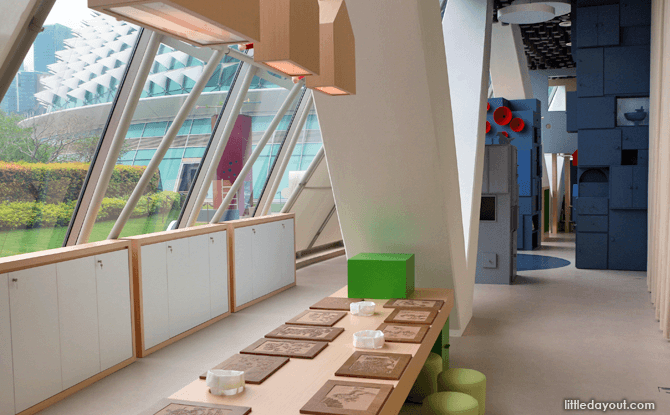 Take the escalator to the 4th floor of Esplanade – Theatres on the Bay and you will find PIP's PLAYBox, a children's activity space offering crafts and other distractions for young children. Step inside for a break or explore the play sculpture outside.
---
Esplanade Park Playground
Along Connaught Drive, Singapore 179682
When looking for free children's playgrounds in town, you can't ignore outdoor playgrounds. The children's playground at Esplanade Park features swings, a slide and even a wall of bells where kids can ring out a tune.
---
Marina Bay Playground
11 Marina Boulevard, Singapore 018940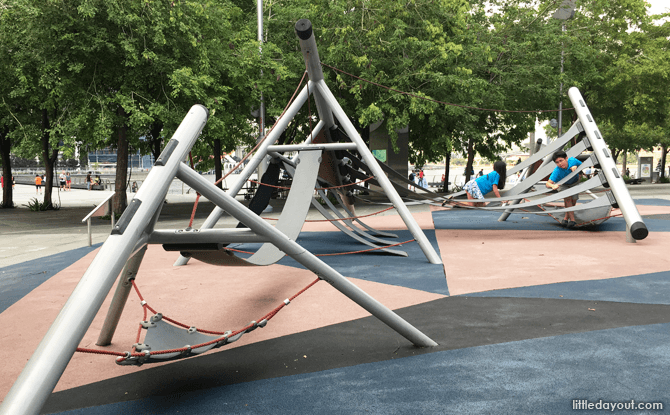 Part playground, part sculpture, the Marina Bay Playground provides a play spot for kids to scramble around by the edge of the city. This free outdoor children's playground features plastic panels that kids can happily climb around and over. The Marina Bay Playground stands outside the Red Dot Design Museum.