Every city needs a playground and Suntec City is no exception. In this case, the Suntec City Playground is located at level three of the East Wing, between Suntec Tower 2 and Suntec Tower 3.
Playing in the Mall
The Suntec City playground opened in mid-2017. It is intended for children between the ages of two and nine or under 1.2 metres in height.
The orange-and-green playground's main play structure consists of two triangular shaped platform interconnected by a tube tube.
Young kids have the choice of accessing the lower platform by means of a short, orange swaying bridge or a yellow ramp with an S-shaped fitting that serves as both a hand and foot hold.
The higher platform has a low, orange slide and some rungs for climbing up and down.
Activity Stations
Beside the main play structure, other play equipment at the Suntec City Playground include little activity stations for kids to play at.
There is a green "Color Machine" station where kids can try spinning colour wheels to investigate how colour combine with each other to create new colours. For example, what two colours combine to create green, purple or red?
At another station, kids can explore different materials such as steel, wood and rubber. This tactile activity station is best suited for young children.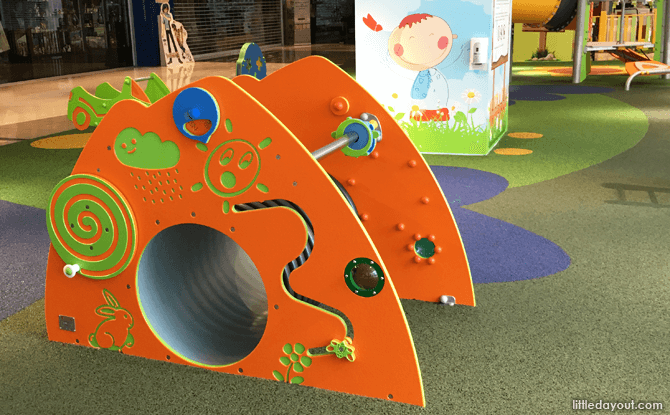 At yet another play station, there is a tunnel along with little sliders and wheels for kids to play on.
A pair of green, car-designed teeter-totters complete the play equipment available at the Suntec City Level 3 playground.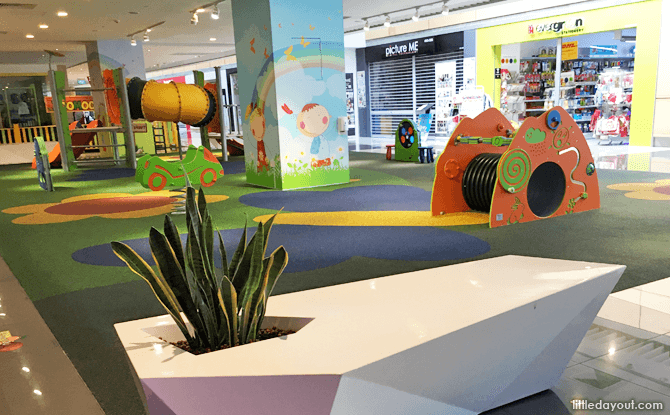 Parents can wait for their kids at white benches by the edge of the Suntec City playground.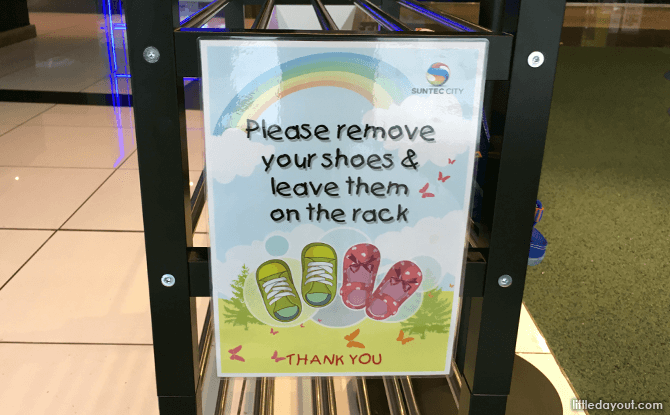 No shoes are allowed on the soft padded floor of the shopping centre playground. Kids will need to take off their shoes and place them at a shoe rack beside the playground.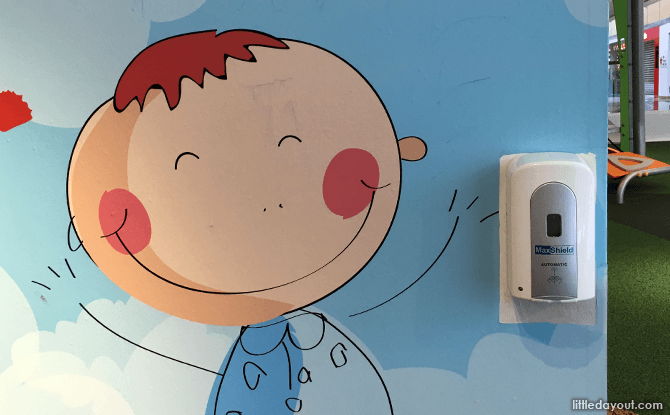 The playground has also a hand sanitiser available on a wall.
Suntec City Playground – Let's Play @ L3
Location: Suntec City Level 3, close to Kopitiam Food Court, between Towers 2 and 3