Hidden in plain sight, most people walk past the Marina Bay Playground without realising it is a children's play area. However, for those in the know, the playground provides some simple fun for kids against the backdrop of the marvellous Marina Bay.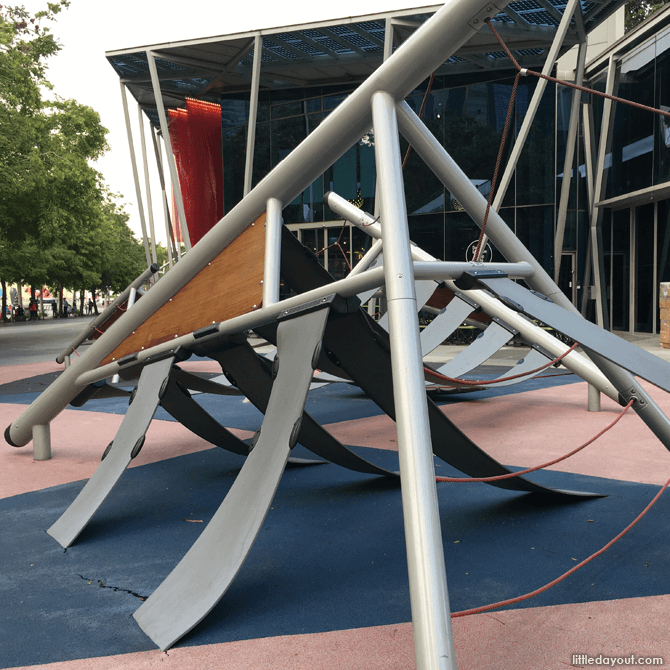 Located beside the new Red Dot Design Museum close to the junction of Marina Boulevard and Bayfront Avenue, the Marina Bay Playground blends together architecture and physical challenges to create different play experiences for children.
Art As Play
As a play sculpture, it combines aesthetics with exploration. Its modern design makes it look entirely in its element next to the Red Dot Design Museum and amongst Singapore's skyscrapers.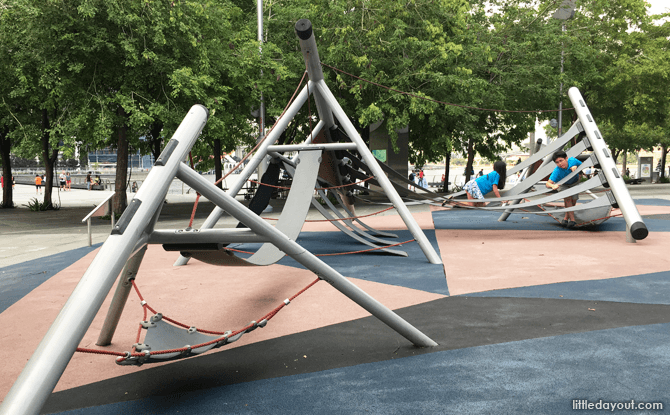 It is made up of four pyramidal-shaped structures fashioned out of metal tubes. These are interconnected by flexible sheets of plastic and guide rope. Slung underneath two of the pyramidal structures are low hammocks.
Kids can challenge themselves to move from one pyramid of the play sculpture to the next. The guide ropes provide support and confidence to young children as they venture out on the swaying interconnecting plastic bridges.
In between the two larger middle pyramidal structures are ribbons of plastic that kids will have to find their way across.
The steel metal tubes also have rubber grips for adventurous climbers.
The Marina Bay Playground is designed for ages five to 12 years old and is one of the rare children's playgrounds found in the city.
Modern Look, Timeless Fun
Another children's playground in the Central Business District can be found at Esplanade Park.
Poetically, since Esplanade Park and the surrounding Civic District was is one of the old centres of Singapore, the playground at Esplanade Park is reminiscent of a traditional playground.
Marina Bay, arguably the modern-day equivalent of the Padang, is a new centre of social life in Singapore and therefore gets a modern and sleek play sculpture.
Now that you are in the know, when you are in the vicinity, stop by the Marina Bay Playground with the kids for some simple, yet timeless, fun.
Marina Bay Playground
Location: Next to the Red Dot Design Museum; close to the junction of Marina Boulevard and Bayfront Avenue