Holler! It's the holidays just around the corner! School is out and plenty of fun awaits. Seize the opportunity to go explore – newest spots in town, familiar playgrounds or newly opened parks. Take a pick from our list of the best things to do during the year-end 2021 school holidays in Singapore and we hope your holler-days will be full of joy and fun!
---
Activities and Things to Do During the Year-end School Holidays 2021 in Singapore
1. Celebrate Christmas at Pororo Park Singapore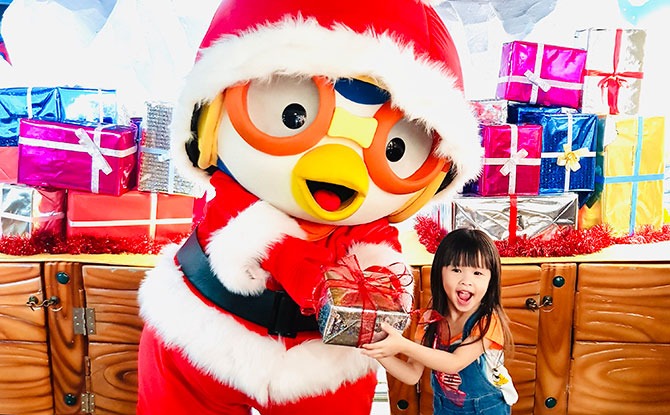 We just six weeks away from Christmas! Herald the season with plenty of activities at Pororo Park Singapore for you and your little ones. Tell Santa your best experience in Pororo Park Singapore and Santa will reward 12 lucky children with a gift! The mail will definitely get delivered with the guaranteed postage with Santa Mailbox. When you're there, don't miss out your chance to meet Santa Pororo himself together with his friends! It would be a jolly good time!
If you prefer a private gifting session, leave it to the trusty elves at the park. Simply make your purchase and book a timeslot. The presents will be ready and wrapped just for the special surprise.
Take advantage of Pororo Park Singapore's Christmas Mega Toy Sale and purchase all your gifting needs with discounts up to 25%. Hint: Get the most bang for your buck with the new membership package which can be used at three parks – Pororo Park Singapore, Tayo Station and Petite Tayo Kids Club.
Get more details of the festivities taking place from 1 to 31 Dec 2021 at Pororo Park Singapore here.
---
2. Goodman Grows Community Farm Weekend
Bring your family to a community farm on the last weekend of the November!
The opening of the Goodman Grows Community Farm at Goodman Arts Centre will showcase art, nature, food, earth-friendly wares and more. Artists will be opening their studios for a rare glimpse into their spaces and you can also join in one of the 20 creative and gardening workshops, demonstrations and experiences.
Explore the world of bugs, make a plant collage, try mural-painting, watch a Music Jamboree and other live performances. You can also shop at the Down To Earth Market, just in time for Christmas. This event is presented by Arts House Limited, partnered with Cultivate Central. Get more farm-filled details here.
---
3. FairPrice Xtra X Little Day Out's Family Christmas Food Crafting Virtual Class
As the Christmas lights go on and carols start playing at our favourite FairPrice Xtra Stores, it is the season to give, celebrate and love. Welcome Christmas with this crafty, family-friendly activity with Little Day Out and FairPrice Xtra on 4 December!
Bring some holiday magic to your home with these cute Christmas creations. We promise you easy kid-friendly recipes – learn to make a no-bake (YES NO BAKE!) Christmas House and serve some Rudolph Butter Cupcakes to your guests!
Simply donate a sum of $5 or more to Singapore Children's Society to join in the interactive and fun-filled session with the Little Day Out team. More details here.
---
4. Meet Santa Tayo at Tayo Station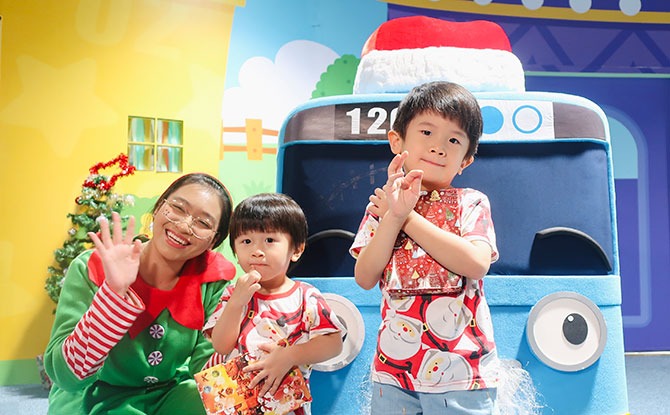 The year-end festivities start early on 1 December at Tayo Station!
Kids can mail Santa a letter, telling him their best experience and 12 lucky kids will win amazing prizes. Santa Tayo will also be "coming to town" to for a meet & greet session with all kids – both naughty and nice! To enjoy an exclusive gifting session, parents can make their purchases from the retail store and book a private session.
What's more, enjoy discounts at Christmas Mega Toy Sale; the more you buy, the more you save! Better yet, purchase the new membership package that can be utilised at three indoor playgrounds – Pororo Park Singapore, Tayo Station and Petite Tayo Kids Club.
Find out more about what's in store at Tayo Station from 1 to 31 Dec 2021 here.
---
5. Arts in Your Neighbourhood November 2021
Go on an arts trail in five neighbourhoods this November – Bukit Merah, Tampines, Serangoon, Jurong and Marine Parade! Arts in Your Neighbourhood returns this year with art trails, installations and online programmes. Be surprised by things you never knew about your own neighbourhoods, with stories by residents, artists  and more.
Find out more about what's on from 11 to 28 Nov here.
---
6. Little Day Out's Wild & Wonderful Year End Programme
Head out and join our wild and wonderful walks, outings with the family! From an exclusive behind-the-scenes tour at Seletar Airport to racing with the Raptors (not dinosaurs but migratory birds of prey in our skies!), day and walks at various parks such as Sungei Buloh Wetland Reserves, Mount Imbiah, Tampines Eco Green, see a side of Singapore you have never experienced!
Go on a wild and wonderful walk with us here.
---
7. Spot Wildlife at Sungei Buloh Wetlands Reserve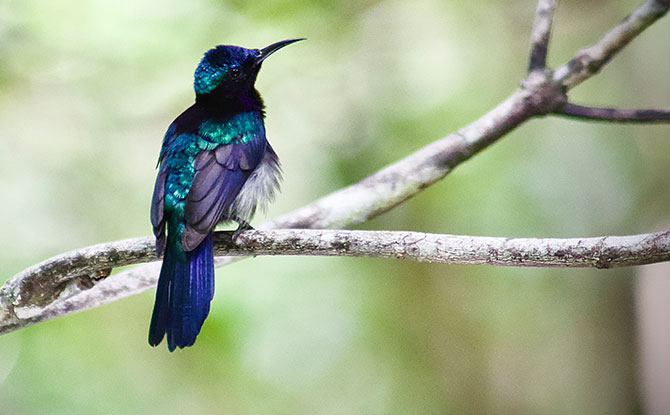 Since we are in the thick of migratory season, how about heading to Sungei Buloh Wetlands Reserves to spot some shorebirds plus its resident crocodiles, bats, monitor lizards and more. Its biodiversity is stunning even to non-birders.
Head north here.
---
8. Brickosaurs World at Singapore Zoo and River Wonders
Love LEGO? How about LEGO dinosaurs? Discover over 60 life-sized dinosaurs at Singapore Zoo and River Wonders at Brickosaurs World! This is a first-ever showcase in Asia, the sculptures are made using 1.5 million LEGO bricks constructed over a period of 8, 548 hours. Other activities include a self-guided trails, a maze, a digging site and various craft workshops.
Find out what's going on at the prehistoric world here.
---
9. Pop-up Disney! A Mickey Celebration
What's a non-Disneyland option to see Mickey Mouse? Join in the fun during the year-end school holidays 2021 at Pop-up Disney! A Mickey Celebration at Suntec City. The pop-up exhibition originated from the Downtown Disney District at the Disneyland Resort in California and will feature seven visually stunning and whimsically immersive rooms paying homage to Steamboat Willie, Fantasia and more including a brand-new Mickey Loves Singapore experience room!
Get more details here.
---
10. Mighty Warrior Prince Bheema at The Esplanade
Many have not caught a live theatre show for a while and here's your chance. Bring your little ones to watch the production at The Esplanade Recital Studio and find out how the warrior prince gained the power of 1000 elephants and fought the evil demon Bakasura.
Meet Bheema here. 
---
11. Bukit Gombak Park – Trek Uphill to the Butterfly Garden
Fancy visiting a new park? Head to Bukit Gombak for a hill trek, butterfly garden and playground. The tranquillity will be a treat for the senses! Outdoor time during the holidays will also help expend the energy of the kids!
Read more about Bukit Gombak Park here.
---
12. Children's Season 2021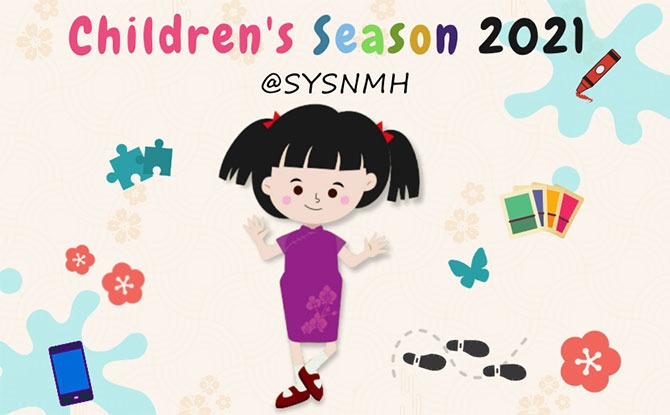 How about going on a hunt for Fantastic Critters at the museums as part of the activities for the school holidays? Collect a copy of the Fantastic Critters Activity Booklet at any of the participating museums and complete the activities listed in the booklet to collect specially designed critter stickers.
Catch the critters here.
---
13. Jurong Lake Garden's Therapeutic Garden & Butterfly Maze
Hop to the gardens of the West where Singapore's largest therapeutic garden awaits. The sensory garden is specially designed for children and its Discovery Area includes the Fragrant Zone, Sound Zone, Touch Zone and Plant Zone. Don't forget to find the little labyrinth and Butterfly Maze. It is a fun outdoor place to visit during the year-end holidays 2021 in Singapore, especially if you pair it with a visit to the Forest Ramble playground.
Get some sensory input here.
---
14. Poinsettia Wishes at Gardens by the Bay
The annual Poinsettia Wishes is back! The well-loved seasonal floral display is inspired by traditional confectionery from the Nordic countries with a 8-metre tall Cupcake Ferris Wheel as one of the highlights. Get into the Christmas mood with the sights of a candied apple Christmas carriage, candy canes, adorable gingerbread decorations in the shape of animals! Get more details here.
---
15. Head Out Cycling at Pulau Ubin
Get some outdoors time during the long holidays and head to Singapore's most rustic island – Pulau Ubin – for some cycling fun. Check out our guide on where to rent bicycles and which routes you can take here.
---
16. Gallery Children's Biennale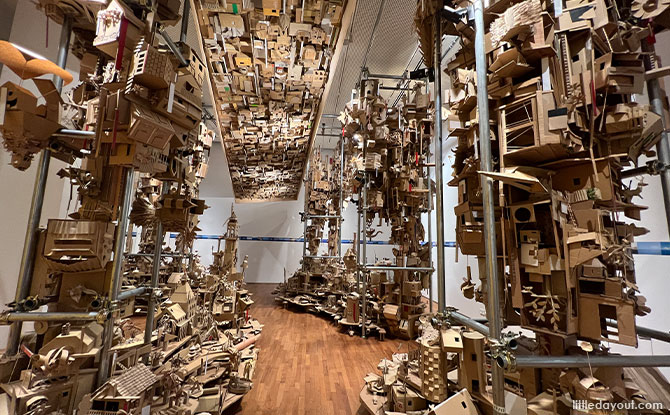 Embark on an inspiring multi-sensory experience with your children and explore National Gallery's Children's Biennale! Some exhibits not to be missed include the impressive cardboard city at "Project Another Country", "Diversity" an illuminated installation with life-sized landscape backgrounds with x-rayed bones. Find out about the artsy exhibition here.
---
17. Once Upon A Time on The Orient Express
For train-lovers, don't miss The Orient Express at the West Lawn at Gardens by the Bay. Enter the original carriages filled with the original furniture and artefacts. Be transported back to the time when The Orient Express was filled with passengers before it chugs out of Singapore in January.
---
18. Jumptopia: Holiday Village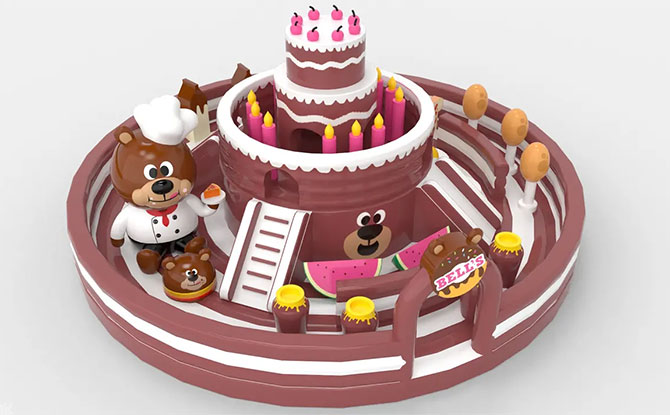 If you love bouncy castles, bounce over to Jumptopia's Holiday Village! It will occupy a  whopping 44,000 sq ft of space at Marina Bay Sands Expo & Convention Centre, Hall B. Visitors can see various Kiztopia Friends as they bounce their way through 15 giant bouncy castles!
Read here for more details
---
19. Slurping Good! Instant Noodle Playground
Fancy a whimsical playground time? Head to Tekka Place's Slurping Good Instant Noodle playground – also Singapore's first. Enter interactive rooms filled with murals, installations and games celebrating important ingredients like egg, meat, greens, seafood and cheese and see what goes into making a noodle dish taste as scrumptious as it does.
Start slurping here.