If you have missed Disneyland and can't wait for VTLs to Disneyland spots to open, your chance to see Mickey (and Minnie) in Singapore has arrived! A miniature version of Disneyland has been magically brought to life in Suntec City Convention Centre.
Here are seven reasons why you should check out Pop-up Disney! A Mickey Celebration!
---
7 Reasons Why You Should Check Out Pop-up Disney! A Mickey Celebration at Suntec City
Reason 1: This is the closest you will get to Disneyland without travelling
Forget pandemic travel, the anxiety of swabbing and bearing the risk of infection! Suntec City's Mickey-centred exhibition will be convenient and safe to visit.
The immersive exhibition originated from Downtown Disney District at the Disneyland Resort in California and Singapore is the first pitstop Mickey has chosen.
---
Reason 2: Seven-themed Rooms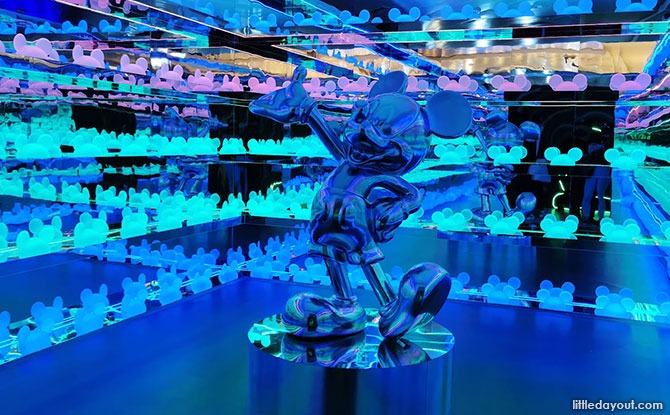 There are seven themed rooms with installations to take selfies with. It might not have the usual themed park rides, but it has plenty of Mickey and Minnie memorabilia, statues, prints that will transport you to different land.
---
Reason 3: Reminisce Your Childhood with Memories of Mickey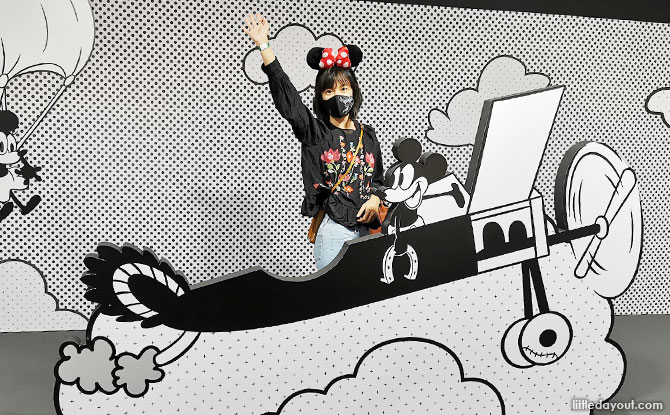 For those who grew up on Mickey cartoons, some of the rooms bring back fond memories. The first room is dedicated to Minnie Mouse lovers. Titled "Mickey and Minnie's Love", its bright feminine colours with Minnie's signature bows and a special plush "bow chair", and backdrops to take couple pictures will be ideal for cheesy memories.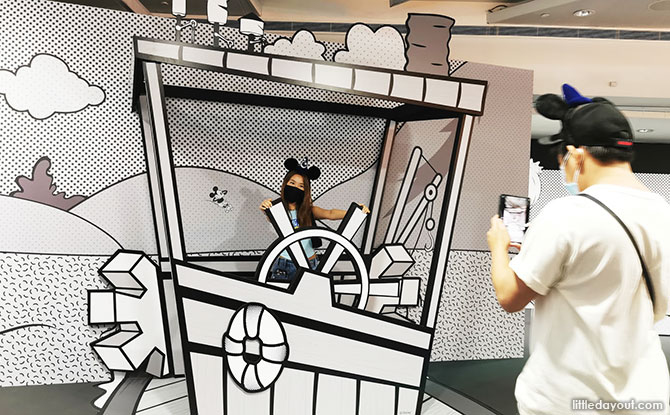 The next room "It All Started With A Mouse" brings one back to the Classic Mickey era. The black and white room has a huge Steamboat Willie and Plane Crazy. Did you know that Plane Crazy's Mickey was the first creation of the character? Here's your chance to pose with it.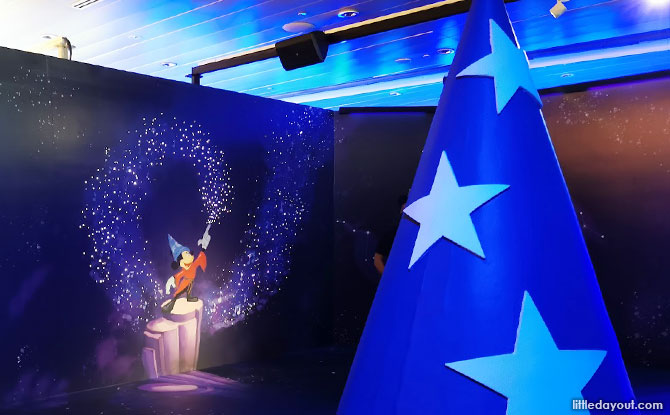 One of my favourite rooms was "Sorcerer Mickey's Magic" – a place dedicated to Fantasia! Find Mickey's gigantic magician hat and wield that wand!
We even got to see Mickey in person at the media preview. However, that was a special appearance and it looks like he has gone off to handle other mouse business. After all, he has a whole kingdom to run.
---
Reason 4: Tribute to Local Cultures by WhenIWasFour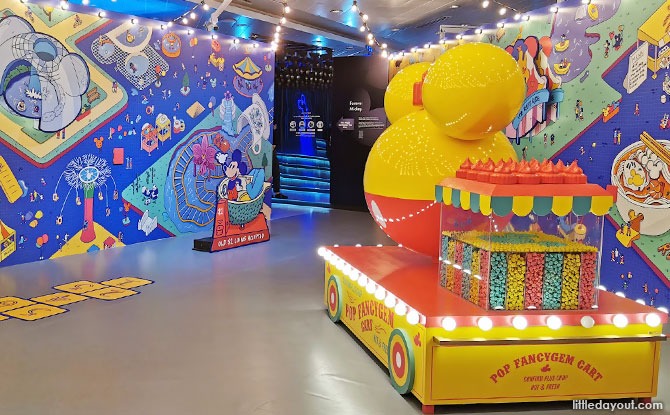 The ultimate favourite was "Mickey Loves Singapore:Dreamland Carnival", dreamed up by local artist WhenIWasFour. It is a beautifully whimsical room dedicated to Singapore. Find traditional snacks, colourful gem biscuits and local favourites, childhood games, iconic landmarks and peekaboo characters behind one of the many secret doors.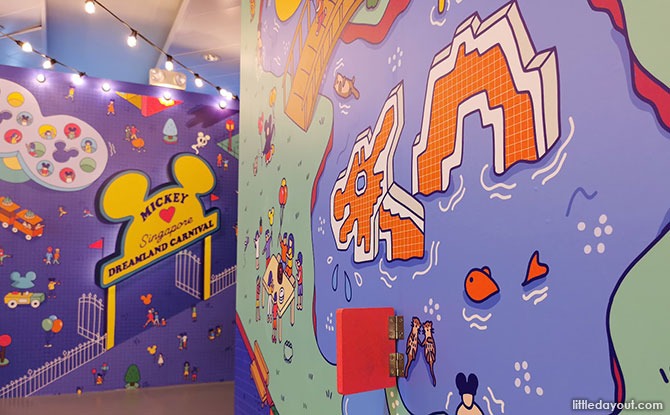 There are 21 little secret doors to open! One of them is not related to Mickey at all, can you identify which one it is?  Open up huge ice-cream gem biscuit to unveil a lovely cross-section of Singapore-living.
The Pop Fancygem cart with colourful gem biscuits in the middle of the room was a brightly lit feature for more posing. You can also reminisce with a game of Mickey-themed hopscotch, pose with Mickey as a cup of Kopi or in a durian dessert.
---
Reason 5: Photo Opps and Activities Aplenty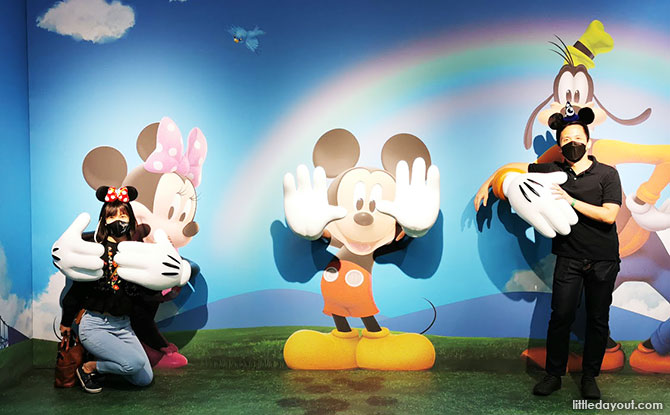 Pop-up Disney! A Mickey Celebration is perfect for shutterbugs, Instagrammers and families who love taking photographs for memories. There is a plethora of photospots, each themed room has at least two spots. Look out for a gigantic Sundae and Waffle, get a hug from Minnie, take the wheel of Steamboat Willie and pose like the futuristic Mickey.
Head to the Singapore-exclusive Disneyland-inspired room featuring best-selling treats from Hong Kong Disneyland like Mickey Bubble Egg Puff!
Take a 3D art picture with the magnificent Castle of Magical Dreams.
If your child loves colouring, try "Colouring Magic". Help WhenIWasFour complete a missing piece of artwork, simply scan the QR code on the screen in the room and follow the instructions!
---
Reason 6: Go on a "treasure and trivia hunt"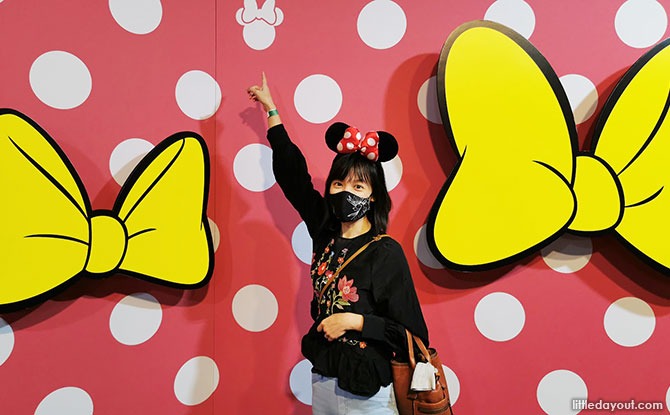 Find the hidden Minnies in each room and see if you can spot them all!
Try the trivia by scanning the codes in each of the seven experience rooms. Win a gift with three correct answers!
---
Reason 7: Shop All Things Mickey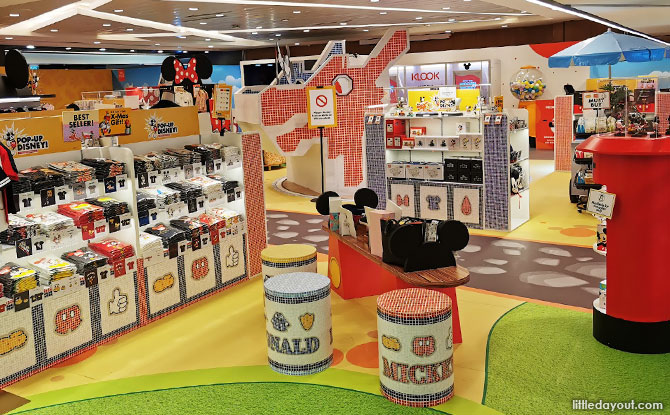 Buying memorabilia and Christmas presents at Mickey Mart would leave you with plenty of options. It spans over 300sqm and has the widest range of official Mickey merch in Singapore. The retail spaces pay homage to iconic playgrounds such as the Dragon playground and heritage shophouses. Take the chance to  grab some limited edition collectibles, customisable Christmas ornaments, Singapore-themed homeware, t-shirts, toys, accessories and more.
Mickey Mart is accessible to all shoppers as it is a non-ticketed area. 
---
Catch Pop-up Disney! this Year End School Holidays
Find out more about this exclusive exhibition at Suntec Convention Centre. It will run till March 2022! Visit this site for more details and get your tickets from Klook here!
Date: 19 Nov 2021 to 20 Mar 2022, 11 am to 9 pm daily
Venue: Suntec Convention Centre Level 3
Ticket prices start from $21
This story contains affiliate links. This means we earn a small fee if you purchase something through a link from our website. There is no additional cost to you and goes towards supporting Little Day Out's efforts to deliver the best news and reporting for families.