This November, the arts is coming closer to you with art trails, installations and online programmes as part of Arts in Your Neighbourhood (AYN) November 2021, an initiative by the National Arts Council (NAC).
From 11 to 28 November, the arts will be making its way to the Bukit Merah, Tampines, Jurong, Marine Parade and Serangoon neighbourhoods and more. See these familiar heartland towns in a new light as NAC commemorates 30 years of arts and culture together with artists and residents, and celebrates the stories of neighbourhoods.
And, with the year-end school holidays starting in November, these neighbourhood-centric activities are a great way to spend time with family and friends, without having to venture too far.
SCROLL TO BOTTOM FOR A GIVEAWAY
Art Trails which Celebrate Singapore Stories
---
Trails for All Ages 
A Fisherman's Dream
Explore Jurong's history along a vibrant arts trail filled with original and colourful artworks. Take a walk around central Jurong to discover how it transformed from a rural swampland into the modern IT and manufacturing hub of today. It is the perfect way to learn about the power of a dream and be surprised by things you never knew about this westside neighbourhood.
Where: Various sites in Jurong
---
Brilliant Corners: Bukit Merah Diaries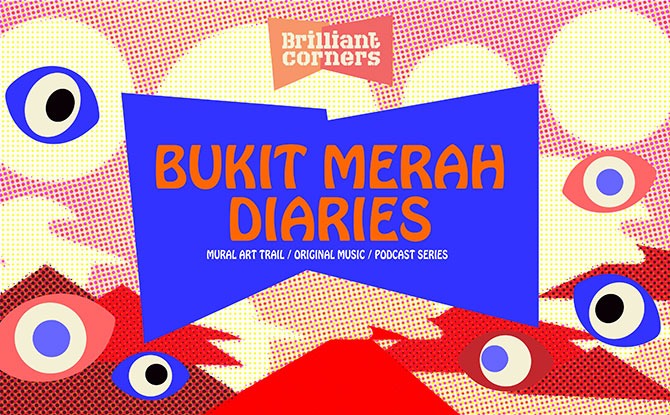 Many of us would have visited IKEA at Alexandra but how many of us have explored the neighbourhood just behind it? Inspired by residents' childhood memories, Brilliant Corners: Bukit Merah Diaries is a great way to gain an inside look at the HDB heartland where the popular ABC Food Market is located.
Go beyond the folktales of swordfish and villages under attack and see the neighbourhood through the eyes of 14 artists who have collaborated to create seven sound and mural art installations. Download the Brilliant Corners Art Trail App to get deeper look into the ethos of the community too. Get more details here.
Where: Various sites along Jalan Bukit Merah
---
Trails recommended for Ages 12 and Up
Lost & Found: Serangoon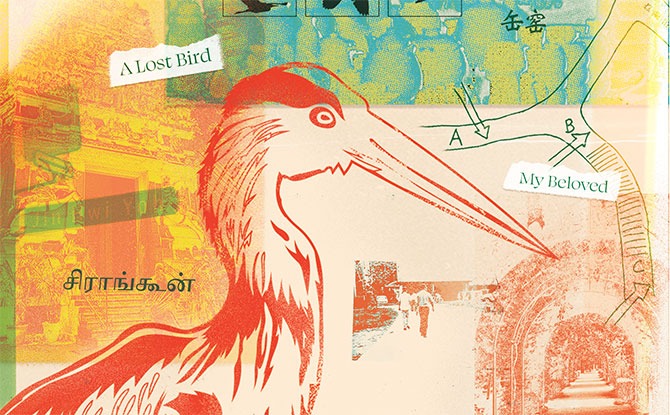 Embark on an audio-visual arts trail around Serangoon and discover the hidden histories of the neighbourhood, told through the memories of its residents. Beginning with a long-lost pet bird, this arts trail makes use of original music, stories and images to vividly bring the neighbourhood's past to life.
You can choose to complete the Lost & Found art trail on your own, or sign up for guided trails on 13, 20, and 27 November 2021. Participants will need to bring their own smart device to participate in this trail. Get more details here.
Starting Point: Zhi Yuan Coffee Shop, 151A Serangoon North Ave 2
---
A Collection of Things: Serangoon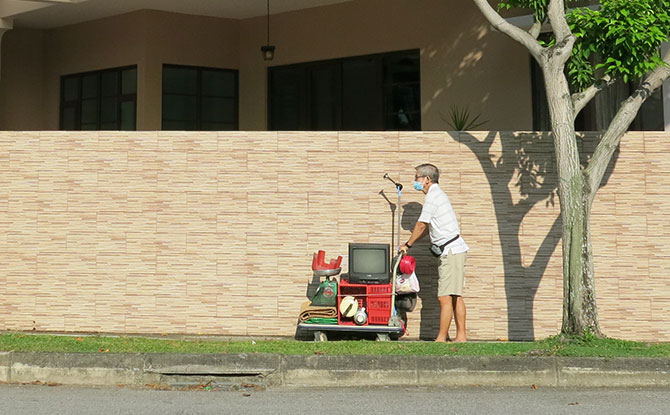 Uncle Teong the friendly karung guni man has gone missing. Help search for him around the Serangoon Gardens neighbourhood in an exciting walking adventure inspired by real events.  The intriguing story of Uncle Teong's disappearance unfolds from the perspective of his son, Ben, as you are guided by a Telegram bot around the characterful estate.
This interactive audio tour takes place on 13 – 14, 18 – 21, 25 – 28 November 2021. Get more details here.
Starting Point: Sri Darma Muneeswaran Temple
---
Art Installations Inspired by the Neighbourhood
Tales Under the Neon Trees
What does the future of our neighbourhoods look like? Gather at Tales Under the Neon Trees, a series of two art installations, to ponder re-imagined realities and share visual stories co-created by the students and residents of Serangoon and Tampines.
These art installations make use of animated videos, photographs of the neighbourhood and augmented reality to create a unique experience for all who stop by. View the works on display at NEX and Our Tampines Hub, or head online to explore the accompanying digital exhibition.
Where: Festive Plaza at Our Tampines Hub & NEX Atrium (Level 1)
---
The Bird Colouring Social Club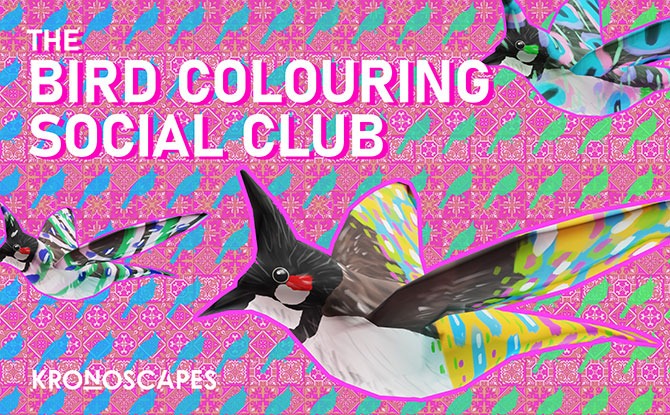 Colour a picture of a bird and watch it come to life at The Bird Colouring Social Club. This interactive installation is inspired by bird singing competitions and communities of the 1960s. Show off your creativity and release your colourful creation into a digital aviary and experience the community spirit of a bygone era.
Full details of this interactive art installation are available here.
Where: Jurong Lake Gardens – Entrance Pavilion, 50A Marine Terrace, Braddell Heights Community Hub
---
Livelyyy x Extra Ordinary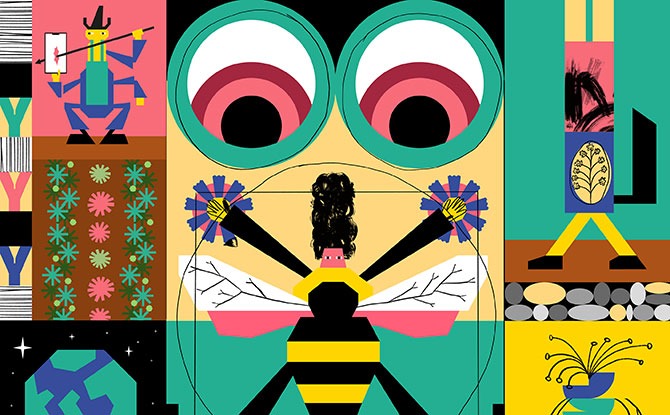 French artist Guillamit and Singaporean artist Mary Bernadette Lee are collaborating to create two lush-looking interactive wall murals at Our Tampines Hub, inspired by the nature of France and Singapore. The two artists will reinterpret each other's works to playfully create an imaginative landscape filled with plants and flowers.
You can contribute to this digital artwork too by playing AR games to help the plants grow and nurture the virtual garden. More details on this art installation at Our Tampines Hub are available here.
Where: Our Tampines Hub, Level 2 Study Area & External Wall facing Tampines Central Park
---
Online Programmes
For those who wish to enjoy the arts from the comfort of home, there are online AYN programmes, including a selection of encore programmes from past AYNs too. Here's a selection of what's coming up in November. All programmes will be available to be enjoyed till 31 December.
---
Curiosity: The Spark for the Arts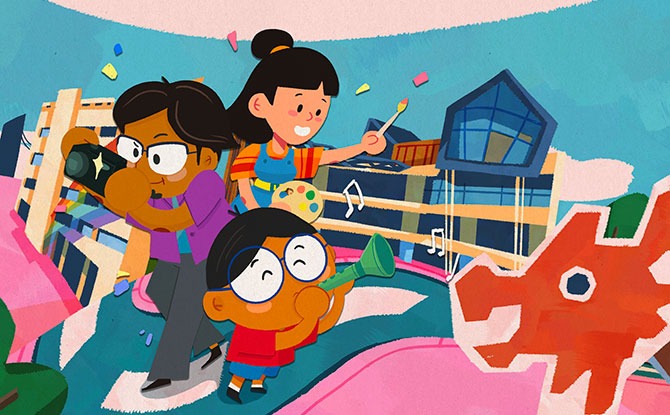 The animators of this year's NDP song 'The Road Ahead', Jerrold Chong and Mark Wee, will be taking viewers on a time-traveling journey through 30 years of the arts in Singapore. Utilising hand-drawn animation, the pair will explore art forms ranging from classical music to modern hip-hop. See if you can spot some cultural icons and familiar Singapore neighbourhoods too.
This online programme premieres on the NAC Facebook page on 11 November, 1 pm. Register your interest here.
---
AYN Encore
From A to Z: The Adventures of Sol & Friends
Follow along with a girl named Sol as she heads out on an exciting adventure to find her best friend who has been blown away in a giant storm. This entertaining theatrical performance will take you on a tour around iconic spots in Kallang and Geylang, unveiling secret locations that you may not have known existed.
Join Sol on her adventure on the NAC Facebook page on 19 November, 8 pm.
---
7 Wonders of Punggol
Go on a musical journey to seven iconic places in Punggol with a performance by Brahmastra. Featuring multi-ethnic music, poetry and puppetry, rediscover familiar locations like Coney Island Park, Punggol East Container Park and more through a set of fresh ears.
Listen in to the 7 Wonders of Punggol from 25 November, 8 pm, onwards on the NAC Facebook page.
---
Dendang Warisan – Pasir Ris
Dendang Warisan or Songs of Heritage brings the sounds of Pasir Ris to your home with a performance of urban Malay folk music by Gendang Akustika. A highlight of the performance is a song about Pasir Ris composed together with students from the neighbourhood. There will also be stories about Pasir Ris' kampung days and familiar tunes like Dayung Sampan.
Lepak to this performance from 17 November, 8 pm, onwards on the NAC Facebook page.
---
Experience Arts In Your Neighbourhood November 2021 (11 to 28 Nov)
There are so many opportunities to experience the arts, both onsite and online, this November. With visual arts, musical soundtracks, intriguing stories, interactive installations and more, AYN November 2021 is a great way to spend the year-end season rediscovering Singapore in fresh and exciting ways.
Whether you feel like stretching your legs on an art trail, visiting an interactive art installation, or being entertained as you discover Singapore from home, AYN has an art encounter waiting just for you.
Learn more about Arts In Your Neighbourhood November 2021 taking place from 11 to 28 November 2021 here.
This feature is brought to you by the National Arts Council.
---
GIVEAWAY: Win A Commemorative Arts In Your Neighbourhood Totebag!
Little Day Out is giving away:
to 10 winners each a commemorative Arts In Your Neighbourhood totebag.
This contest is now closed. The winners have been contacted.