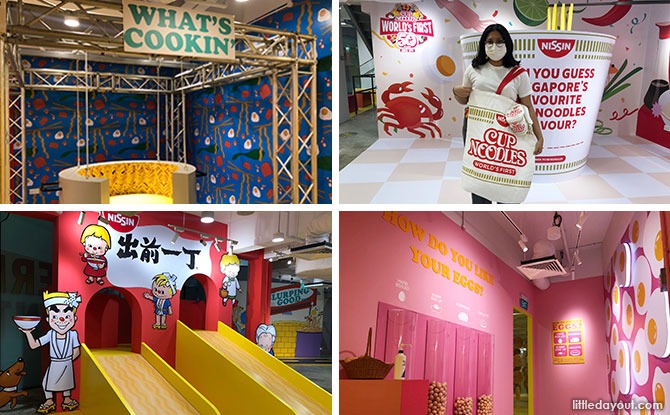 From 25 September 2021 till 30 January 2022, experience Singapore's first instant noodle-themed "playground" exhibition organised by Invade, "Slurping Good". This aesthetic exhibition features 13 interactive spaces over two levels and brings visitors on a slurping good journey of finding their favourite instant noodle pairings.
[Editor's Note: Slurping Good! was originally scheduled to open on 24 September but it will now be opening on 25 September]
Here are the various exhibits you can expect to see at the "Slurping Good" exhibition.
---
Slurping Good! Exhibition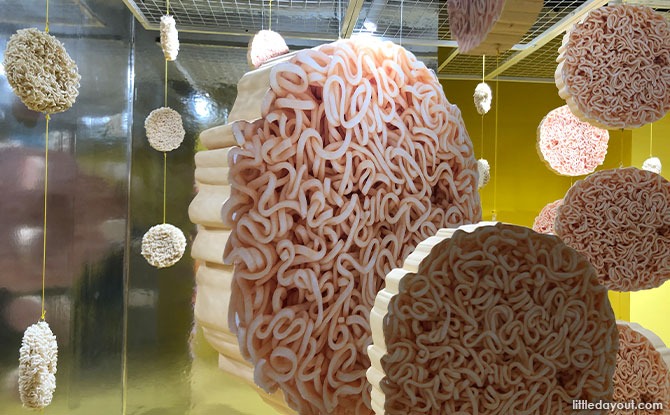 Start your journey by walking through the noodle archway and be greeted by an instant noodle installation. This section represents the start of building any perfect instant noodle dish and the base to the other important ingredient-companions.
From here, visitors can enter interactive rooms filled with murals, installations and games celebrating important ingredients like egg, meat, greens, seafood and cheese and see what goes into making a noodle dish taste as scrumptious as it does.
---
"Slurping Good" Eggs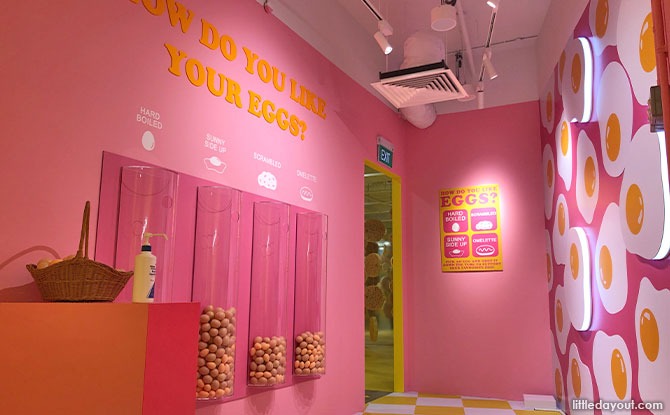 The Egg Room lets visitors appreciate the various ways of having your eggs and even voting for their favourite way to enjoy them. Take pictures with the cute pink fried egg mural or the egg polling station.
---
"Slurping Good" Meat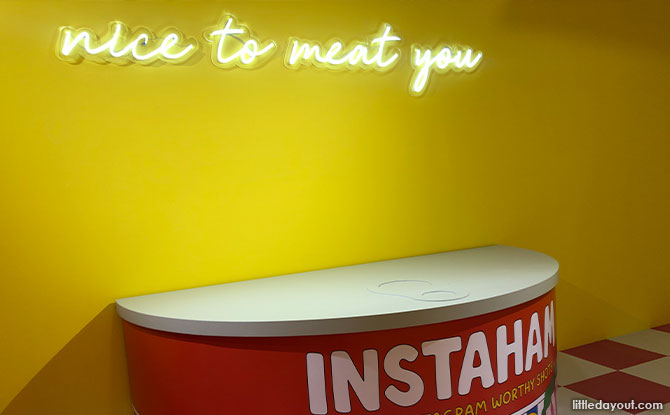 The Meat section showcases some popular meats that can be added into a warm cup of instant noodles to make it even more savoury. Visitors can read some interesting facts on the wall or take a picture on the "can of luncheon meat" which has a "nice to meat you" sign above.
---
"Slurping Good" Greens
Eating your greens is important, and veggie lovers can take some shots in front of the veggie mural with botanicals and vegetables.
This section also features a highly debated ingredient – Coriander. Love it or hate it, this is one iconic ingredient that definitely has to be mentioned when talking about instant noodles. Visitors with opposing views can battle it out through a game of tic tac toe.
---
"Slurping Good" Seafood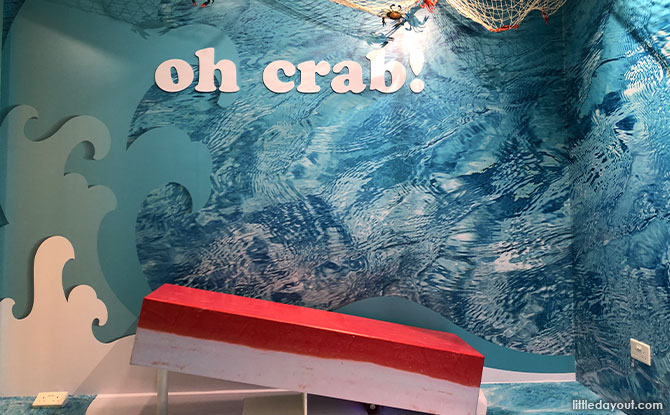 Another favourite way of topping a bowl of instant noodles is with some seafood. Be it crabsticks, prawns or even some scallops if you're feeling fancy, contemplate your preference while sitting on a cute crabstick sea-saw.
---
"Slurping Good" Cheese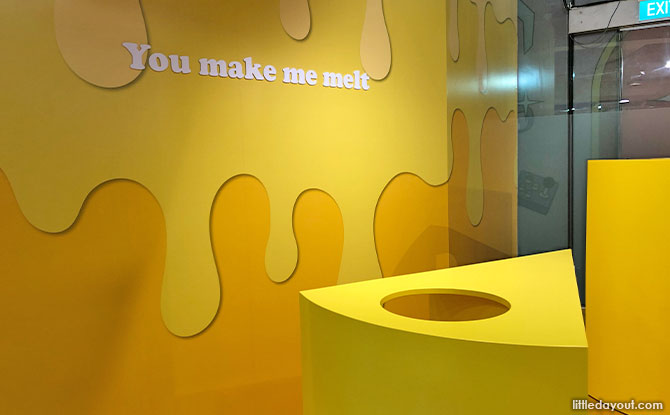 Cheese lovers will know how well a slice of cheese elevates any bowl of instant noodles regardless of the flavour. Visitors can take a fun shot with the giant cheese block and surrounding cheesy background.
---
"Slurping Good" Noodle Swing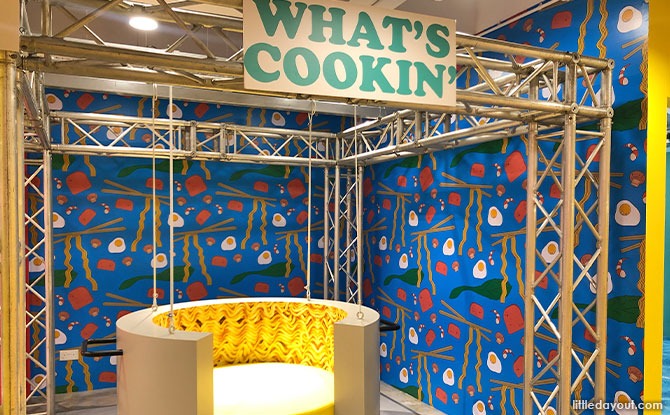 After visiting all the ingredients, consider how the flavours blend together while sitting on the "Slurping Good" Noodle Swing. This giant swing also has a decorative background of some noodles, eggs and luncheon meat.
---
"Slurping Good" Nissin Collaboration
In collaboration with Nissin Foods Singapore, the pioneer of instant noodles and the ever-popular cup-type instant noodles "Nissin Cup Noodles", Slurping Good! will also introduce "My Dream Cup Noodles by Nissin", an interactive content space featuring a 1.7-metre-tall installation of Singapore's number one Cup Noodles flavour. Visitors can participate in a game to guess the flavour and stand a chance to win a small prize.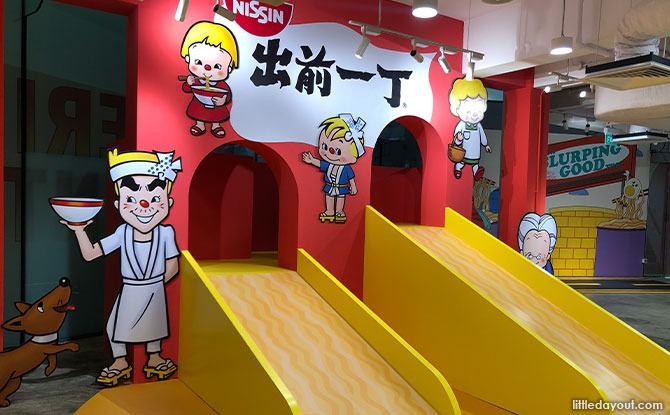 Visitors can also slide their way into noodle-mania at the Chu Qian Yi Ding Slider!, featuring both child- and adult-sized noodle slides. End off the fun at this section by getting creative and share your dream Cup Noodles flavour to Nissin and there may be a possibility that it might be a reality!
---
"Slurping Good" Merchandise Shop
As visitors head up the stairs to complete their journey, end off with some official Slurping Good! instant noodle-themed merchandise.
This section features a selection of curated retail options featuring local brands. There are lots of instant noodles themed products such as egg bathmats, instant noodle earrings and air pod cases, ramen blankets and more.
Visitors can also take a shot in front of the ramen wall featuring ramen noodles with some limited-edition flavours that can't be found locally.
---
Get a custom bowl of noodles at "Slurping Good" with two free toppings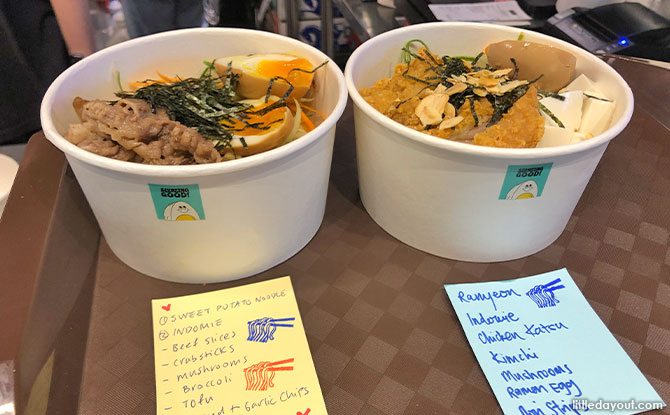 Each visitor will receive a complimentary tote bag containing a Slurping Good! retail voucher that can be used at the merchandise store, an F&B voucher that can be used at the Soul Good Noodle Bar located in Eatbox, a pack of Nissin instant noodles as well as instant noodle claw machine tokens.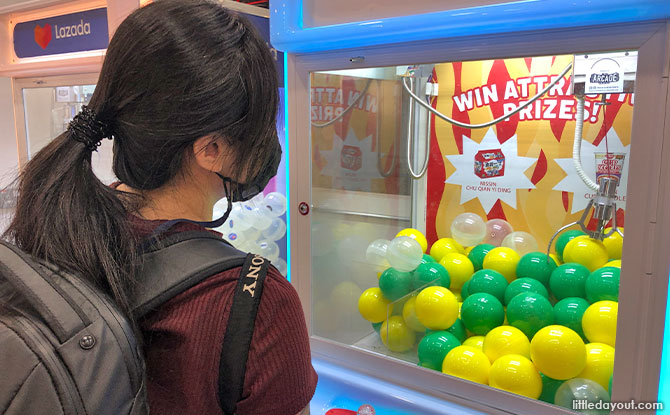 Visitors to Slurping Good! will also receive complimentary tokens to Lazada's Claw Machine, located at Marketplace, and stand to win Lazada vouchers worth up to $50.
---
Visiting the Slurping Good! Exhibition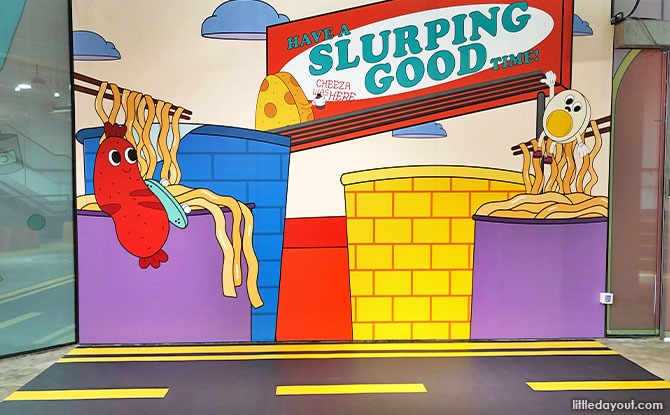 Slurping Good! makes up one part of Invade's "Spice Up Your Rochor Experience" campaign which aims to round out the consumer experience with elements of 'play' and 'shop'.
The Rochor Experience comprises three pillars: Slurping Good!, Eatbox and Marketplace. Slurping Good! will open its doors from 25 September 2021 at Tekka Place Annex Building, 2 Serangoon Road, #01-51 to 54, Singapore 218227, right next to Eatbox.
[Editor's Note: Slurping Good! was originally scheduled to open on 24 September but it will now be opening on 25 September]
Tickets to Slurping Good! are priced at $21 each with free entry for children below 3 years old.
Visit the site here to find out more or purchase your tickets.