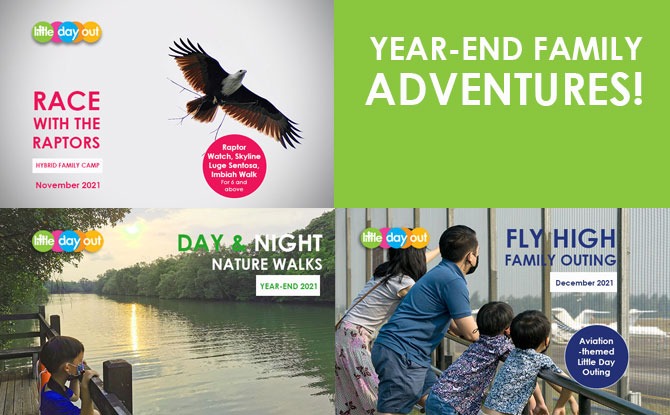 Bring 2021 to a wild and wonderful close with Little Day Out at our walks and outings – all targeted at families!
Race with the raptors overhead as we learn all about birds of prey in our Race with Raptors Family Camp plus soar down the Skyline Luge Sentosa at hawk-speed!
Our night walks continue in December at parks with plenty of wildlife that will wow you in the darkness. Plus a new destination for a walk in the day – Sungei Buloh Wetlands Reserves  – back by popular demand!
Miss flying much? Take a highly anticipated behind-the-scenes tour at Seletar Airport, play games and build a glider together as a family!
Soar with us this November and December school holidays and make wild and wonderful memories together.
Overview of Little Day Out's Year-end Holiday Programmes
Race with the Raptors Family Camp (Hybrid Format)*: 26 – 27 November
Our first camp takes us to the skies to learn about the Raptors. This camp is for the whole family to come together and find out about the majestic birds soaring above us. We kick-off with a virtual session about Birds of Prey on Friday, 26 November. Young campers will learn all about raptors from a professional nature guide.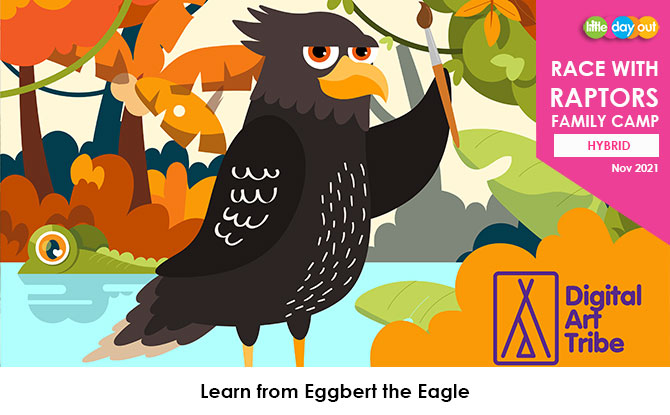 Thereafter, Digital Art Tribe, a digital art school, will be teaching the children how to draw raptors. Eggbert the Eagle, with the help of his guides, will lead this engaging virtual art session, followed by a live practice session in smaller breakout rooms.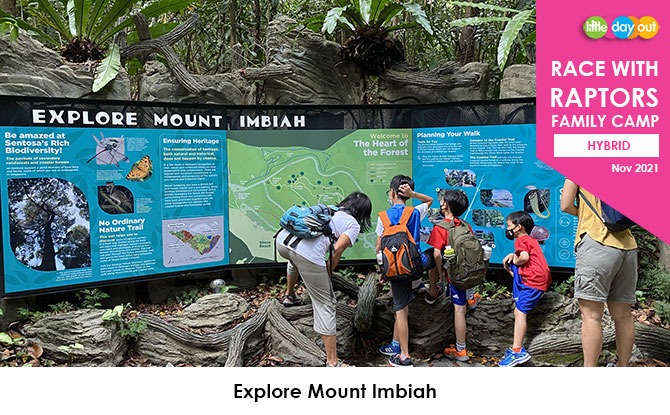 Wind down early and start the weekend as a family on the afternoon of 26 November with a guided nature walk at Mount Imbiah, Sentosa to experience the lesser known nature trails in Sentosa. Find cicada moults, see the Tempinis tree, Dragon Blood tree, Golden Orb spiders amongst other wildlife.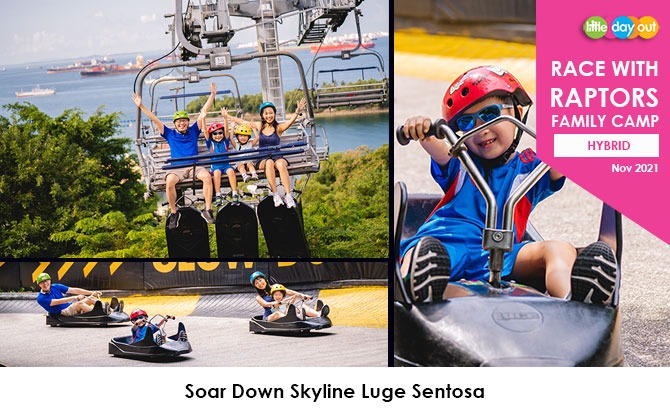 Then head to Skyline Luge Sentosa and soar down the slopes just like a Brahminy Kite. Have three exhilarating gravity-fuelled rides down Mount Imbiah and enjoy the scenic views on the Skyride for a bird's eye view of Sentosa and the city. Taking the Skyline Luge Sentosa at night may even yield a different kind of experience!
The Family Camp will end on a high with a Raptor Watch on 27 November. Since we are thick in migratory season, we will be heading to the Southern Ridges to spot some raptors who have flown thousands of kilometres from Siberia and East Asia to seek refuge in the warm climate. The guided Raptor Watch will be held where thermals form readily. We will scale Mount Faber, traverse the ridgeline to admire migratory kettles of Oriental Honey Buzzards, Black Bazas, Japanese Sparrowhawks and other migratory raptors. We will also catch sight of resident raptors like White-bellied Sea Eagles and Brahminy Kites.
We've planned this Family Camp around the Southern part of Singapore, so you could even add on your own staycation for a short getaway!
Race with the Raptors Family Camp
Date: 26 – 27 November 2021, Friday – Saturday
Time: 9 am to 12.30 pm (Day 1 Virtual Session for Kids), 4 pm to 5.30 pm (Day 1 for the family) and 10 am to 12.15 pm (Day 2 for the family), plus 3 rounds of Luge & Skyride at Skyline Luge Sentosa at your own time (tickets are valid for a month).
*Participants of the Race with the Raptors Family Camp who are going for the rides at Skyline Luge Sentosa must be fully vaccinated, exemptions apply for children 12 and below.
Register here to be fascinated by the raptors.
---
Fly High Air-venture Family Outing: 11 December, Saturday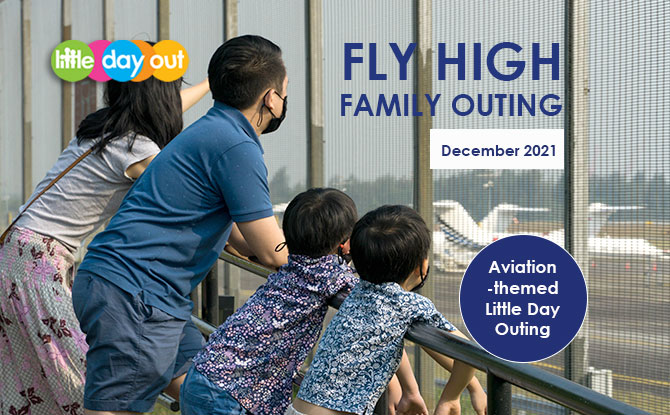 Come with your families to our Fly High Air-venture Family Outing on 11 December! We will be going on an exclusive behind-the-scenes tour of Seletar Airport, and watch the Airport Accident and Emergency services demonstrate their fire-fighting capabilities. The family will also put their hands (and brains) together to make their own gliders and then join in the family race!
Fly High Air-venture Family Outing
Date: 11 December 2021, Saturday
Time: 9 am to 1 pm
Where: Seletar Airport
For: Whole Family
Have your family join us in flight here.
---
Day and Night Nature Walks – Little Night Outings and Sungei Buloh Wetlands Walk: December 2021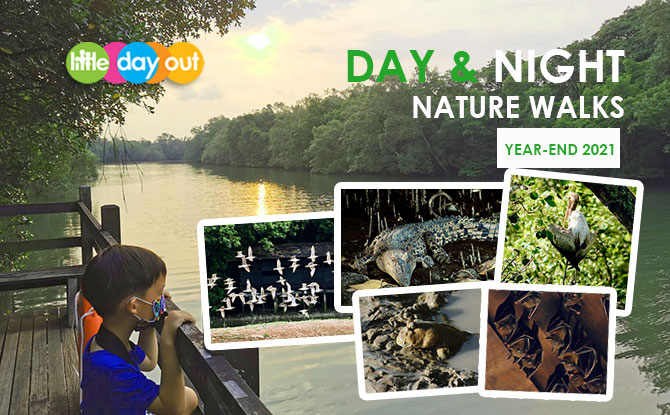 Want an adventure in the dark? Little Day Out brings you Eco-ventures in the Dark where we explore four parks around Singapore to spot nocturnal wildlife! Suitable for curious beings ages four and above, join our little night out!
The little night outings will be to Bukit Batok Nature Park, Rail Corridor, Tampines Eco Green and Pasir Ris Park. Look out for nocturnal wildlife such as snakes, frogs, colugos, Civet Cats, bats, crabs, tortoises in each unique habitat. More details on Little Night Outings are here.
A new destination is Sungei Buloh Wetland Reserve. Venture to the mudflats and mangroves to the north where migratory shorebirds feed. Spot waders such as the Whimbrel, Common Redshank, Terek Sandpiper and more. You might also see the Estuarine Crocodile, Malayan Water Monitor, Archerfishes, Tree-climbing Crabs, Mudskippers and Mangrove Horseshoe Crabs. This is the only walk conducted in the day.
Day and Night Nature Walks
Sungei Buloh Wetland Reserve: 5, 19 December 2021, 8 am – 10.15 am
Bukit Batok Nature Park: 10 December 2021, 7.20 pm – 9.30 pm
Rail Corridor: 11 December 2021, 7.20 pm – 9.30 pm
Tampines Eco Green: 19 December 2021, 7.20 pm – 9.30 pm
Pasir Ris Mangroves: 1 January 2022, 7.20 pm – 9.30 pm
Let's walk in the wild here.
---
Safe Management Measures
Walks are conducted with MTI/STB approved guides and groups will be split into subgroups according to prevailing COVID-19 Safe Management Measures. The walks and outings will be held in uncrowded, open areas with plenty of fresh air. All participants are to stay masked to minimise risk.
---
Stay in Touch for Future Little Day Out Camps & Outings
If you would like to participate in future Little Day Out camps and outings, do fill in the form below so we can get in touch with you!