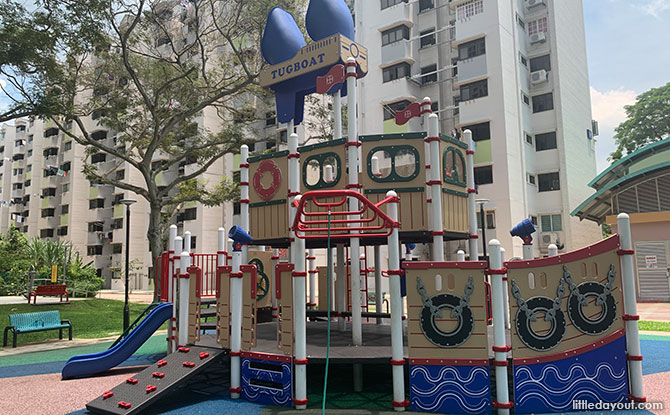 Kids can have fun play-pretending on a Tugboat Playground in Toa Payoh, a little neighbourhood play spot found at Lorong 5.
While we have seen many ship playgrounds in Singapore, including a steamship-themed playground and galleon-like playgrounds complete with cannons, the Tugboat Playground in Toa Payoh is the first of its kind that we have come across.
---
Tugboat Playground at Toa Payoh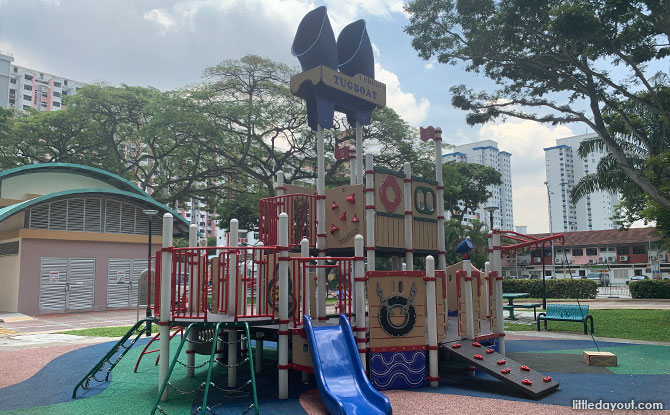 Located include from of Block 37 Toa Payoh Lorong 5, it has its bow facing out towards Toa Payoh Lorong 6.
---
-- Story continues below --
The sides of the Tugboat Playground in Toa Payoh are light brown with red lines in between to look as it it has been made out of planks. Beneath it are blue "waves" to create a semblance of the sea.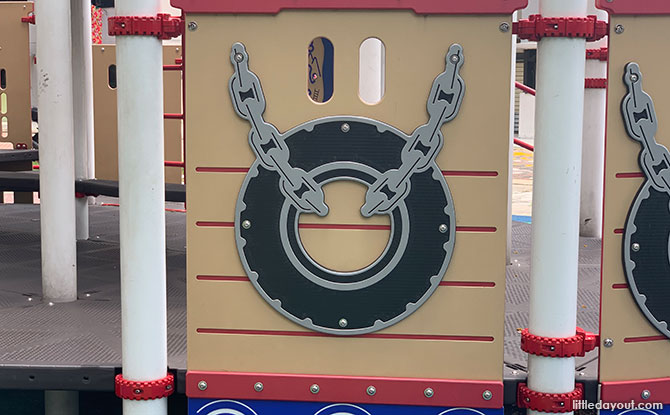 "Tires" can be found at the bow of the boat, to help protect it as it tows or guides other boats along.
Two blue funnels also protrude from the top of the playground, so that the tugboat can chug along of course.
---
Playing at the Tug Boat
There are different ways for kids to climb onboard the tugboat playground. While there is a ramp (which would be great for loading and unloading of goods), there is also a red "boom arm" which doubles up as monkey bars. At the end of "boom arm", attached by a line, there is brown crate.
There is also another interesting ramp on the port side of the boat. Be sure to hold on to the handrails when embarking that way!
On board, the tugboat also has an upper deck. This is where kids can pretend that they are the captain, take the wheel and steer it forward. The "crew" can keep a look out for any dangers ahead with the telescopes located around the lower deck of the playground.
---
More Fun around Toa Payoh
Toa Payoh is full of interesting playgrounds. Besides the tugboat playground, you can also check out spots like the Toa Payoh Crest swamp playground and Play @ Heights Park with its water play area too. Closer to the tugboat playground, there's also the Toa Payoh Sensory Park to visit too.