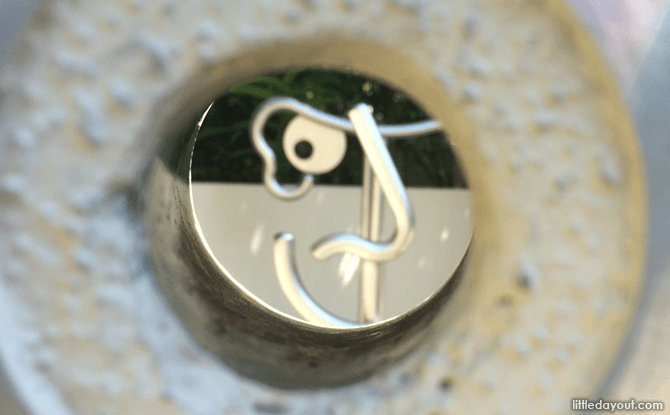 Brightly-coloured letters along Lorong 5 announce to visitors that they have arrived at Toa Payoh Sensory Park. Located in the midst of a mature estate, this six-year-old park caters to all ages, from the very young to the very old, perfect for a little day out with the extended family.
Opened back in 2009, this neighbourhood park is designed to encourage visitors to explore the five senses of sight, smell, touch, sound and taste. Even though only one-fifth the size of its big brother, Toa Payoh Town Park, Toa Payoh Sensory Park packs in a playground, exercise corner and a special garden zone.
Engage the Senses at Toa Payoh Sensory Park
Visitors can attempt to learn the alphabet in sign language near the entrance to the garden zone or admire a white ceramic sculpture, Connect, by Ahmad bin Abu Bakar, that invites tactile exploration.
While a sense of history may not be one of the five senses, it is represented by a series of panels recounting Toa Payoh's past. Toa Payoh, which translates as "big swamp" in Hokkien, was once swampland. This all changed when it was chosen as the site of Singapore's second HDB satellite town and the flats came up in 1968.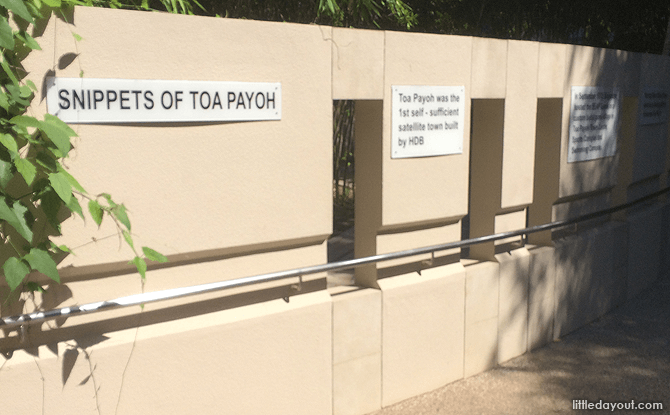 Reliefs of plants with exotic names like Mother-in-law's Tongue, Firecracker Plant and Ixora 'Super Queen' line the way into the garden. Their names are also written in braille above the imprints.
Looking like a Venus Flytrap waiting to snap shut on unsuspecting passersby is a pair of parabolic dishes. This interactive play equipment reflects sound between two stainless steel dishes to create an acoustic space that reflects and focuses sound. Try standing facing one, make a sound and hear it amplified from behind you.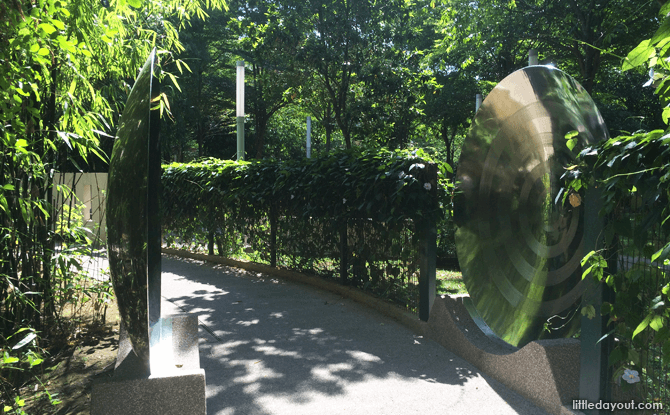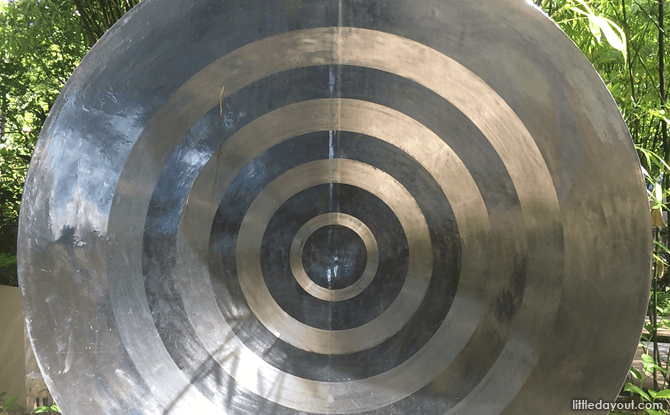 Three mirrors, standing very much like the Marina Bay Sands towers, let little ones play peek-a-boo with themselves. For more tricks of the eye, peek through a little peephole for an optical illusion that magically creates a face from a few bent poles.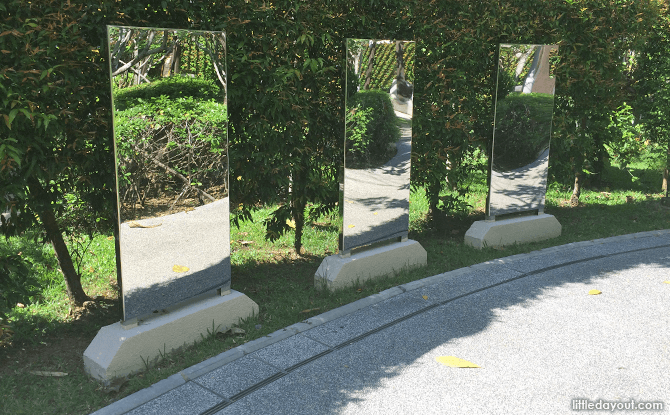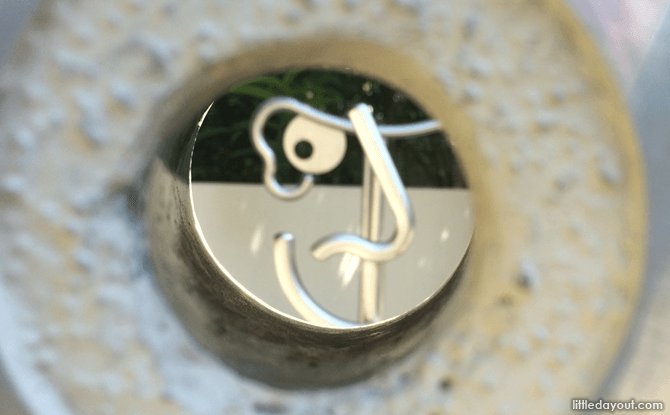 Smell is represented by the garden's flowers and taste by a plot of plants commonly found in the kitchen.
Butterfly Garden
Six years after its opening, the Toa Payoh Sensory Park is now home to dozens of butterflies. Fluttering throughout the garden, they bring a welcomed flightiness that contrasts with the serenity of the park.
Play at the Park
If the kids feel like they have exhausted their senses, head over to the playground which appeals to their sense of fun instead. The brightly-hued play equipment includes curvilinear "telephone tubes" for the kids to communicate with one another. If all that does not keep them busy, send them over to the nearby metallic pipe structure and ask them to try and figure out what it is for.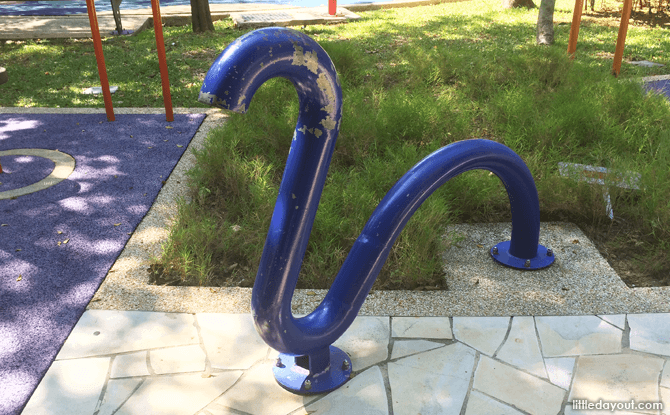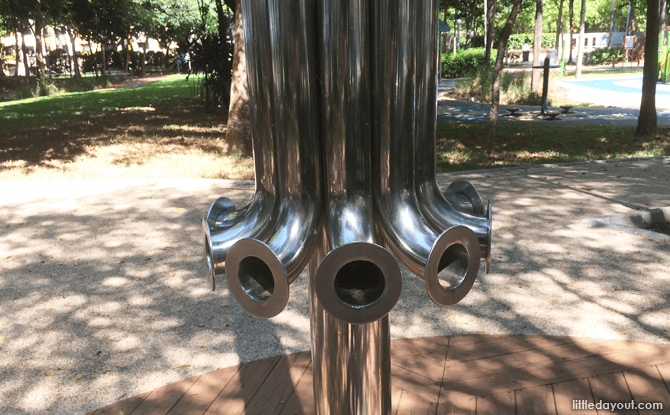 Just beside the Sensory Park is the Block 75 Lorong 5 Toa Payoh Food Centre. Perfectly located if you are keen to carry on exploring your sense of taste too!
Toa Payoh Sensory Park is a lot tamer (pun intended) than our favourite Toa Payoh playground, the Dragon Playground over at Lorong 6, but for young kids with their ever-growing awareness of the world around them, it is probably just right.
Have a great Little Day Out!
Toa Payoh Sensory Park
Located along Toa Payoh Lorong 5
By car, turn into the car park before the brightly-coloured Toa Payoh Sensory Park sign. Alternative car parks include Blk 65 Toa Payoh Lorong 5 or Blk 66 Toa Payoh Lorong 4.
On foot, it is approximately 550 metres from the Toa Payoh Public Library.