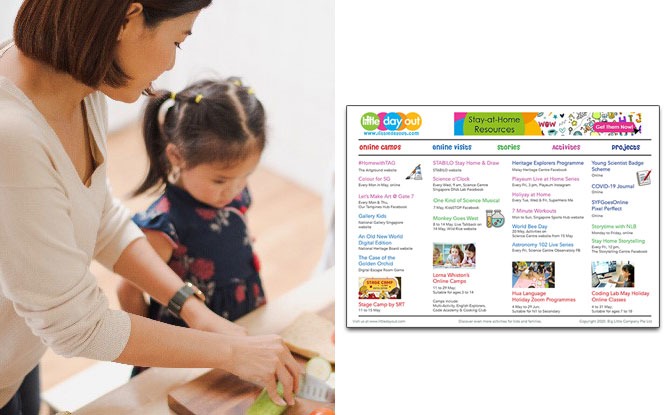 This year, instead of the usual June holidays, we have the May holidays 2020 in Singapore. With all of us safe at home, families may be wondering what kid-friendly activities and things to do during the May school holidays 2020.
While there is no need to fill up every moment, wondering what to do with the kids during the May school holidays 2020, it can still be useful to set up a routine or have some idea of what you wish to do during the holidays. Planning ahead helps to make sure you don't miss out on things you wish to do.
Activities and Things to Do During the May Holidays 2020 in Singapore
There are many stay-at-home activities available to choose from. We have curated list with an emphasis on local, "weekly-updated" or "live" activities taking place during the May school holidays from 5 May to 1 June 2020 for you and your children to engage in during four-week break.
These are summarised in our signature Little Day Out Guide to the May School Holidays 2020. You can download it below.
---
-- Story continues below --

---
What to do during the Singapore May school holidays 2020 with Kids
Online Camps
There are still exciting and engaging online camps taking place during the May school holidays 2020 in Singapore.
Lorna Whiston Camps is having online camps for ages 3 to 14 years old. Amongst these is a Multi-activity Camp and there is even a Cooking Club for kids!
Hua Language Centre is running holiday programmes for those who wish to keep up with their Chinese during the mid-year holidays.
Coding Lab's online classes allow children, 7 and up, to pick up programming skills from the comfort of home while still benefiting from the guidance of instructors.
Singapore Repertory Theatre will be conducting Stage Camp online for kids from 11 to 15 May with programmes based on popular stories like Chicken Little and the Three Little Pigs.
Projects for Kids to Do
With the time available during the May holiday 2020 in Singapore, children can spend the time working on longer term projects.
Earn a Young Scientist badge with the online scheme from Science Centre Singapore. The Malay Heritage Centre is running a Heritage Explorers Programme where kids can learn about what it takes to stage an exhibition and earn a badge too.
Primary and secondary children can turn photojournalists with SYFGoesOnline's Pixel Perfect project. Suitable for any age is Little Day Out's own COVID-19 Journal which kids can use to capture these historic times.
Storytime & Performances
Stories provide a great way to stir the imagination. National Library Board is holding storytelling sessions, suitable for younger children, in four different languages throughout the week. Every Friday, The Storytelling Centre will be having story time online too.
Moving to the stage, catch Science Centre Singapore's musical One Kind of Science on 7 May 2020 on Facebook and be treated to Wild Rice's Monkey Goes West from 8 to 14 May with a live, interactive talkback on 14 May evening.
Online Places to Visit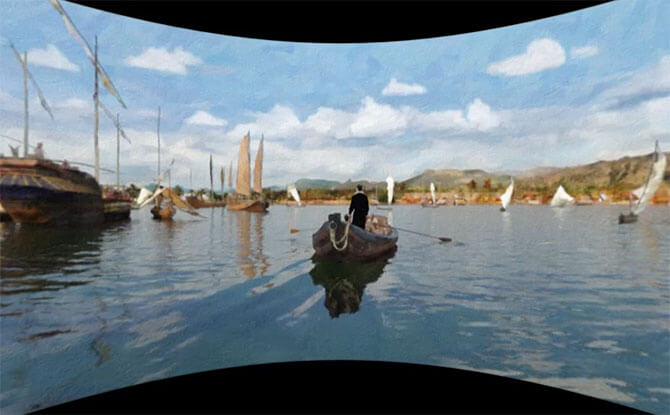 While we can't head out during the May holidays 2020, we can still visit places online. National Museum of Singapore's An Old New World is now available digitally. National Gallery Singapore's Gallery Kids also provides a good way to introduce kids to art works.
On Sunday, 24 May, join SAFRA Punggol for a special online edition of Weekend Fun on its Facebook page. There will be workshops, activities and contests with prizes to be won.
The Science Centre Singapore Observatory will be holding the Astronomy 102 Live Series on Fridays. There is also a Science o'Clock by Science Centre every Wednesday.
We've also put together a digital escape room game set at the Singapore Botanic Gardens. We challenge you to solve the Case of the Golden Orchid!
Weekly Family-friendly Activities during the May 2020 School Holidays in Singapore
Other family-friendly activities taking place during the May 2020 school holidays in Singapore include Live at Home Series on the Playeum Instagram account, Let's Make Art @ Gate 7 by Our Tampines Hub and Colour for SG by PAssionArts.
SuperHero Me will be running Holiyay at Home, an inclusive arts series, every Tuesday, Wednesday and Friday.
You may also want to check out some kid-friendly parent-child exercise routines you can do at home.
Even More Ideas for the May Holidays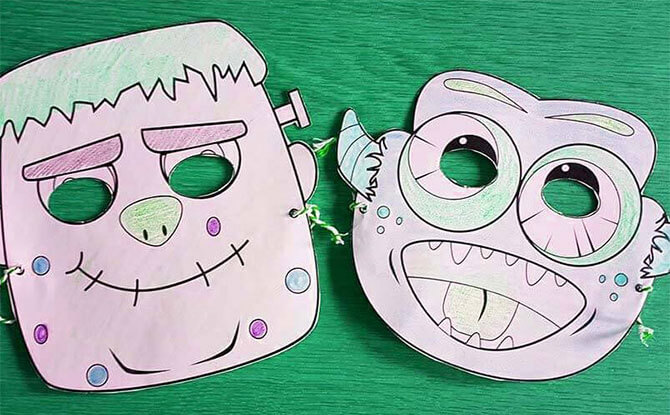 Need more ideas on what to do during the May holidays 2020 in Singapore while at home?
Pay a visit to:
A final word.
Setting up a routine helps but you don't need to fill up every single waking moment of the school holidays with activities. One of the best things to do with the kids during the May school holidays is to simply do nothing. Remember to enjoy the time of just being together as a family.
Happy holidays!