McDonald's BTS Meal was launched today and, as a gesture of thanks to cheer on Changi Airport's frontline employee during this period of COVID-19, McDonald's delivered 2,000 BTS Meals to those working in Zone 1 of the airport.
Zone 1 is the highest risk zone at Changi Airport and it includes the terminal piers, arrival immigration halls and baggage claim areas.
---
2,000 BTS Meals for Changi Airport Frontline Employees in Zone 1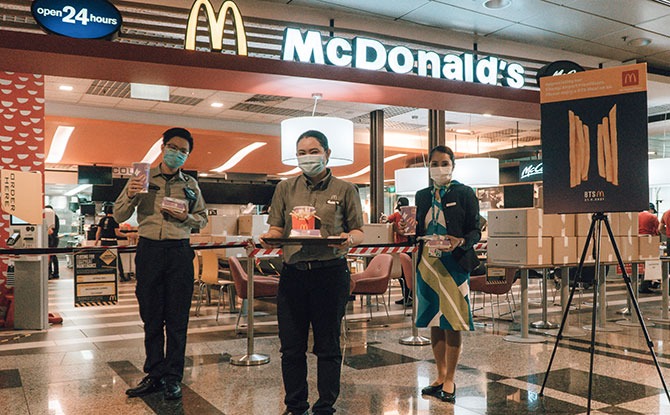 The 2,000 BTS meals were prepared at the McDonald's restaurant at Changi Airport Terminal 3 and were distributed to employees in Zone 1 while observing the highest level of safety measures in food delivery.
---
-- Story continues below --
"We would like to spare a thought for our Changi Airport community who have displayed
admirable grit and dedication in keeping the airport running 24/7 in this current climate. We salute these everyday heroes and understand it has not been easy for them. The BTS Meals that we have delivered is a small gesture of appreciation on our part to spread some cheer and encouragement, and for these frontliners to enjoy a meal on us," said Benjamin Boh, General Manager, McDonald's Singapore.
In return, Mr Albert Lim, Senior Vice President of Airport Operations Management, Changi Airport Group said, "We would like to extend our heartfelt thanks to McDonald's for their support and care for the airport community. McDonald's has been part of the Changi Airport family since 1981. We are deeply encouraged by their ONE Changi spirit of togetherness and unity, which continues to keep our airport workers' spirits up and Changi going even during these toughest of times."