Big List of Stay-at-Home Resources
for Kids and Families
With families spending increasing more time at home, parents are looking for ideas and meaningful things for kids to do. For those searching for meaningful and educational stay-at-home resources of things that kids can do at home during this COVID-19 outbreak period, we put together a list of online resources that you can access.
Useful Stay-at-Home Resources and Activities
This big list of useful stay-home activities for kids and families is categorised by topics such as multi-subject activity sites, languages, art ideas, science and more.
Looking for resources to talk to kids about COVID-19 / Coronavirus? We have put together a list of helpful resources here.
Featured Resource
We know that it can be daunting running through the various online resources available for activities. Therefore, we will be highlighting one resource each week for you to explore. This week's resource is from Happy Tot Shelf and her Home Explorer Camp Activity Pack. Read more about it here.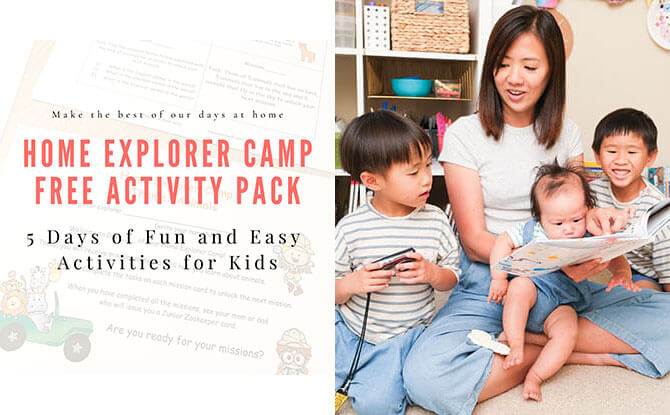 ---
Multi-subject / Activities
123Homeschool4me: Activities for Pre-K and up, including 100k worksheets and hands-on learning ideas.
All Kids Network: Free printables, colouring, alphabet and math worksheets
BrainPop: Online learning portal. Free access during COVID-19 period.
Easy Peasy All-in-One Homeschool: Home-school curriculum ideas.
Funbrain: Preschool games, math and reading.
Happy Tot Shelf: Preschool learning activities.
Highlights Kids: Activities, crafts and ideas for kids.
HippoCampus: 7,000 free videos covering 13 subject areas.
Joy Sun Bear: Learning about the world's cultures.
Khan Academy: Online learning for children from 2 to 18.
National Geographic (Kids): Games, videos and activities for kids.
Outschool: Schooling resources with live online classes.
PBSkids: Daily activities for kids.
PurpleMash by 2Simple Home: Coding, art and maths activities.
Scholastic: Learn-from-home site activities for different ages.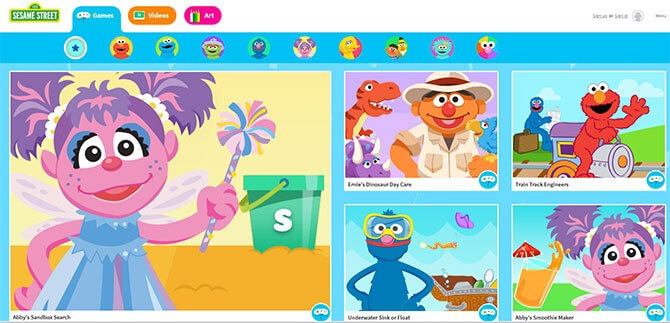 Sesame Street: Games, videos and activities, including resources on how to talk to young children about the coronavirus.
Seussville: Dr. Seuss videos and activities.
Starfall: Language, math and music activities for different ages.
Switchzoo: Animal-themed games, puzzles and zoo quest.
Turtle Diary: Maths, English, typing and money games for kids from Kindergarten to Primary level.
Udemy: eLearning courses. Subscription based.
e-Learning for Kids: Math, Science, Environmental skills, Health, Language and more.
---
Arts, Crafts and Music
Brave Writer: Online writing and language arts programme for families. Some resources free during the COVID-19 period.
British Museum Street View: Visit the London museum online.
Chrome Music Lab: Learning music through hands-on experiments.
Creating a Masterpiece: Online fine art classes for children 5 and up. Subscription required.
Creative Bug: Craft ideas
Felt with Love: Free sewing templates.
Google Arts & Culture: View the collections from 2000 museums from around the world.
Lunch Doodles with Mo Williems!: Kennedy Center Education Arts-in Residence shows how to doodle.
Coloring Nature: Free printable colouring pages.
---
Language and Phonics
ABCya: Word games for different ages
Audible: Audio books for children of all ages streamed for free during the COVID-19 period.
Literactive: Reading materials and phonic activities for kindergarten level.
Storyline Online: Children's literacy site with stories read by celebrities.
Unite for Literacy: eBooks for early readers.
---
Math & Science
Beast Academy: Maths activities for 8 to 13 year olds. Subscription required.
Coolmath4kids: Maths games and quizzes.
Curiosity Stream: Documentaries covering topics such as STEM, History and Innovation. Subscription required.
Math Game Time: Math games for pre-kindergarten to tweens.
MoneySKILL: Financial education.
Science Kids: Quizzes, Projects and Lessons.

Science Sparks: Science experiments for kids.
Splashlearn: Math activities from kindergarten and up.
Tynker: Coding activites for kids.
---
Movement & Health
CATCH: Health education. Free resources available during the COVID-19 outbreak.
Gonoodle: Movement and mindfulness videos created by child development experts.
MyPlate Kids Place: USDA site with activities about nutrition.
Nourish Interactive: Learning resources and games about nutrition.
P.E. with Joe: Daily Half-hour Workouts that can be done indoors.