Big List of Stay-at-Home Resources
for Kids and Families
With families spending increasing more time at home, parents are looking for ideas and meaningful things for kids to do. For those searching for meaningful and educational stay-at-home resources of things that kids can do at home during this COVID-19 outbreak period, we put together a list of online resources that you can access.
Useful Stay-at-Home Resources and Activities
This big list of useful stay-home activities for kids and families is categorised by topics such as multi-subject activity sites, languages, art ideas, science and more.
Looking for resources to talk to kids about COVID-19 / Coronavirus? We have put together a list of helpful resources here.
Featured Resource
We know that it can be daunting running through the various online resources available for activities. Therefore, we will be highlighting key resources each week for you to explore.
---
SAFRA Punggol Weekend Fun (StayHome Edition Part II) | 27 Jun, 9 am to 1 pm
SAFRA Punggol Weekend Fun is back on Saturday, 27 June 2020, from 9 am to 1 pm. Join in the family-friendly fun from home on Facebook Live.
Learn to make cake pops, dance together, watch a magic show and more. 25 sets of Pororo plushies and colouring books also stand to be won by SAFRA members in an exciting Weekend Fun Quiz.
Stay in and have Weekend Fun with SAFRA Punggol! More details here.
---
Stay Safe and Colour On with STABILO
STABILO, one of the world's leading manufacturers of writing instruments from colouring pencils and crayons to markers, is offering free creative resources to encourage everyone to stay at home, add more colours to their daily life and display creative expressions! Visit www.stabilo.com for hours of guided video tutorials where you can learn to sketch your favourite animals. What's more, surprise your kids by treating them with five specially curated Stay Home Bundles, now available on Lazada.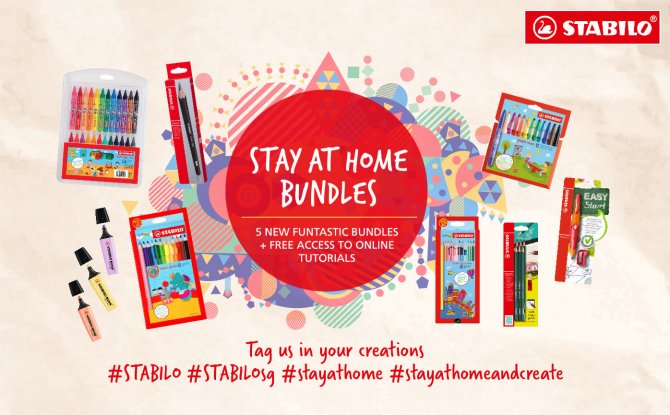 For little artists, there are drawing and colouring templates (we especially like the unicorn ones) and DIY craft ideas too. The STABILO Stay Home and Draw Bundle 1 would be perfect for this, with a box of STABILO Swans Jumbo Coloured Pencils together with the child-friendly Yippy-Wax Crayons and more. Unleash your kids' creativity with Bundle 2 and upcycle materials around the house. Turn toilet paper rolls or egg cartons into houses, cars and perhaps build a whole town! STABILO power max pens are great for kids who forget to cap the pens after using as these fibre-tip pens don't dry out for up to 8 weeks! The ink is washable and is the perfect solution for the demands of a playroom. Colouring is not just for kids and has been touted to have calming benefits too. Indulge in some art therapy with the mandala-style templates or better yet, try using the hand-and-brush letting guide, designed by Hannah Rabenstein, to create your own motivational posters! These are best achieved with the well-loved classic STABILO point 88 fineliner and Pen 68 range. Find these special nib pens in the STABILO Stay Home and Get Creative Bundles 4 and 5 respectively. Complete your beginner Calligraphy set with the Pen 68 Brush Pen as well. Get ready for crafty fun with STABILO's Stay Home and Get Creative Bundles. Plus, you get a free BPA-free bottle with each bundle too! Shop here now!
---
Home-based Learning Resources by My First Skool
My First Skool is one of the leading preschools in Singapore providing holistic and quality curriculum. During this circuit-breaker period, their teachers have put together a series of interactive home-based learning resources to support their children's learning at home. There are a variety of age- appropriate resources tailored to children aged zero to six years old. For example, a good activity to keep young children aged zero to three engaged at home will be the making of music shakers using recycled materials. This activity provides a good opportunity for the child to practise their fine motor skills as well as grasp the concept of upcycling. What's more, the child will have a sense of achievement when they use the music shakers they make to dance along to their favourite rhymes. In addition, parents can visit this page to view videos of their teachers conducting interactive storytelling sessions and creative ideas on how to teach simple maths concepts like addition through board games. Worrying about what to cook at home? You can also learn from their very own My First Cook on how to make simple and nutritious meals and snacks for your young ones. Visit their page today for the unique My First Skool home-based learning experience.
---
One-Stop Portal for Home Based Learning Resources – KidzMatters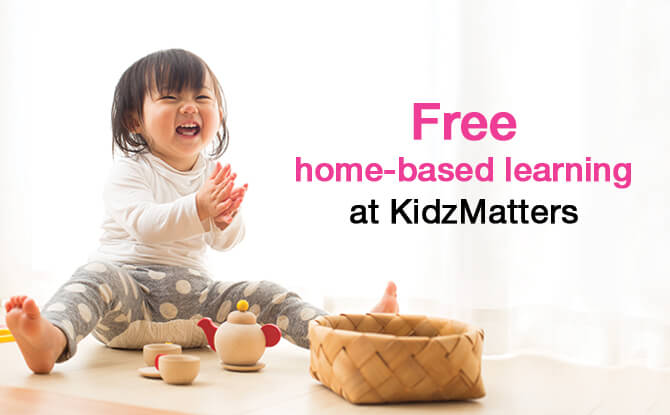 NTUC First Campus (NFC) has partnered all five Anchor Operators and MOE Kindergarten to share home-based learning resources on KidzMatters. KidzMatters is a mobile-friendly one-stop portal that has consolidated materials and resources for convenient home-based learning. You can now access the curated content easily. New content is uploaded daily so you won't run out of ideas. Topics on home-based learning are organised according to ages and consists of many fun ideas such as shape hunts, cereal finger paint and activities using other Mother Tongue languages. Activities also include sensory experiences that are engaging and meaningful for all preschoolers. Get materials from KidzMatters via their one-stop portal online or from the mobile app now!
---
Multi-subject / Activities
---
Arts, Crafts and Music
---
Language and Phonics
---
Math & Science
---
Movement & Health