Covid-19 has stricken the world in anxiety and fear, which quite honestly hs initially been blown out of proportion. Given the deluge of information and fake news, adults need to be especially discerning so as not to heighten further paranoia. How can we similarly equip our kids and helpers with coronavirus resources and information that is easy to understand so they would learn the importance of cleanliness and hygiene?
My boys tend to be sloppy in terms of personal hygiene (constant reminders to wash hands, digging of the nose, touching everything and anything), hence the climate of fear and education in school has helped inform and instruct the children in many ways. I'm thankful for the schools' effort in imparting knowledge. We watched some of the videos and talked about the infocomics.
To see if the information was clarified, we did a "before" mindmap on the understanding of Novel Coronavirus and "after" mindmap. Not only did my kids express less fear after information was clarified, they had a much better understanding of viruses and the importance of a good hand-washing routine.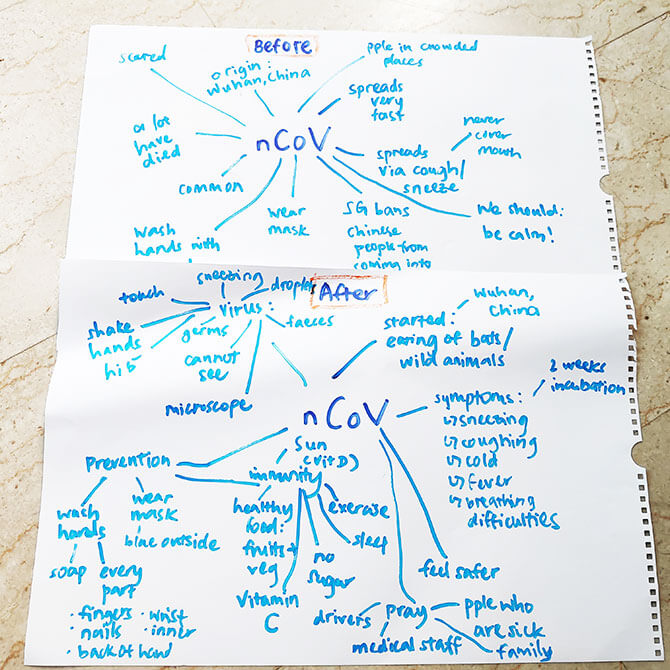 Hooray to these resources! We really applaud the effort for all the illustrators and writers in educating the public through their creativity.
Do use this list of resources in educating your family members and debunk the myths surrounding the Coronavirus.
---
-- Story continues below --
---
Videos on Viruses, Evaluating News Sources and Hand Washing
This video makes it easy to understand more about Coronavirus and what authorities have done. It also shows what the symptoms are like, possible origins and personal hygiene.
The Big Sneeze by Sid the Science Kid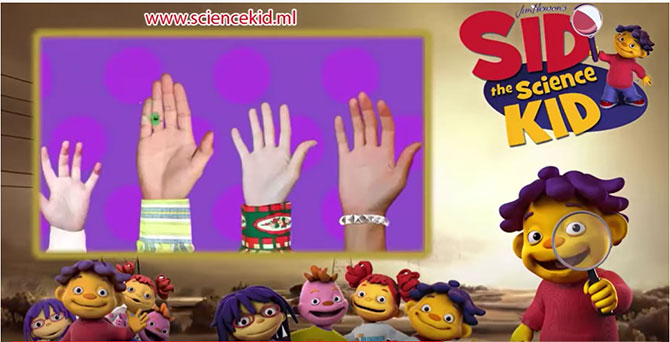 For an animated version, watch this video on what happens from a sneeze and how to keep the germs away with a good hand-washing routine.
What is a Virus? By Dr Binocs, Peekaboo Kidz
Learn what a virus is compared to a bacterium, and what happens when the body is infected with a virus. Link to video here.
Daniel Tiger's Neighbourhood
One of my favourite cartoons, Daniel Tiger's Neighbourhood, has great resources for the little ones. They are easy to understand and also highlights scenarios when mum works from home and how little ones can help.
Evaluating Sources for Reliability
Too much information is being circulated these days, how do we tell fact from fiction? This video teaches us and our kids how to evaluate sources and determine if we should believe them. A sure way to suss out the "Aunty" news from the real news.
Germ Smart – Wash Your Hands by Saskatchewan Health Authority
While parents can remind their children to keep washing their hands, sometimes showing them why and how to do it can be more convincing. Let the Germs in Germ Smart tell the kids why they better keep their hands clean with catchy tunes!
---
Illustrations & Infocomics on Covid-19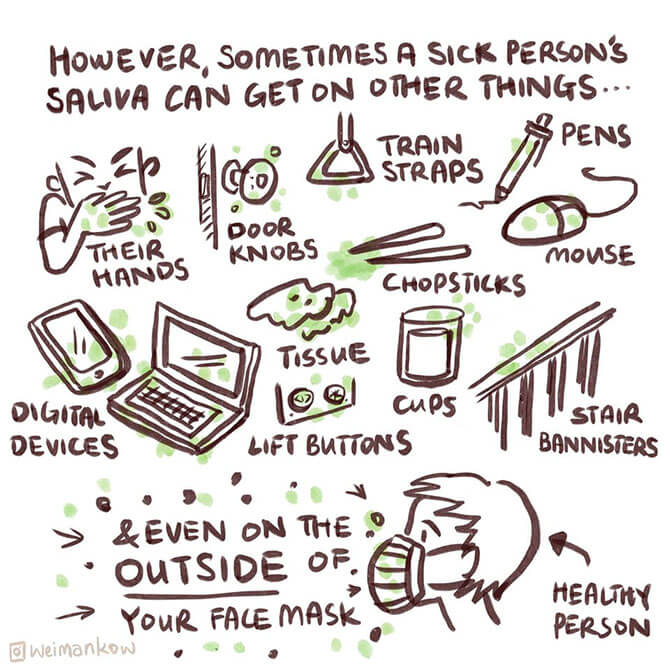 We love this Infocomic by local artist Weiman on how Coronavirus spreads, preventing the spread with 5 good tips. The infocomic is now being translated to various languages. See the English version here.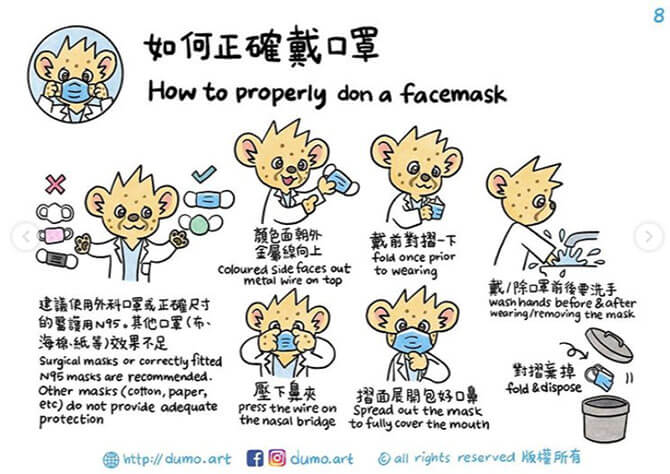 Illustrations and text by Dr Lucci Lugee Liyeung makes the outbreak easier to understand. Factual and simple – it also tells children and their families what they should be doing as precautions. The Hows – how to wash hands, how to wear a mask serve as comprehensive guides. Link to illustrations here.
Why Chinese New Year this year is different (In Chinese only)
Lee Dian Dian's illustrations which talk about the nCoV are accompanied by Chinese captions. This would be useful for parents and children well-versed in Chinese. It is also a great way to pick up the terminology related to health, hygiene and viruses. See the posts here.
Why Can't I Go Out by A 卡苏 by Peking Union Medical College Hospital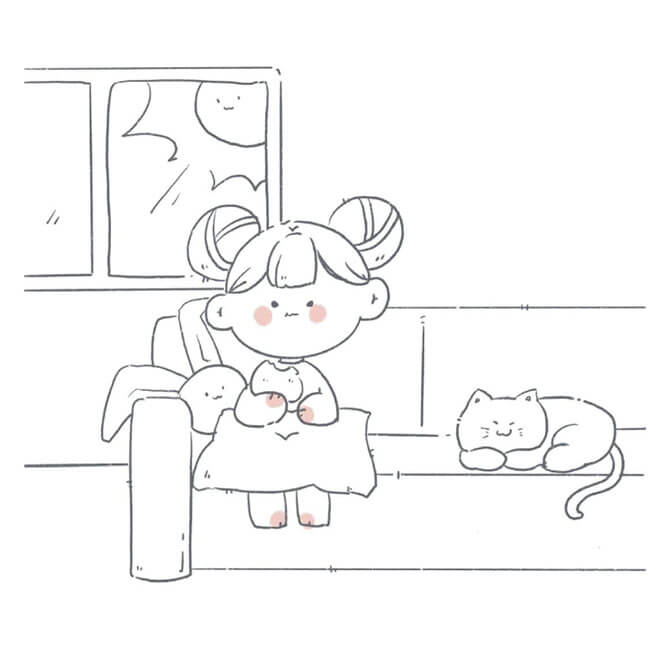 This e-book is courtesy of a team directed by Peking Union Medical College Hospital. Read the book with your kids, especially when they ask why they are being kept at home. The e-book also talks about building immunity which is essential for warding off viruses.
Credits:
文字:A卡苏(公众号/微博:A卡苏)
插画:太阿乜啦噜
专业内容指导:北京协和医院呼吸科医生Peking Union Medical College Hospital (PUMCH)
专业内容指导:北京协和医院郭晶
校对:Dr. Michael Yuan
---
Experiments on Handwashing
2Mamas4kids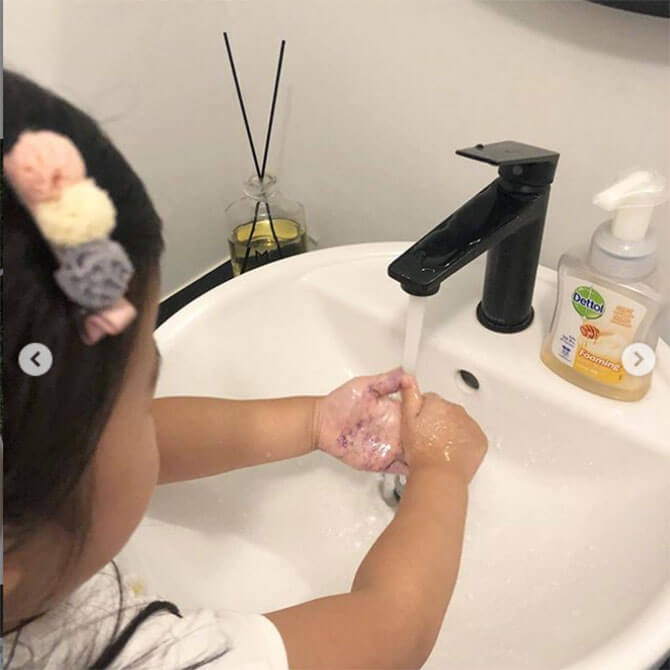 To reinforce the message on effective hand washing, try these experiments shared by 2Mamas4Kids. In one experiment, glitter glue was used, while in the other – pepper was used. And no surprises as to how the glitter or pepper was eventually washed away.
Bread Experiment by Dayna Robertson, Discovery Elementary School
Some of you might have seen this ingenious bread experiment circulating on social media. It clearly illustrates how hand washing trumps other cleaning methods based on the result of mould growing on bread. Learn more about the experiment here.
Brain Pop
Apart from videos, check out the quiz, challenges, games
at this link
.
---
Tips and Activities Suggested by 3MM
Jasmine from 3 Minute Montessori has a great list of discussion ideas and activities on Coronavirus for you and your kids. Whether they are preschoolers or in primary school, she has ideas for each age group. See them here.
Mummy Sing Yun shared a useful guide on how to talk about Coronavirus using newspaper articles, books and other resources. We like how a potentially complex topic is brought down to a child's level to engage them further.
Billingual Learning by PlayLeXue
A good way of encouraging bilingual learning is via important topics such as viruses. Mummy Joey from PlayLeXue has the list of terms you need to translate all the important terms such as "Novel Coronavirus" and "Hand Sanitizer". My Chinese has certainly levelled up thanks to her!
Sesame Street
The Sesame Stree Muppets also share messages of love and kindness, virtual playdate ideas and other resources to help parents provide comfort, manage anxiety and foster playful learning at home. Do check out
Sesamestreet.org/caring
for regular updates.
NPR has illustrated a comic highlighting key learning points for children amidst the Covid-19 pandemic.
Curious George
Find out more about germs from Curious George who comes down with a cold. Borrow it from NLB's Overdrive in this link.
---
Facts and information reassure us that we can overcome the nCoV or Covid-19 outbreak as a nation. With vigilant checks, social responsibility in masking up and proper personal hygiene, there is much less to worry about. Stay positive, be armed with the right information and stay healthy!