What happens when Uncles Love Monuments? They go sketching, of course.
And now, the artworks of Francis Theo, Steven Seow and Tony Chua are on display as part of a traveling exhibition that is making its way around the libraries in Singapore.
The Uncles Love Monuments exhibition features sketches of 18 National Monuments, captured through the eyes of the three silver generation artists. These monuments include the Sri Mariammam Temple, Former Telok Ayer Market, Former Fullerton Building and Sultan Mosque.
Meet the Uncles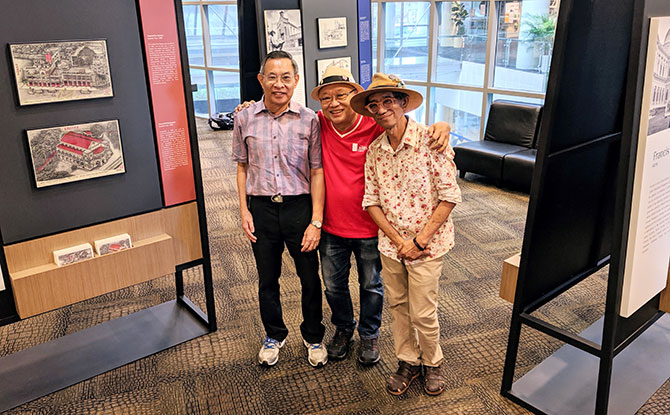 Francis Theo, 69, is one of the pioneer members of the group Urban Sketchers Singapore. He is nicknamed "Sketch Machine" for his speed when sketching. Since retiring in 2012, Francis has kept himself active as a freelance illustrator, florist and art educator.
The Uncles Love Monuments exhibition showcases his beautiful sketches of the Abdul Gafoor Mosque, Former Fullerton Building, National Museum of Singapore, Sri Mariamman Temple, Sultan Mosque and Sun Yat Sen Nanyang Memorial Hall.
Steven Seow, 66, is a self-taught artist and heritage enthusiast. This combination of interests has led him to complete sketches of all the National Monuments in Singapore. He uses his memory and photographs taken with his mobile phone to produce detailed three-dimensional aerial perspectives of Singapore's historical sites.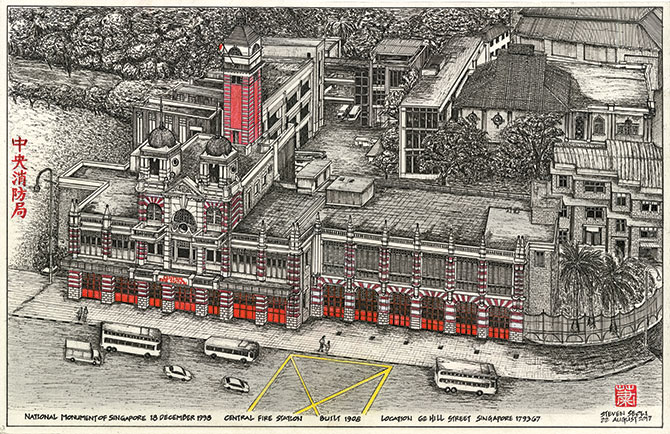 View Steven's aerial sketches of the Central Fire Station, Chesed-El Synagogue, Former Empress Place Building, Former Hill Street Police Station, Jurong Town Hall and MacDonald House at the exhibition.
Tony Chua, 67, started dabbling in abstract art following his retirement in 2008. He went on to sharpened his drawing skills with fellow urban sketching enthusiasts and has developed a style which makes use of in wriggly line works accompanied with line hatching to highlight specific perspectives of buildings. His sketches are also annotated with notes which help to capture the specific moment in time when he drew them.
Tony's sketches of the Former Supreme Court, Former Telok Ayer Market, Nagore Dargah, Prinsep Street Presbyterian Church, St George's Church and Yueh Hai Ching Temple are featured in the traveling exhibition.
Viewing the Uncles Love Monuments exhibition
The Uncles Love Monuments exhibition will be making it way around various public libraries in Singapore until December 2019. It can be viewed at the following locations:
1 to 30 July 2019 – Marine Parade Public Library
1 to 30 August 2019 – Cheng San Public Library
1 to 29 September 2019 – library@harbourfront
1 to 30 October 2019 – Serangoon Public Library
1 to 29 November 2019 – Toa Payoh Public Library
1 to 30 December 2019 – Sengkang Public Library
The exhibition will be complemented by workshops at selected library venues. During the Urban Sketching Workshop for Beginners, participants will be introduced to the basics of sketching by Francis Theo. These workshops are open to participants aged 12 years old and above and registration can be done via the National Library Board's Golibrary website on a first-come-first-served basis.