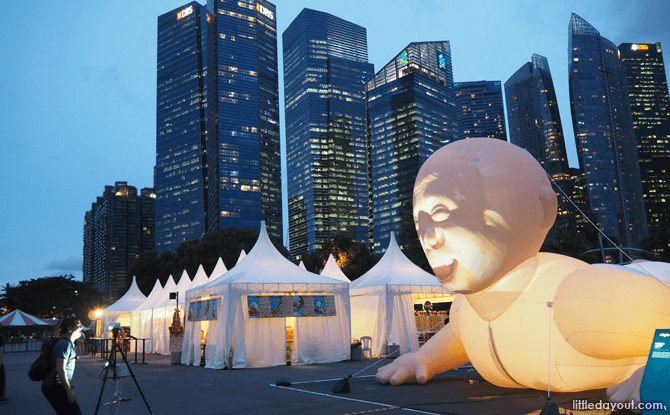 i Light Marina Bay 2017, the fifth edition of the sustainable light show, is set to ignite Singapore's skyline this month from 3 to 26 March. And, it is going to be bigger, better and brighter than any edition before.
Above showcasing 20 stunning light art installations by local and international artists, this year's i Light Marina Bay will feature three new themed Festival Hubs. There will also be plenty of fringe activities for the whole family to enjoy. One night alone may not be sufficient time to experience everything there is to offer, so we recommend visiting on several weekends to catch all these highlights below.
Festival Hubs
Remember the family film "Honey, I Shrunk The Kids" where all the children were turned into tiny ant-sized beings? Step into their shoes by heading over to The Float @ Marina Bay. Experience a massive interactive inflatable playground set in an imaginative zoological garden. Featuring 11 adorable inflatables, Art-Zoo is both an experiential playground and art installation that takes children on a visual adventure to learn about alphabets, animals and living in a sustainable world.
At this i Light Marina Bay 2017 festival hub, parents can test their little ones' problem solving skills as they maneuver through a Giraffe maze, watch their delighted faces light up as they slide down into a Whale ball-pit, and take album-worthy pictures with a towering inflatable Giant Spider (spanning 21m x 22m and reaches close to 10m in height!). Admission charges apply.
Opening Hours: March 3 to 26: Mondays to Friday (5 pm to 11 pm), Weekends (2 pm to 11 pm)
Website: http://www.artzoo.sg/

2. The Fantastical World of eco.me
The Fantastical World of eco.me will transform The Promontory @ Marina Bay into an enchanting playscape with light installations and hands-on activities to celebrate ecological and social sustainability. Highlights at this i Light Marina Bay 2017 festival hub include immersive theater performances, a kinetic energy playground and a mass-composting activity where children can learn how to convert waste into compost for farming.
Families can also visit urban farms and attend educational talks to learn from green advocates who champion local produce as a sustainable food resource. Lastly, don't miss a family shopping spree at this Festival Hub's Marketplace, an exciting recycling and upcycling fair where you'll find one-of-a-kind environmentally friendly goods from handmade furniture to repurposed clothing.
Opening Hours: March 3 to 5 & 9 to 12 (6 pm to 10:30 pm)
Website: http://eco-me.sg/
3. GastroBeats
To complete i Light Marina Bay 2017's full festival experience, GastroBeats at the Bayfront Event Space will host a huge array of delicacies, live music performances and other activities so that visitors can 'Eat, Sing, Play and Repeat!'. At this lifestyle park for millennials, i Light Marina Bay 2017 is introducing daytime family-friendly Silent Disco sessions specifically designed for kids (a first in Singapore!), where the music will be tailored for a younger ear with some pop classics thrown in for parents to enjoy too. Another family favorite activity at GastroBeats is Uncle Ringo's carnival, featuring amusement rides such as the spinning swing chair wheel, gyroscope and merry-go-round – all harnessing kinetic energy to generate lighting.
GastroBeats will also offer a variety of other activities by participating partners, such as community drumming performances, live music acts, riding adventures on hands-free eco-friendly vehicles provided by Ninebot, shopping opportunities at the Marina Waterfront Bazaar and gastronomic delights by artisanal F&B outlets as well as Pasarbella's pop-up food market.
Opening Hours: March 3 to 26: Sundays to Thursdays (5 pm to 11 pm), Fridays & Saturdays (4 pm to 12 am)
Light Art Installations
Not to be missed at i Light Marina Bay 2017 is of course the centerpiece of the festival: 20 sustainable light installations setting the Bay aglow this March. Set up around the Marina Bay waterfront area, the light art installations created by Singaporean and international artists are designed with energy-saving lighting or environmentally-friendly materials to promote sustainable living in an urban world. Our top installations for families to admire include:
4. ATARAXIA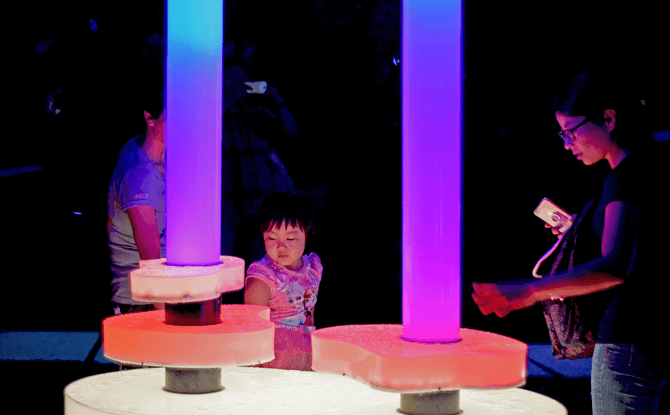 This interactive light installation brings people from the bustle of urban life into another dimension of calming and almost hypnotizing neon popsicle-colored lights. ATARAXIA is a place of slowing down and of rejuvenation, and a space to be immersed in tranquillity.
5. You Lookin' at Me?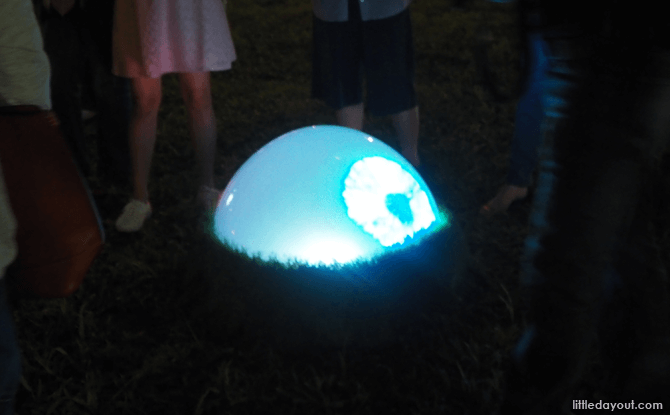 Looking (pun intended) like something straight from a sci-fi film, these giant glowing eyeballs with colourful irises stare into the distance and snap to attention when a visitor approaches. Hold onto your young ones' hands as you walk down this path so that they don't feel too scared, or encourage them to "play" with these eyeballs and see if your child can move fast enough before the eyes can catch them.
6. MoonFlower

This luminescent display of glow-in-the-dark flowers featuring individual solar-powered LED lights will make you feel like you're entering an enchanted forest. You can even adopt a MoonFlower for just $5 for your child, and give these portable MoonFlowers a second lease of life in your own garden after i Light Marina Bay 2017 ends.
7. The Colorful Garden of Light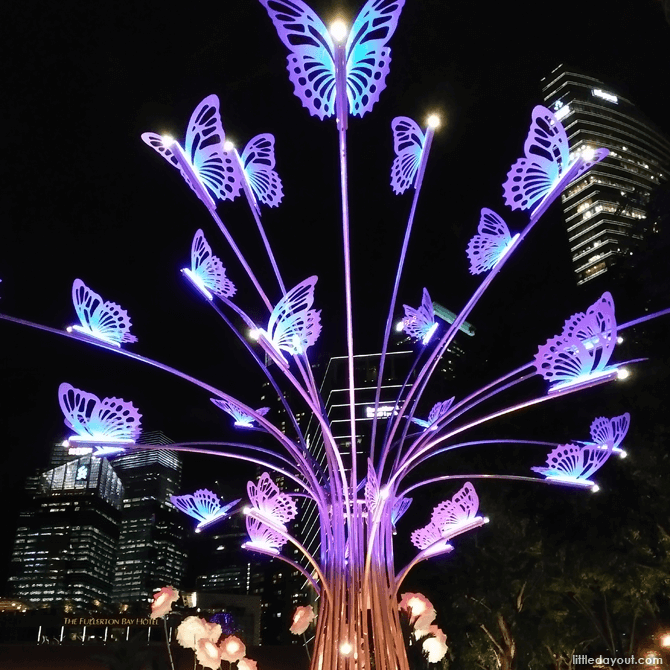 This installation features gorgeous peonies and multicolored butterflies sprouting out of the ground in celebration of the upcoming spring season. Not to be outdone by the Supertrees at Gardens by the Bay, these vibrant flowers and butterflies change colors throughout the night, a truly surreal sight of nature against the city backdrop.
8. Home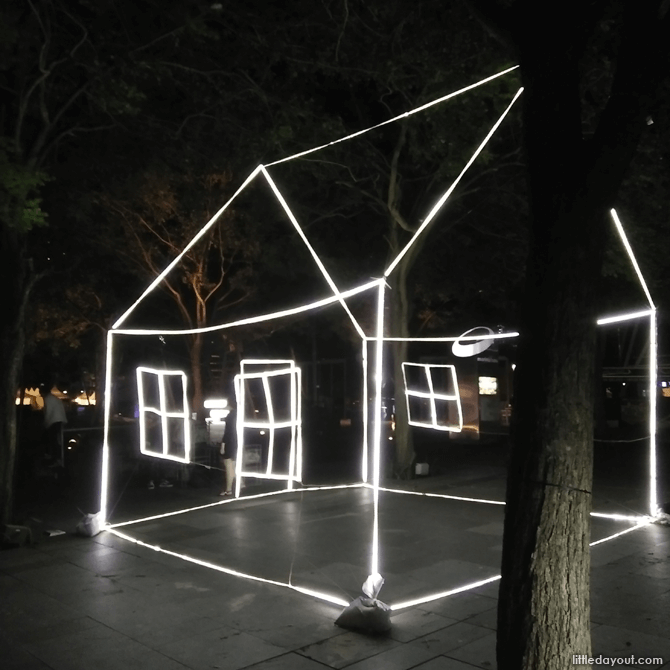 In Singapore, children often think of home as an HDB apartment or condo. This installation by Polish artist shows a different concept of a one-storey home illuminated in our urban jungle. Drawn like a child's sketch, this art shows that home, whether set in a tall skyscraper on down on the ground, is always a safe haven for love, family and light in a world of darkness.
9. Hybycozo
Geometry may not seem like the most exciting topic for your kids, but Hybycozo is set to prove them wrong. Inspired by the best-selling book, Hitchhiker's Guide to the Galaxy, as well as patterns from Islamic tiles, these color-changing hexagonal prisms will mesmerize your kids with their kaleidoscopic views.
10. Horizontal Interface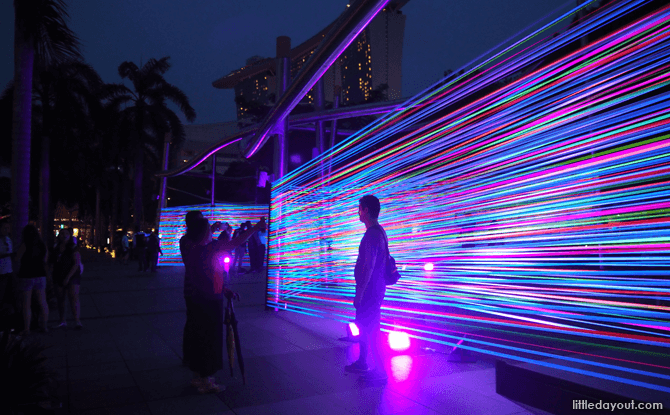 Great for the kids, these long neon ribbons move and shudder with the wind, creating a spectrum of colors looking like cars and vehicles whizzing by in the city.
11. Social Sparkles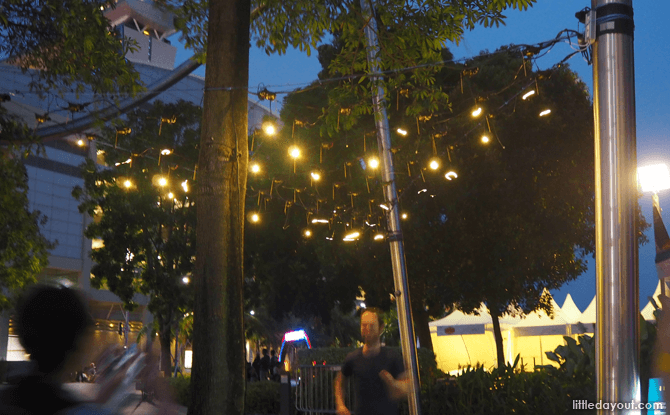 Take a break from looking at your phones for a while and socialise face-to-face with strangers. In this interactive piece, viewers must move under a blanket of individual lights, which will light up and spin like fire flies when it detects motion. The more people there are and the more social activity under this blanket, the more lights are activated, creating magical "social sparkles".
12. The Body of the Sea
See the Merlion in a different light for a change as images of sea creatures and coral reefs are projected onto the statue. Together with enchanting music playing in the area, the Merlion Park is a great place to take a break and simply immerse yourself in the beauty of Marina Bay.
13. Secret Galaxies
Inspired by our infinite universe and all that there is to explore in space, Secret Galaxies is a hypnotising piece of visual images projected into the petals of the ArtScience Museum. The projections are repeated throughout the night. They pause during the 8pm and 9pm Marina Bay Sands Light Show, Wonder Full.
Other Events
14. "A Day Out With Mum" Picnic
As part of i Light Marina Bay 2017's fringe activities, mother and child can finally spend quality time together over a picnic at the Promontory. The package for two comes with a picnic basket, mat, a photo booth opportunity overlooking Marina Bay and tour of the art installations. There is also a lucky draw with more than $1,000 worth of prizes to be won and a special performance by Clement Chow, one of Singapore's most celebrated musicians. Children can even request a song and dedicate it to their mother to show her how much she means to them.
When: Thursday & Friday, March 16 & 17, from 3pm
Registration: For more details, email ask@activequotient.com
15. "Adventure with Dad" Activity
Not forgetting the importance of spending quality time with dad, too, i Light Marina Bay 2017 is organising a separate 2-day bonding event for fathers and sons. In this 2-day urban camp, the men in the family can expect to enjoy outdoor challenges, fun activities, and memorable conversations.
When: March 12 to 13 (Camp 1) & March 13 to 14 (Camp 2)
Website: http://www.family.org.sg/AwD
i Light Marina Bay 2017 Event Details
Festival dates: 3rd to 26th March 2017
Where: Marina Bay Waterfront
Cost: Free Admission. Charges apply for some attractions, such as Uncle Ringo and Art-Zoo.
Opening Hours: Sundays to Thursdays (7.30 pm to 11 pm), Fridays & Saturdays (7.30pm to Midnight)
Getting Around: In line with the theme of sustainability, printed festival maps are ditched and replaced with a free mobile App. Be sure to download the Blippar app to access exclusive festival-related content within your smartphone.
Official Website: https://www.ilightmarinabay.sg/