Art-Zoo Inflatable Park at The Float @ Marina Bay is a new addition to this year's i Light Marina Bay 2017. One of the three festival hubs of the sustainable light festival, Art-Zoo is a giant playground where children and families can engage in immersive play while learning about their favourite animals and the need to create a sustainable world.
Entry to Art-Zoo is ticketed. Inside, there are eleven larger-than-life play zones, filled with whimsical animals and plants.
In fact, you will find inflatable versions of animals and plants starting from A to Z. These range from Ants to Zebras and include in-betweens such as Tulips and Uakaris, a type of monkey.
Jackson Tan, creator of Art-Zoo said, "They (the inflatables) were chosen based on the alphabets, as we wanted to have animals and plants representing the different alphabets from A to Z. So we started from ants all the way to zebra, and we also looked at how the animals can work as inflatables as well."
Check out the full list of 26 animals and plants on the Art-Zoo website.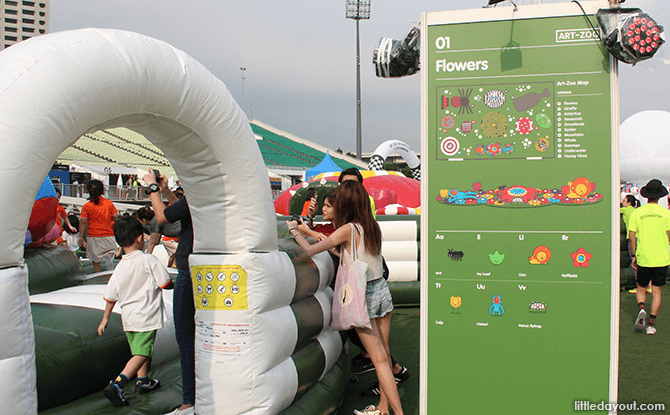 Collectively, they provide an overwhelming sense of what is like to be part of the colourful, bouncy eco-system.
Best of all, these visually appealing inflatables are more than just art to be admired from afar. Kids (and adults) can hop around them and bounce away too.
When asked what he hoped visitors would take away from a visit to Art-Zoo, Jackson said, ""We hope that it can bring them joy and a lot of happy memories, and that it will inspire more imagination."
Here are the 11 zone clusters at Art-Zoo you can jump right into:

1. Flowers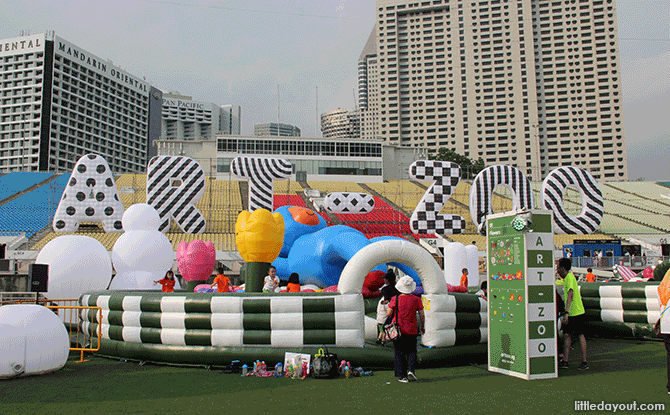 Visit the den of sleeping lion, a laid-back monkey and a Rafflesia in this inflatable installation. Set across three interconnected "rings", the relaxed state of the animals sleeping on a bed of flowers may lull you into wanting to give them a hug – and you can go right up to them to do so!
2. Giraffe Maze
A cute yellow-and-black giraffe sticks out like a beacon at this inflatable maze. Make your way inside and have fun trying to navigate your way out of this bright yellow maze.
3. Antarctica
The polar world comes to humid Singapore at the Antarctica zone. A parade of red-nosed reindeer with blue antlers stand side-by-side with spiffily-dressed penguins. A trio of polar bears preside over the bouncy Antarctic inflatable playground.
4. Savannah
Art-Zoo takes visitors on a journey to the African Savannah with this red-and-blue inflatable playground. Climb amongst red elephants sporting blue tusks while a red-faced Uakari monkey peeks out from on top.
5. Grasslands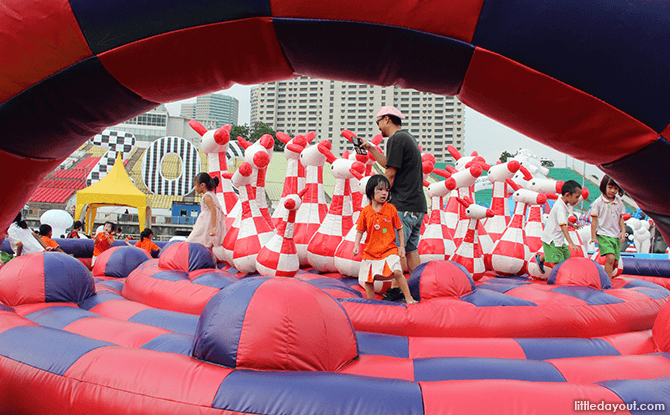 A group of kangaroos are known as a mob. Now, you can join in a mob at the Grasslands inflatable zone! Standing tall, a group of checkered kangaroos inhabit this red-and-blue zone. Bounce along with them as one of the troop.
6. Spider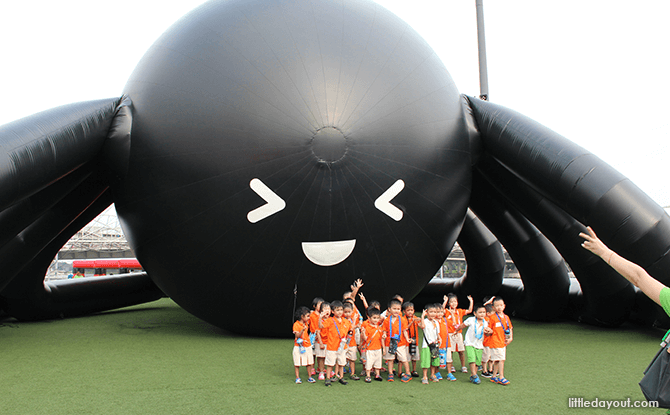 The Spider at Art-Zoo is not itsy-bitsy at all. In fact, it huge! Thankfully, it looks pretty friendly too. You can enter its lair at a free-play area just behind it.
7. Mountains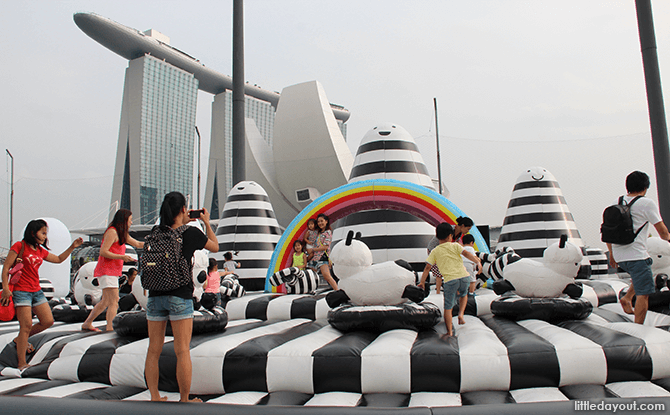 This layered zone has a surreal mix of black-and-white sheep prancing alongside friendly-looking mountains while striped zebras graze nearby. We are sure that you'll be tempted to try to ride the fluffy-looking yaks. Bursting out from monochromatic palette is a brilliant rainbow. Go under the rainbow archway to tour the black-and-white mountains.
8. Whale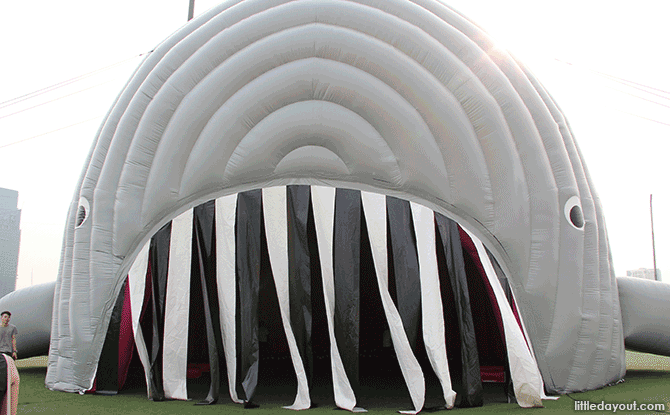 From the outside, the 12-metre tall whale looks grey and solemn, but inside, it's a safe cocoon with a light show of fish swimming around! The red interior of the Whale is filled with pink, bouncy balls. Younger kids are sure to have fun kicking them around – just be sure to keep a look out as it can get a bit rowdy with flying balls.
9. Swamps
Doing a good job at showcasing the diversity that can be found in murky waters is Swamp. This inflatable play zone has yawning hippos, tweety birds and a super-sized frog with its tongue sticking out. Kids will enjoy playing amongst the striped lily pads at this green playland.
10. Underwater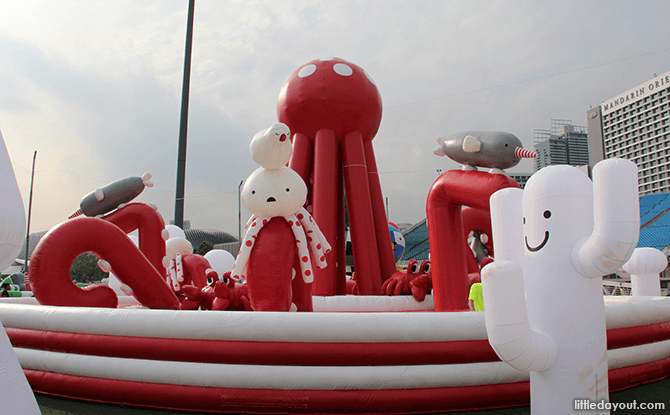 Looking a bit like a seafood stew, Art-Zoo's Underwater inflatable zone is dominated by a gigantic red octopus. Floating sea jellies and crawly crabs also inhabit the "depths" of this play zone. We were especially happy to see one of our favourite sea creatures featured too – the narwhal!
11. Honey Hives
Two massive bears sit back-to-back at this Art-Zoo inflatable zone. One is techni-coloured while the other is black-and-white. They don't seem the least bit bothered by the honeybees around them and probably wouldn't mind you running up to give them a cuddle either.
Some Things to Note About Visiting Art-Zoo Inflatable Park
Art-Zoo inflatable park is a whimsical fun playland. It is located outdoors at The Float @ Marina Bay, so be prepared for bad weather during your visit. Activities will be suspended if there is lightning.
Toilets are located opposite the entrance of the park, underneath the stands.
Take note that Art-Zoo has a strict no-re-entry policy. This means you can't scoot out to the toilets halfway through your visit. We'd also recommend to bring your own water in case you get thirsty from all the bouncing. The consumption of other food and beverages are not allowed inside Art-Zoo.
If you get hungry, there is a pop-up F&B stand – Abracowdabra just between the entrance and exit to Art-Zoo. They serve finger food including hot dogs, nachos cheese fries, popcorn chicken, and drinks like Thai milk tea and ice cream. Prices range from $3.50 to $5.00.
You can purchase tickets onsite or online before heading down. Tickets are priced at $15 for single tickets and $54 for a minimum group booking of four tickets. Children aged two and above require a ticket.
Go in the evenings and you'll see the white inflatables all lit up in cool pastel shades.
Happy bouncing!
Art-Zoo Inflatable Park
Venue: The Float @ Marina Bay, 20 Raffles Avenue, Singapore 039805
Dates: 3 to 26 March 2017
Operation Hours: Weekdays, 5 pm to 11 pm, Weekends, 2 pm to 11 pm
Last entry to the park will be at 10.30 pm unless otherwise stated.
Standard Ticket Price: $15. Available online or onsite.
Website: www.artzoo.sg