Step into the magical and colourful animal kingdom Art-Zoo Inflatable Park 2018 @ i Light Marina Bay! This second edition is back again with the largest experiential art inflatable playground in the heart of Singapore's city centre, this time with a lineup that is better than ever. Meet 15 different giant inflatable animals and let your imagination and legs run wild!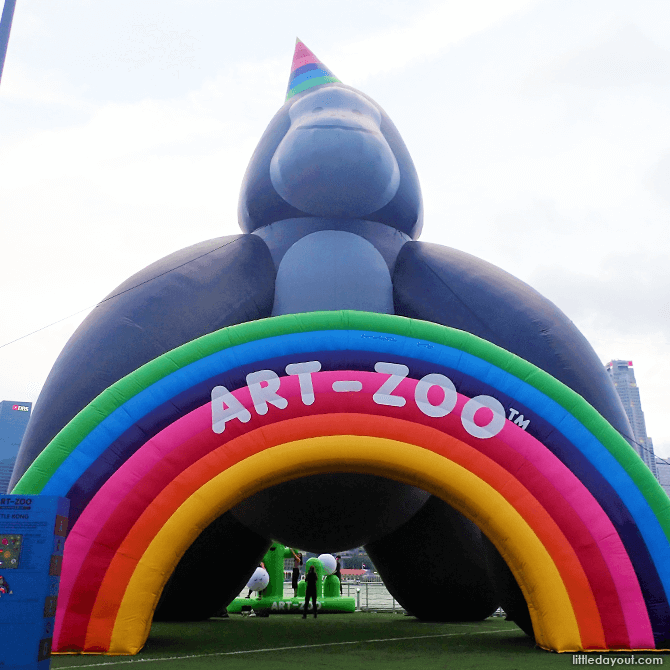 At Art-Zoo 2018, you will be greeted by Little Kong, who ironically stands as tall as a six-story building, and his bunch of bananas.
Besides Little Kong, here are some of the other animals that you can meet at their beautifully creative and colour-themed habitats!
The Black Forest and Yellow Woods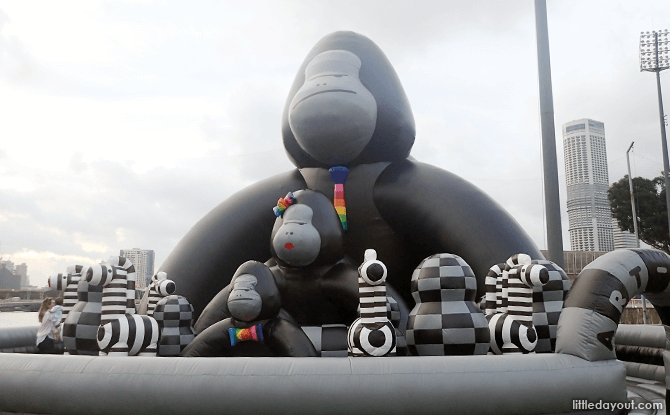 Enter the Black Forest and try to find all three monochromatic animals! The big and strong gorillas are here.
---
-- Story continues below --
Children can also visit the zebras and the quaggas (Yes, it's a real animal!) and try to spot the difference between the two.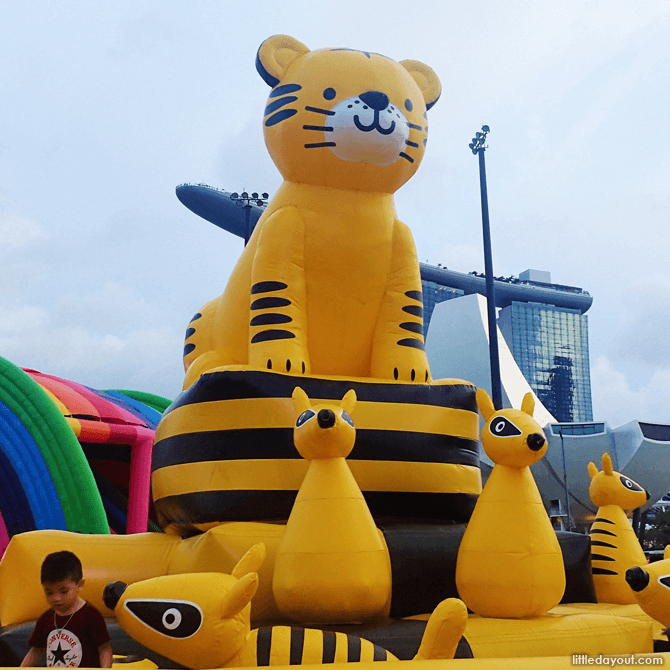 A hop, skip and jump away from the Black Forest is the Yellow Woods where you can play tag…with tigers! Climb past the Numbats and the termite's nests and see how fast you can tag the tiger to be "it"!
Orange Rocks and Green River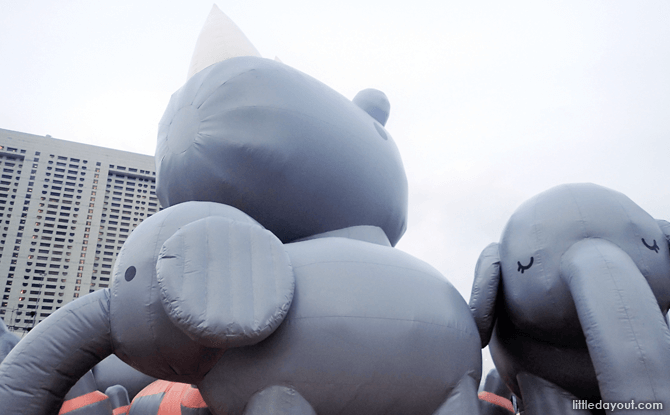 Meet two members of the "big five" of the African safari at Art-Zoo Inflatable Park 2018: the Elephant and the Rhino.
See If you can spot the brave little orange kiwi too.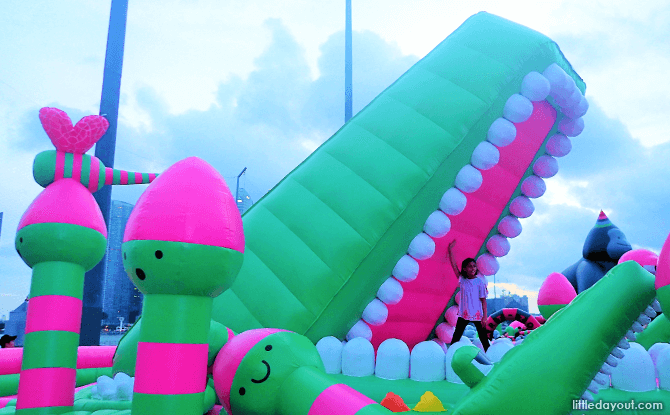 Pay a visit to Green River where you can friendly crocodiles with their mouths wide open and resting among the lilies, along with their dragonfly friends. Don't worry, we promise they won't bite!
Purple Meadows and Blue Bay
If you're looking for smaller animals, seek out the shy little moles and hedgehogs in the soft purple meadow! Their habitat is made out of more than 2000 individually hand-cut pieces of fabric and is definitely a piece of workmanship to admire!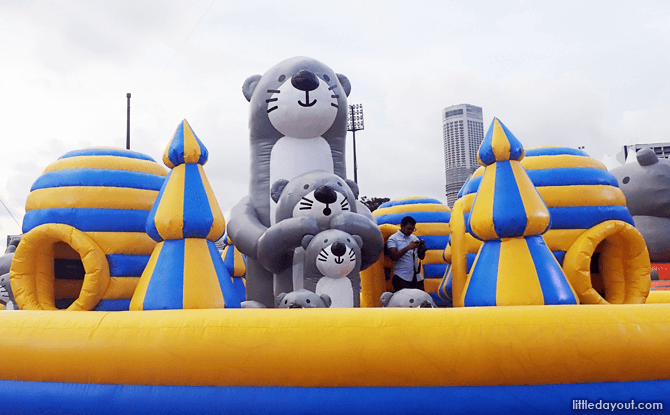 Looking for something more cuddly? Get ready to give huge hugs the different members of the otter family with mummy otter, daddy otter and children all in tow!
Yeti's Peak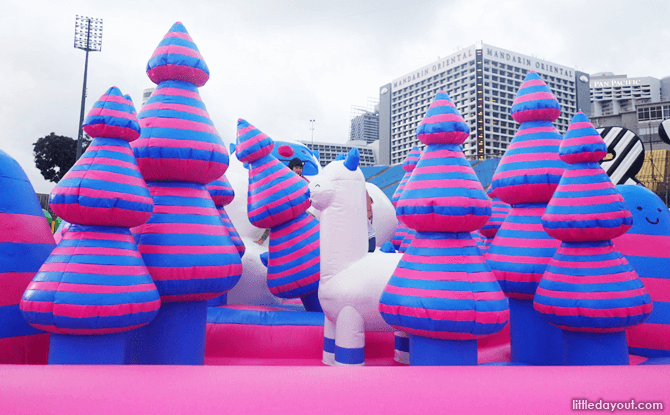 Grab your winter coats (or maybe not) and get ready to scale up the mountains in search of the mysterious Yeti. Legend says that he's extremely hard to see and only leaves traces of his footprints behind.
Will you be the first to find him? Scale up the mountains, pet some adorable Alpacas and go forth!
Pink Lagoon, Bubbly Bear Bath and Red Reefs
You've visited the animals on the ground, up high, now it's time to dive and visit the animals that love water or those that live in them!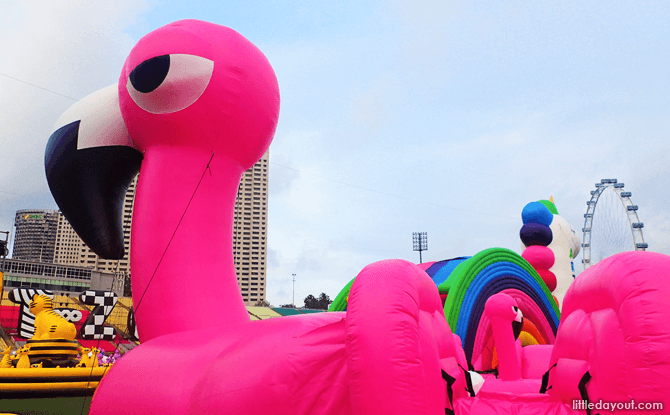 First, hop into the Pink Lagoon with the Pink Flamingo which has the capacity to hold enough water to fill one entire MRT station!
After that, hop into the gigantic tub of over 150,000 balls and soak up the fun with the colourful bear, crocodiles and more!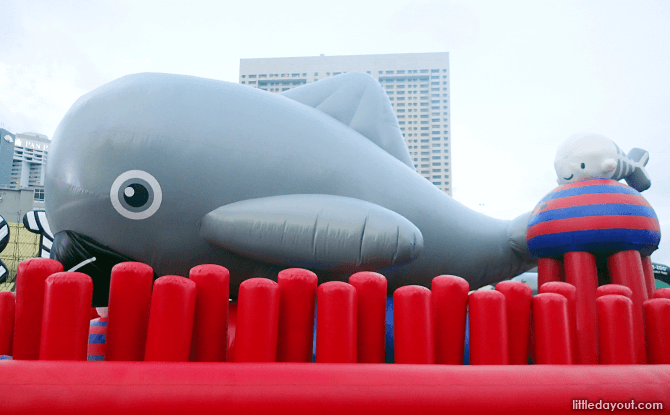 End off with a huge splash as you play hide and seek in the coral reefs with the lovable narwhals, the one and only X-ray Tetra and so many more sea creatures!
Watch out for the jellyfish and starfish though!
The Beetles, CheckMates, Candy Canyon
What are the animals in these Art-Zoo 2018 exhibits? It'll be more fun if you get to guess!
We do promise however that you'll meet animals that are colourful, animals that are wise, and animals that are masters of disguise…Think you know what they are? Head on down to confirm it!
Magical Rainbow
We've saved what we think is the best for last! Standing as tall as the height of about 4-and-a-half double decker buses stacked up on top of one another, get ready to swoosh down Magical Rainbow, the majestic unicorn! (Wheee!)
Art-Zoo Inflatable Park 2018 is more than just a colourful bouncy castle and inflatable dispaly. Creator Jackson Tan hopes that Art-Zoo 2018 is not only a way to explore nature through art, but also a great reminder for ourselves to do our part for conservation of animals in the real world.
A visit to Art-Zoo 2018 is sure to be an exciting experience!
Useful Details About Art-Zoo 2018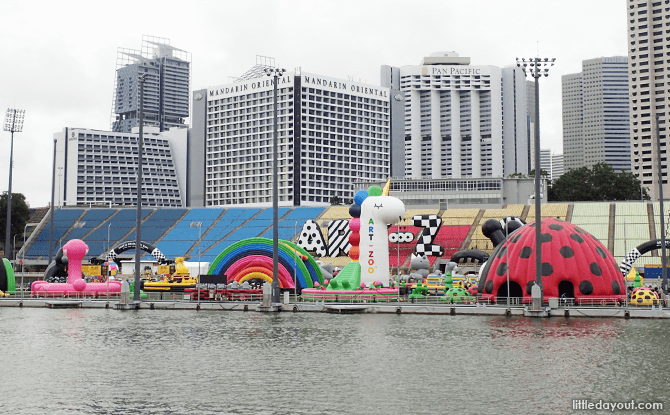 Art-Zoo Inflatable Park 2018 opens daily from 9 March till 1 April, 5 pm to 10 pm. It opens earlier at 3pm on weekends, public holidays, eve of public holidays and during school holidays. The last entry is at 9:30pm daily.
Entry tickets can be bought from artzooworld.com or at the gates. Tickets that are booked online are priced at $17.80 for a single ticket, and a bundle of four tickets are priced at $16.80 per ticket. Tickets purchased on site at the box office is priced at $18. All ticket prices include booking fee of S$0.80 per ticket. Children under 24 months get in free with each paying visitor.
Art-Zoo Inflatable Park 2018
Where: Floating Platform @ Marina Bay
When: 9 March to 1 April 2018
Admission is ticketed