When it comes to animals, the first place in Singapore that most people would think of is the Singapore Zoo. But, did you know, there are other places to interact with animals around Singapore?
From the cute and cuddly to the armoured and scaly, here are our favourite places (other than the Singapore Zoo) where kids of all ages can interact with animals.
---
Places to See & Interact with Animals in Singapore
1. Gallop Stable
Located at Horsecity @ Bukit Timah and Pasir Ris Park, Gallop Stable currently runs two stables in Singapore. They offer a variety of horse-related activities such as riding lessons, pony rides and feeding, trail rides, riding camps and many more for everyone, young and old to enjoy. Read more here.
---
2. Live Turtle and Tortoise Museum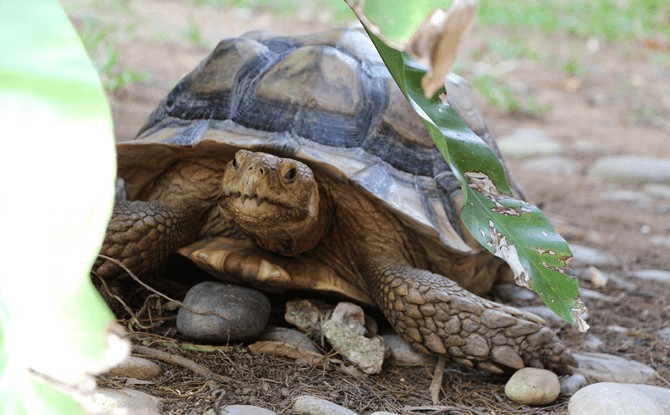 The Live Turtle and Tortoise Museum is located at ORTO in Khatib. Home to a huge variety of amphibious reptilians, you can find everything from snapping turtles to snakehead turtles at this private collection. Keep an eye out for free-ranging turtles wandering around the garden. The best way to experience the Live Turtle and Tortoise Museum is to purchase a bunch of kangkong (or whatever vegetables are available that day) and hand-feed the animals. See our story here.
---
3. Adventure Cove, Resorts World Sentosa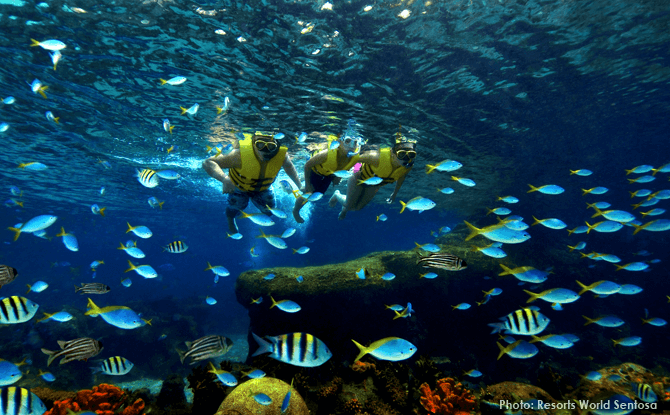 Looking for a truly immersive animal encounter? At Adventure Cove's Rainbow Reef, visitors can literally plunge into the water and go snorkelling with 20,000 fish. Share the water with brightly-coloured fish such as the Yellowfin Surgeonfish, Copperband Butterflyfish and Clown Triggerfish.
Other animal experiences around Resorts World Sentosa include feeding stingrays at Ray Bay or heading to the touch pool inside S.E.A. Aquarium.
---
4. Butterflies Up-Close, Science Centre Singapore
Opened in April 2016, Butterflies Up-Close at Science Centre Singapore is a collaboration between the national science education centre and Butterfly Park & Insect Kingdom. After passing through static displays about butterflies, you can step into an enclosure filled with more than 500 free-flying butterflies. Marvel at the wing insects feeding on fruit laid out around the vivarium and at various stages of metamorphosis.
---
5. Cat Cafes

Sit down, sip a drink and interact with felines at the various cat cafes in Singapore. Some cat cafes to check out include The Cat Cafe, Cat Cafe Neko no Niwa, and Meomi Cat Cafe. For many of these cafes, children need to be accompanied by an adult.
One can also check out places such as Wildflower Studio, which offers cat art jamming, an activity that allows guest to express their creativity while using the friendly cats as muses for their paintings or even as fun companions while they create works of art.
Be sure to supervise the children and check with the cafe staff which cats are better tempered and suitable for kids to interact with. The best time to visit is in the mornings when the cats are more active. Visit after mealtimes and you may find them cat-napping. Check out this story on Feline Facts about Cats in Singapore for more.
---
6. Longkang Fishing
Grab a net and go fishing in a "longkang". This fun kampong time activity can be found at many spots around Singapore including ORTO at Yishun and at the top of Bugis+. Little ones can step into a shallow pool, chase after the quick-swimming fish and enjoy a sense of satisfaction from catching them. Choose to release the fish or bring them home. Go back to kampong days again!
---
7. We Are The Furballs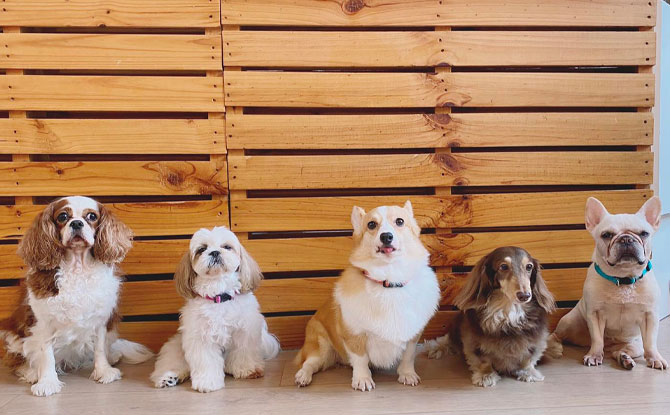 Singapore's first dog petting cafe, We are the Furballs is a dog café located in Bugis and invites guests to play with their adorable resident dogs. Children must be at least 10 years old to enter and must be supervised by an adult (who is not afraid of dogs) at all times. Entry fees are inclusive of a standard drink from the dog café. See more details here.
---
8. Jurong Frog Farm
The only licensed frog farm in Singapore, Jurong Frog Farm has been in the business of rearing American Bullfrogs since the 1980s. The frogs are not just for consumption but they regularly host groups of people from all walks of life who want to learn more about frogs. Read more about the Jurong Frog Farm here.
---
9. Hay Dairies Goat Farm
Hay Dairies is Singapore's only goat farm and was established in 1988. The farm has more than 800 goats. Visitors to their farm can have a fun time feeding the adorable goats and also purchasing some fresh goat milk. Read more about Hay Dairies Goat Farm here.
---
10. The Sundowner
Did you know that Singapore has its very own rooftop farm? Go up close and observe active honeybees foraging and tending to their nest at The Sundowner. Their two-hour Rooftop Farming Experience features three unique activities of a Bee Encounter along with the Organic Farming Class and Farm-to-table Tastings. You can also cuddle with their free-roaming Oprington chickens, Hen and Hao. Read more here.
---
11. EcoTrail by Web of Life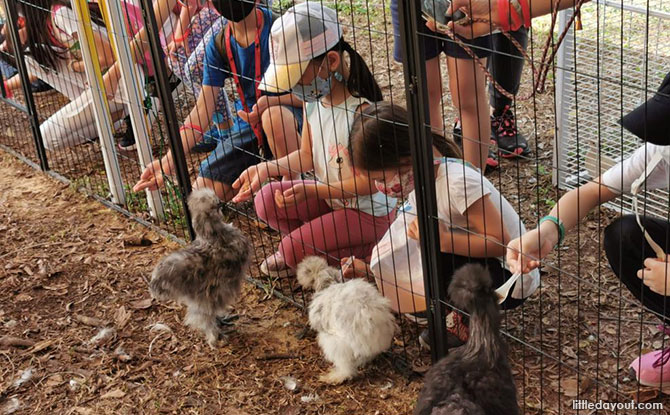 Go on an EcoTrail at Lorong Chencharu and not only learn about different eco-systems but get to feed and play with animals too. Read more about the experience at EcoTrail by Web of Life.