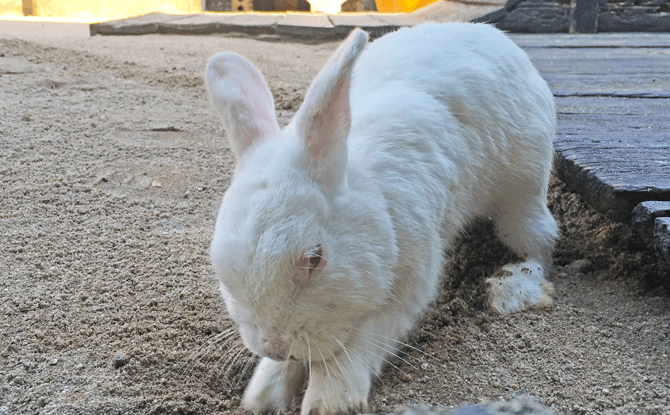 When it comes to animals, the first place in Singapore that most people would think of is the Singapore Zoo. But, did you know, there are other places to interact with animals around Singapore?
From the cute and cuddly to the armoured and scaly, here are our favourite places (other than the Singapore Zoo) where kids of all ages can interact with animals.
Places to Interact with Animals in Singapore:
The Animal Resort
Hidden among the farmways at Seletar is The Animal Resort. Step inside this rustic getaway and be transported into a different time. A gaggle of geese wander around freely while chickens peck away at the ground. There is a little shed where kids can feed rabbits and guinea pigs. Other animals at The Animal Resort include a cassowary, peacocks and fish. There is even a horse in a paddock. Buy a pack of feed for $1 or three packs for $2 and have fun feeding the animals. Read our earlier story here.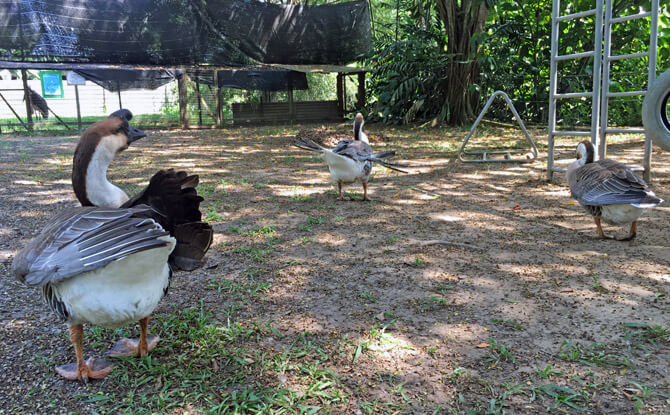 Farmart Centre Singapore
Farmart Centre has a lepak, laid-back feel. Head past the food outlets and prawning pool and you will find the animal feeding corner. There are goats, tortoises, rabbits and birds for kids to view and interact with. Buy a basket of food for $5 and the kids will have an enjoyable time feeding the animal to animal.
Live Turtle and Tortoise Museum
Tucked away inside the Chinese Garden is the Live Turtle and Tortoise Museum. Home to a huge variety of amphibious reptilians, you can find everything from snapping turtles to the snakehead turtles at this private collection. Keep an eye out for free-ranging turtles wandering around the garden. The best way to experience the Live Turtle and Tortoise Museum is to purchase a bunch of kangkong (or whatever vegetables are available that day) and hand feed the animals. See our story here.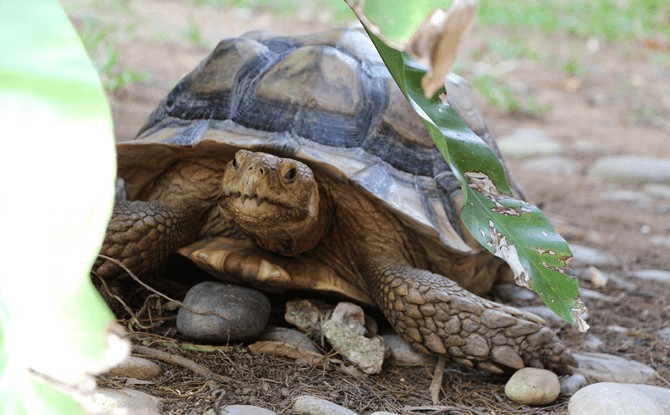 Adventure Cove, Resorts World Sentosa
Looking for a truly immersive animal encounter? At Adventure Cove's Rainbow Reef, visitors can literally plunge into the water and go snorkeling with 20,000 fish. Share the water with brightly-coloured fish such as the Yellowfin Surgeonfish, Copperband Butterflyfish and Clown Triggerfish. A minimum height requirement of 107 cm applies and children under 122 cm must be accompanied by a supervising companion.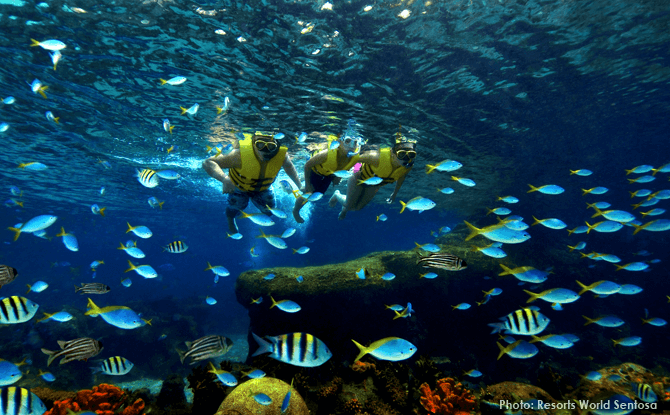 Don't want to get completely wet? Other animal experiences around Resorts World Sentosa include feeding stingrays at Ray Bay and a touch pool at the S.E.A. Aquarium.
Butterflies Up-Close, Science Centre Singapore
Newly opened in April 2016, Butterflies Up-Close at Science Centre Singapore is a collaboration between the national science education centre and Butterfly Park & Insect Kingdom. After passing through static displays about butterflies, you can step into an enclosure filled with more than 500 free-flying butterflies. Marvel at the wing insects feeding on fruit laid out around the vivarium and at various stages of metamorphosis.
Fish Feeding, Singapore Botanic Gardens
A perfect activity for younger ones can be found near the visitor information counter at Tanglin Gate at Singapore Botanic Gardens. For a dollar, pick up a plastic capsule of fish food from a vending machine and head to the nearby ponds. Watch as the fish (and the odd terrapin) swim hungrily towards outstretched arms, even before the food hits the water. This is a simple and enjoyable activity that even the youngest can participate in.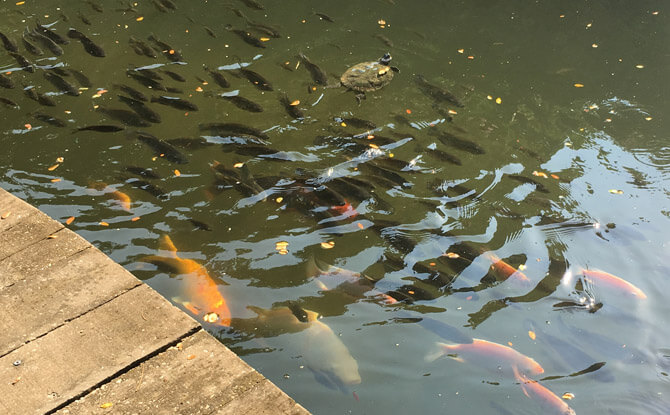 Animal & Bird Encounters, Sentosa
While Sentosa is more known for its beaches, did you know that it also has an amphitheatre where visitors can catch an animal show for FREE? Every afternoon, animal shows are staged at the Palawan Amphitheatre. Bird Encounters takes place at 3 pm, Close Encounters with animals at 4 pm and On the Wild Side, a multi-animal encounter, at 5 pm. As a bonus, watch lories at the adjacent Bird Aviary being fed at 2 pm.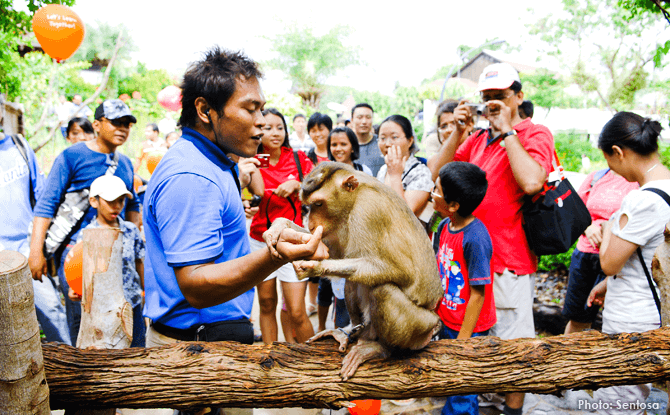 Rabbit Park, HorseCity
Fluffy bunnies have their own little park at Bukit Timah's HorseCity. Kept on a special diet, buy some feed for them to nibble on. There is also a pony enclosure nearby where kids can feed the pony. Rabbit Park at HorseCity is only open on weekends from 10 am to 12 pm and 2 pm to 7 pm, depending on the weather. Best to call ahead first. The number to call is 64636013.
There is also another Rabbit Park at Punggol Ranch, open everyday except Mondays.
The Cat Cafe
Sit down, sip a drink and interact with felines at The Cat Café at Bugis. All the cats are adopted or strays and have been given a clean place to stay at this unique café. Entry is $15 with a complimentary soft drink and it is open only to children aged six and older. Children under 12 need to be accompanied by an adult. Be sure to supervise the children and check with the cafe staff which cats are better tempered and suitable for kids to interact with. The best time to visit is in the mornings when the cats are more active. Visit after mealtimes and you may find them cat-napping. Check out this story on Feline Facts about Cats in Singapore for more.
Longkang Fishing, at ORTO and Fish@Big Splash
Grab a net and go fishing in a "longkang". This fun kampong time activity can be found at many spots around Singapore including ORTO at Yishun and Fish@Big Splash at East Coast Park. Little ones can step into a shallow pool, chase after the quick-swimming fish and enjoy a sense of satisfaction from catching them. Choose to release the fish or bring them home. It is kampong days again!
---
Animal-themed Activity Packs
For some indoor fun with animals, check out our animal-themed and story-led activity packs from Little Day Out Shop.