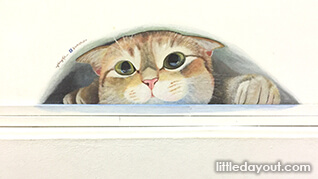 Calling all cat lovers!
Since cats are purported to have nine lives, we've roamed the streets and gathered nine feline facts about cats in Singapore so you can trot along with your young ones for a cat walkabout.
Looking for Cats in Singapore
So move over, famous felines in the likes of Puss in Boots and Garfield, and let our Singapore cats take the spotlight they deserve. After all, without cats, the mice will come out to play (as they did recently at Bukit Batok). 
1. Kucinta 
Just by the side of Singapore's oldest bridge along the Singapore River, Cavenagh Bridge, are three cat sculptures. Kucinta (Kuchinta), as this breed of cats is called after a "Name the Singapore River Cats" competition in 1990, is a mix of two Malay words – Kuching (cat) and Cinta (love). The Cat Fanciers Association (CFA) in the U.S. gave the Singapura Cat pedigree status in 1988. Although the origins of this cat remains a mystery, this Singapura Cat became Singapore Tourism Promotion Board's tourism mascot in 1991 after the CFA decision to keep the breed's pedigree status intact. While it is registered as the smallest recognised breed in the Guinness Book of World Records, it is muscular and hardy, with a short, fine-textured coat.
Source: http://eresources.nlb.gov.sg/infopedia/articles/SIP_867_2004-12-23.html
2. Lion City Kitty – The CAT MUSEUM, MUSES & MANSION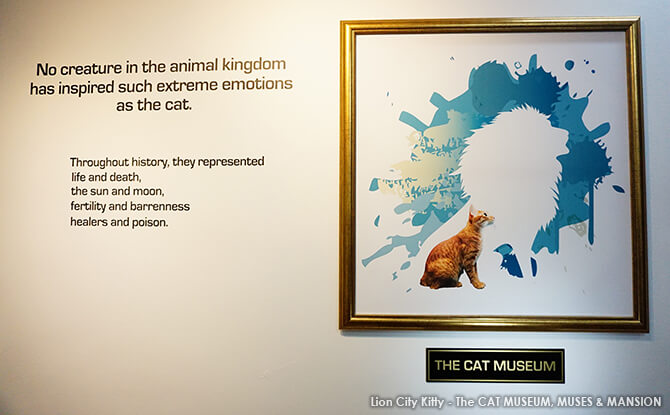 Housed in a quaint heritage shophouse along 'Purr-vis' Street, Singapore's first cat museum flung open its doors earlier this year on 9 January. A one-of-its-kind concept, Lion City Kitty – The CAT MUSEUM, MUSES & MANSION pays tribute to the cats of Singapore by tracing the history of local Malayan cats, cats that came on ships with our forefathers from India and China, the arrival of British cats during the colonization period and Japanese cats during occupation, and develops a hypothesis of what is affectionately branded as the Lion City Kitty – the Singapore resident cats.
Besides admiring specially curated cat photographs, art and crafts from around the world at the Museum on the second storey, you can check out The Muses and the Mansion on the third and fourth floors respectively, where a sprawling cat playground looms. A highlight of Muses are the real Singapore cats which are orphans looking for a family. At any one time, this social enterprise has nine permanent residents and nine cats selected by the Cat Welfare Society available for adoption. Within the first two weeks of its opening, 13 cats have found new homes. Lion City Kitty looks set to reach its target of having 50 cats adopted by 9 August 2015 to celebrate SG50 Orphan Cats Find Homes!
Lion City Kitty – The Cat Museum, Muses And Mansion
8 Purvis Street, #02-02, Singapore 188587
Tel: 6336 2133
Fridays: 4.30 pm – 7.30 pm, Weekends: 12.00 pm – 7.30 pm and closed from 3.30 pm – 4.30 pm for a Kitty Kat Nap
Admission: $9, free for kids aged six and below
3. Cat Café Neko No Niwa  
With coffee and cuddles with cats, what other purrfect place is there to unwind, but in a cat café? Cat Café Neko No Niwa (Japanese for 'Cat Garden') is Singapore's first cat café set up just over a year ago by cat-lovers Sue and Sam with a mission to provide cat therapy and the indescribable joy and relaxation that comes with it.
After visiting several cat cafés in Japan (and since HDB dwellers in Singapore are not allowed to keep cats except for those under the pilot scheme in Chong Pang), Sam and Sue wanted to provide a place for people to freely play, roam and interact with cats in a therapeutic environment. Unlike cat cafés in Japan, Korea and Bangkok, this cat café in Singapore does not feature pedigreed cats, but only adopted cats. This is to spread their message – to adopt, don't buy!
A visit to their clean and cosy café will dispel myths like 'cats are dirty, noisy and aloof'. Discover how responsive and affectionate companions cats can be and learn how to observe rules for the cat's well-being at this cat café and other cat cafés that have since opened in Singapore.
54A Boat Quay (Level 2)
Singapore 049843
Tel: 6536 5319
Mondays, Wednesdays to Fridays: 11.00 am to 10.00 pm; Weekends & Public Holidays: 10.00 am to 10.00 pm; Closed on Tuesdays
Cuddle Charge: 1st hour S$12 per person, subsequent 1/2 hour block: S$5 per person
Note: Do not bring your own cats. Children must be at least 7 years old and supervised by an adult at all times. The best times to go would be in the morning at around 10.00 am or 11.00 am because that is when the cats are most active. As cats are nocturnal, they would be sleeping most of the afternoon and children cannot play with them if they visit in the afternoon.
4. Cat Welfare Society
The Cat Welfare Society is a charity that wants to see a humane, responsible and informed society in Singapore where cats are cared for responsibly as pets and treated with kindness as community cats. With a mission to save the lives of community cats through sterilisation, and through the enriching of minds, the Cat Welfare Society has achieved much since it was started in 1999 by a few friends who were outraged by senseless acts of cruelty to cats.
Mailing Address: Orchard Road P.O. Box 65, Singapore 912303
5. Singapore Cat Club
The Singapore Cat Club is affiliated with Cat Fanciers' Association, the world's largest registry of pedigreed cats and strives to promote cat welfare by encouraging responsible cat ownership and providing advice on cat care. Run by a group of cat lovers and experienced breeders, they organise cat shows and conduct seminars and educational presentations.
Singapore Cat Club
Mailing Address: 198 Race Course Road,
Singapore 218617
Tel: 9798 3900
6. Hello Kitty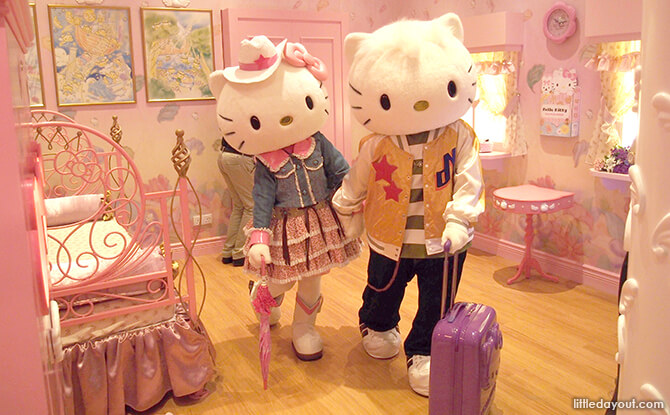 Oh well, so what if she's admitted that she's not a kitty but a girl? To us, she's still the cute as a button, mouthless kitty cat and Singaporeans can't seem to get enough of her. Besides creating long queues outside McDonalds when they first offered the cuddly soft toy for sale together with a meal (and subsequent higher resale) and hopping across to Puteri Harbour Family Theme Park to visit Sanrio Hello Kitty Town, Hello Kitty fans have also taken off on EVA Air's chartered Hello Kitty Planes from Singapore Changi Airport in December 2014. Due to overwhelming demand, these EVA Air Hello Kitty jets are scheduled to fly permanently between Taipei and Singapore come 21 June 2015.
7. Night Safari Walking Trail
If you're nocturnal like cats, head over to Night Safari and visit the Fishing Cat Trail, that simulates a night time trek through the Singapore jungle or hop over to the Leopard Trail, one of park's most popular trails.
Night Safari
80 Mandai Lake Road
Singapore 729826
Tel: 6269 3411
Daily: 7.30 pm – 12.00 mn (Last ticket sale at 11.15pm)
Fishing Cat Trail
Leopard Trail
8. Cats the Musical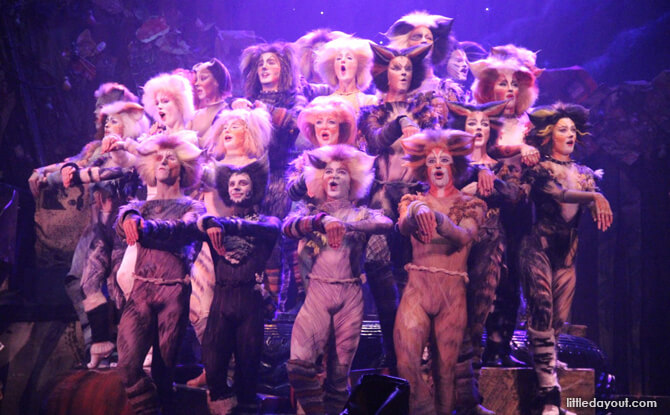 CATS, the Andrew Lloyd Webber musical that first premiered in the West End of London in 1981, is back in Singapore. Based on T.S. Eliots' 1939 book of poems, Old Possum's Book of Practical Cats, the tribe of Jellicle Cats gather for the annual Jellicle Ball and relate their individual stories. You'll get to hear of the lives of different cats including those of Old Deuteronomy, Grizabella, Mr. Mistoffelees and Rum Tum Tugger. More memorable perhaps is the fact that one of our own, Jacintha Abisheganaden, sang the lead role of Grizabella in CATS when the musical first opened in Singapore in 1993.
9. Singapura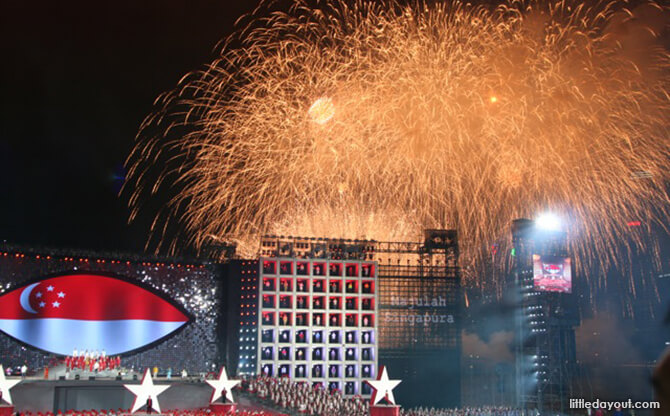 Last but not least, just think about it, our beloved country is named after the largest cat, the lion! Singapore, also known as Singapura, comes from the words Singa" which means Lion and "Pura" means City.
We hope we've inspired you to go on a catwalk and have a purrfect little day out in sunny Singapura!
Take This Trivia Quiz on Cats!