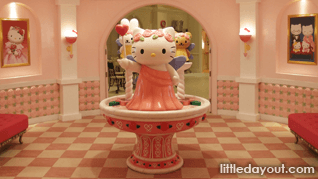 Hello to Hello Kitty
The Sanrio Hello Kitty Town at the Puteri Harbour Family Theme Park, Malaysia, is a place that promises to indulge Hello Kitty fans with their fill of all things to do with the lovely white kitten with no mouth and a red bow.
Found within a building with a red square on its façade, the Sanrio Hello Kitty Town is an indoor amusement park that occupies the building's second floor.
Ticketing counters, Red Bow Café and a merchandising outlet can be found on the ground floor and The Little Big Club, featuring characters such as Barney, Bob the Builder, Angelina Ballerina and Thomas & Friends, occupies the top two floors.
At Sanrio Hello Kitty Town, you are first greeted through the window by a set of spinning teacups. This amusement ride by the entrance of Hello Kitty Town is the only one within the Hello Kitty amusement park and caters to young kids and the young-at-heart.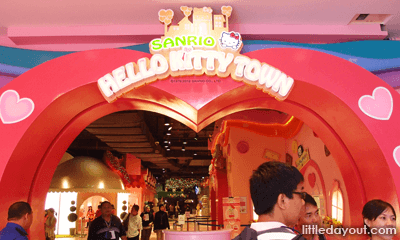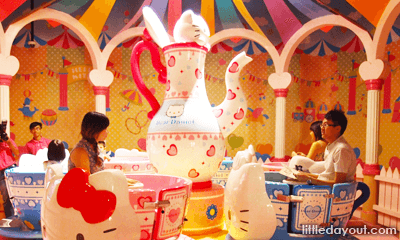 Hello Kitty's Home
For all those who have played with Hello Kitty play sets and masak-masak when young, a fun first-stop is the larger-than-life Kitty House.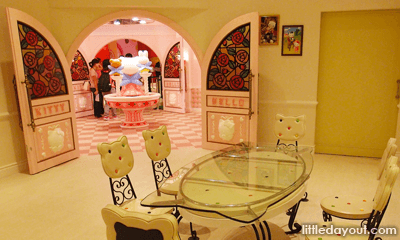 Here, you and your child can explore Hello Kitty's world and step through rooms including the living room, kitchen, bathroom, wardrobe and bedroom, all decorated in Kitty-chic. Hello Kitty is everywhere, with even the television and computer shaped in a Kitty profile. There are plenty of details to look out for, such as the Hello Kitty wall tiles and the latest in Kitty couture. Don't forget your cameras as there are plenty of photo opportunities for the kids.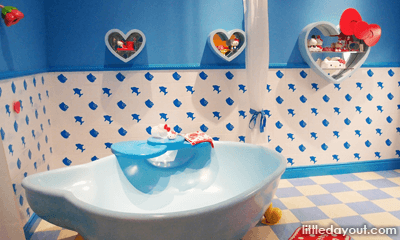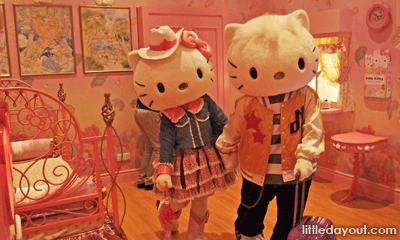 Wishful Studio
Across from Hello Kitty's Home is the Wishful Studio. Here, your child can engage in hands-on crafts and activities. Little girls will enjoy the Nail Salon where they can adorn their fingernails with lovely colours and stickers. They will also love the chance to create their very own Hello Kitty charm bracelet which can be brought home. At the Cookie Studio, kids can decorate a Hello Kitty-shaped cookie with different colours and sparkles. These activities are all included in the price of the admission.
For RM75 more, you can even make your own Hello Kitty doll to dress up and bring home.
Hello Kitty Town will also be hosting different craft specialists from time-to-time to run fun activities within the Wishful Studio.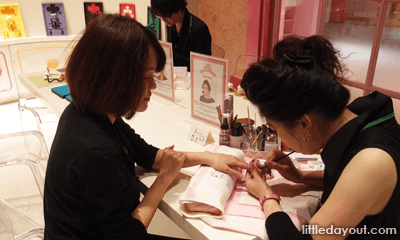 Solving the Black Wonder
Over at the other end of Hello Kitty Town is the Black Wonder. Conceptualised by Japan, you and your kids will need to solve a series of puzzles to rescue Hello Kitty who has been kidnapped and trapped within a medieval castle.

This activity will require your family to work together as a team to make your way through the Black Wonder, solve the clues and unravel the mystery of the Black Wonder.
Sit Down and Watch the Children Play
By this time, if you are ready for break but the kids are not, you can let them loose on Friendship Land, a padded playscape for them to have fun and burn off any excess energy.

For tired out adults, there is the Cinnamoroll Café directly opposite Friendship Land. Adults can have a seat and indulge in a Hello Kitty-shaped waffle or pudding while keeping a watchful eye over the kids in Friendship Land to make sure they are playing nice.
Time for a Parade
Do also catch the street parade that brings out the different characters for a Caribbean-inspired time of music, dancing and singing across town. Hello Kitty, Dear Daniel and friends take to the Purrfect Stage in this high-energy fun show where kids are invited to join in as part of the parade. The catchy tunes from the show will carry on in your head even after the performance is over.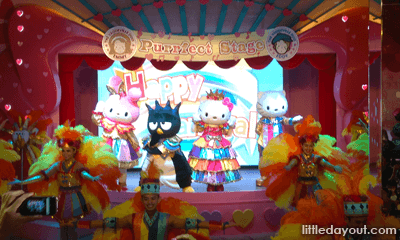 Final Thoughts
While you can buy tickets to Sanrio Hello Kitty Town alone for RM65, we would imagine that any visit would be paired with a visit to The Little Big Club which features Barney, Thomas & Friends, Bob the Builder, Angelina Ballerina and Pinggu. It is located just upstairs from Hello Kitty Town and also forms part of the to the Puteri Harbour Family Theme Park. A combination ticket to both parks costs RM110.
There are also two birthday rooms in Hello Kitty Town that can hold a capacity of 20 kids each. The birthday packages are still being worked out and Little Day Out will bring you more news on that once these are available.
Sanrio Hello Kitty Town in Nusajaya, Malaysia, is the first one outside of Japan. Being an indoor, air-conditioned theme park, it is an easy and no-fuss day out. Older kids may not find their high-octane thrills here, but then again, that is probably not what the Sanrio Hello Kitty Town is intended for. The crafts that can be made and taken away is a nice touch. While this indoor theme park is not very big, it will appeal to young kids who love the characters and relish the chance encounter them in real-life.
Practical Tips on Getting There
The Puteri Harbour Family Theme Park is 10 minutes away from LEGOLAND Malaysia by car. For those who do not wish to drive, alternative transport options including coach or private return transport arrangements are also available from websites such as www.traveldelight.biz. These can take you and your party directly to the destination and back again.