Take an intimate look at the world of butterflies at Science Centre Singapore's newest exhibition, Butterflies Up-Close.
From larger-than-life models to live specimens fluttering about, visitors to the exhibition will be immersed in the world of butterflies, discovering everything from their lifecycle to the habits of these winged insects.
Starting with an introduction to the world of insects, visitors get to discover the different types of insects and the butterfly species found around the world. Look out for dragonfly fossil on display that dates back 175 million years.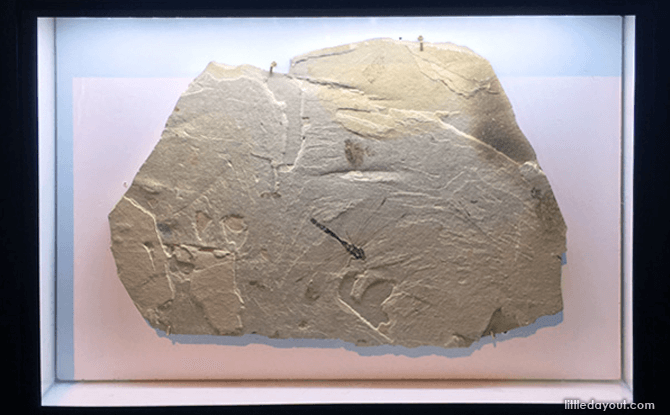 From more recent times is a collection of approximately 4,000 mounted butterflies. Laid out as an artwork, it shows off the butterflies' colourful wings as peacock would its tail.
"Honey, I Shrunk the Kids" moments abound at the exhibition, starting with supersized models of the Jezebel butterfly and Atlas moth. These provide magnified views of the differences between butterflies and moths, sans magnifying glass.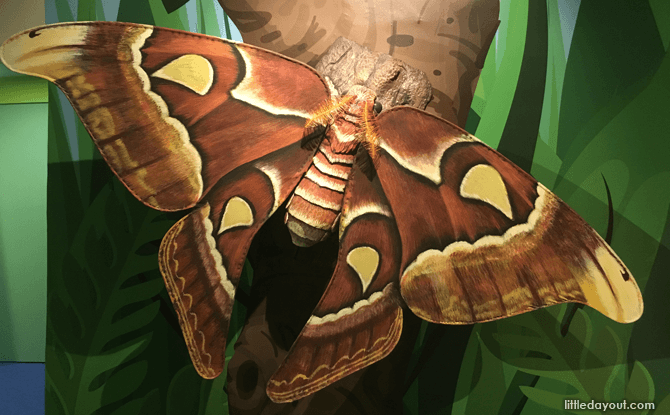 Similarly, a corridor of over-sized green "plants" provides a unique perspective of butterflies' egg-laying patterns and the actions of newly-hatched caterpillars.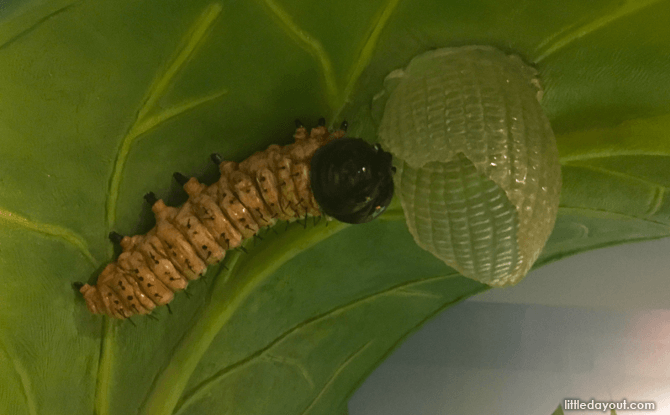 Other interactive exhibits include a giant Plain Tiger Caterpillar model visitors can climb on, an activity station where visitors can "dress-up" a caterpillar and a two-caterpillar crank race that demonstrates a caterpillar's locomotion.
However, the highlight of Butterflies Up-Close is the indoor butterfly enclosure.
With more than 500 live tropical butterflies, inside the enclosure, visitors get a close-up look at a variety of butterflies. From the blackish King Crow butterflies to the Common Rose, voted Singapore's National Butterfly in 2015, these delicate winged insects can be found in every corner of the enclosure.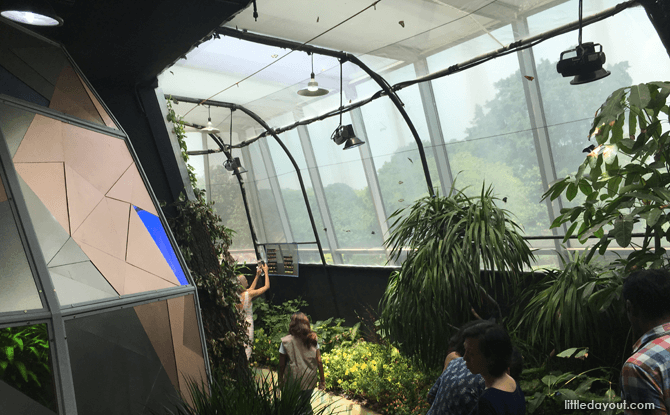 The vivarium is temperature- and humidity-controlled and if you find it slightly warm, that's because the environment is designed to suit the butterflies, not humans. As cold-blooded creatures, butterflies need warmer temperatures of around 29 to 30 degrees Celsius to remain active.
Fruit laid out on platforms provide an opportunity to view the butterflies feeding.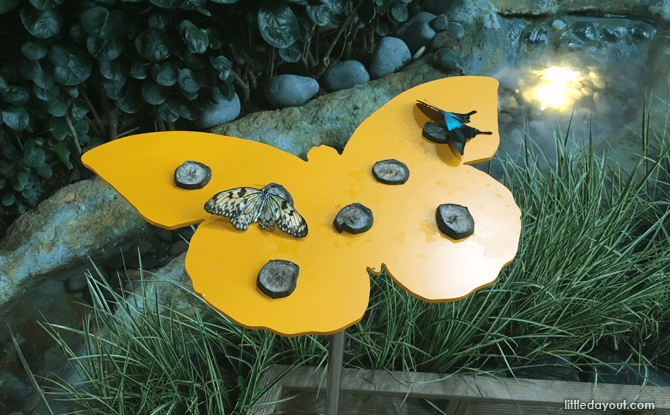 When not fluttering around, you will find the butterflies concentrated by the window – trying to warm up in the rays of the sun.
Also along the wall are rows of pupas. If you are lucky, you may even be able to spot a newly minted butterfly, drying out its newfound wings in preparation for its first flight.
Don't be surprised if they decide to fly to you too.
The futuristic-looking pod in the centre of the enclosure is a research lab where you can examine butterflies specimens under a microphone or admire the iridescence of butterfly wings under a spotlight.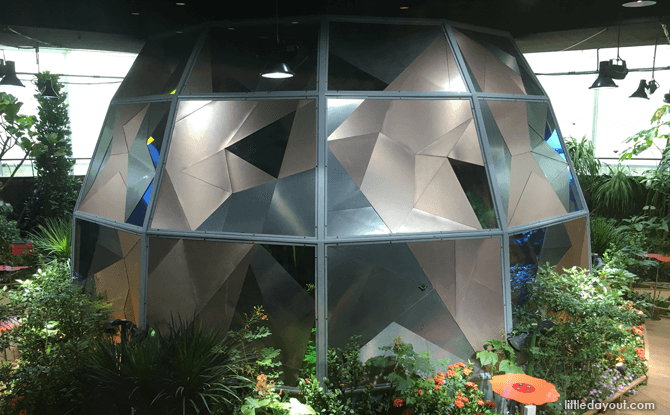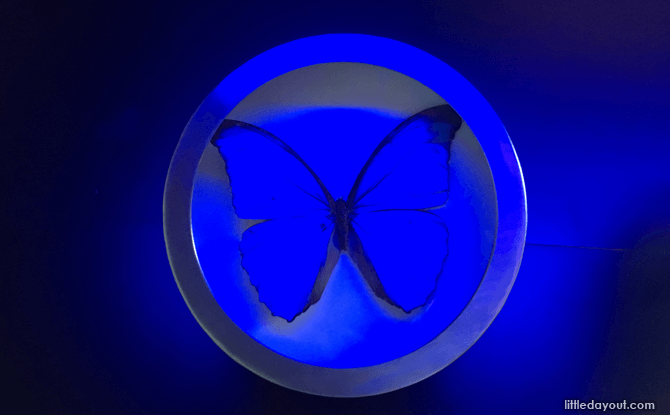 Butterflies Up-Close is presented by Science Centre Singapore in partnership with Sentosa's Butterfly and Insect Kingdom. It provides an interactive way for visitors to learn about life sciences through immersive experiences.
"We hope that the attraction will foster a deeper appreciation toward the often misunderstood invertebrate communities, and create a greater awareness for such species who share the same planet with us," said Associate Professor Lim Tit Meng, Chief Executive of Science Centre Singapore.
Butterflies Up-Close is located at Science Centre Singapore Hall D and opens to the public from 30 April 2016 onwards. It is a gated attraction and tickets are priced at $10, excluding admission to Science Centre Singapore.