Ever wondered how to get the kids off the screens and outdoors? We were invited to a child-friendly nature experience at EcoTrail by Web of Life at Lorong Chencharu and found it to be a thoroughly immersive and experiential time. It was a great way for children between the ages of 3 to 10 to enjoy themselves while learning about the eco-system.
---
Overview of EcoTrail by Web of Life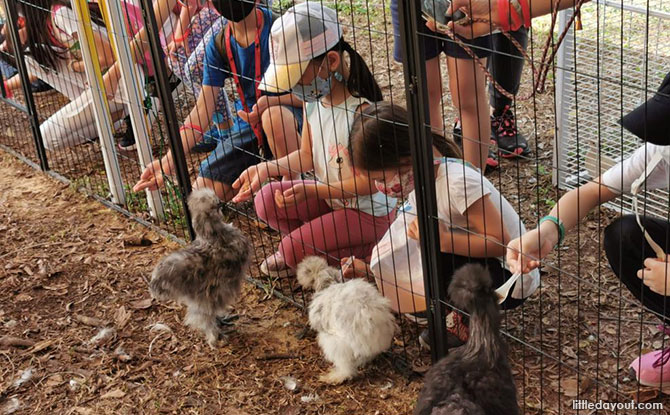 Located in Yishun in the vicinity of Ground Up Initiative and the Live Turtle and Tortoise Museum, EcoTrail is all about ecosystems and learning how different organisms make up the web of life, are interconnected and interdependent on one another.
There are three main ecosystems the children and families will learn about: animal ecosystem, insect ecosystem and plant & water ecosystem.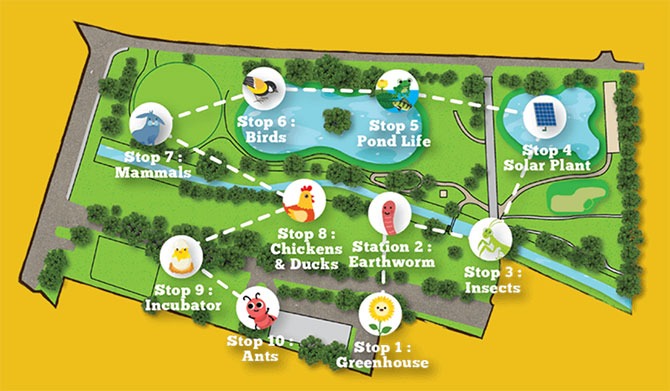 There are a total of 10 stations: Greenhouse, Composting, Insects, Solar Plant, Pond Life, Birds, Mammals, Chickens & Ducks, Incubator and Ants.  Groups of about 20 finish the 1.5 hour tour of the trail which takes participants around the rustic area that is possibly a wilder part of Singapore.
---
Learning about Energy
Our first stop featured plants. Amidst the lush foliage and farmplots, the lessons taught could be seen, heard, felt by the participants. It brought all the Science lessons to life instantly.
We learnt about how plants grow and make food. This was essential to our ecosystem as plants provide food and air for other living things, they also require other elements in the environment to help them grow.
The children then took home soil with seeds to grow. This was a great opportunity to learn more about plants through the growing of seeds!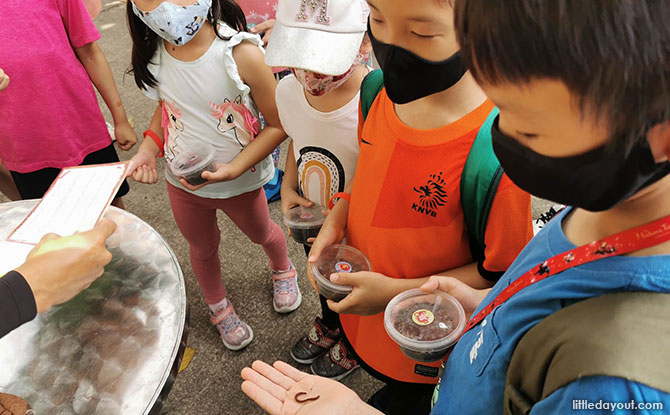 We then learnt about composting and how earthworms helped in the composting process. Waste can be broken down into nutrients for plants! The cycle is essential for life to continue. The facilitator then touched on insects we could see throughout our walk – dragonflies, ants, grasshoppers, pond skaters.
I liked how sustainable energy was taught in a simple manner, easy enough for the youngest to understand the concept of limited energy. Hence instead of relying on energy sources that are limited, the children were reminded to rely on energy that is clean and renewable. We then saw first hand, solar panels installed on the pond that transforms sunrays into solar energy.
---
Touching and Feeding Animals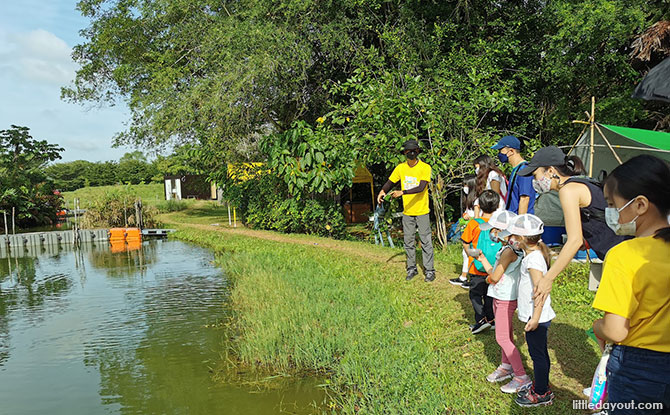 The children had a field day touching and feeding animals too! For animal lovers, this was paradise!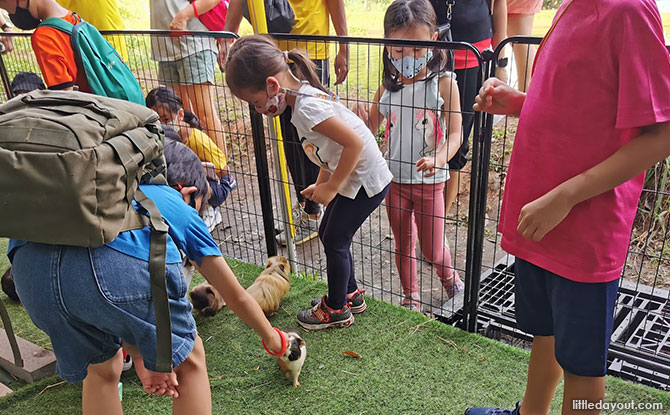 We had fun learning about different animals, held earthworms, fed Silke Chickens and saw other birds like Polish Chickens, Shrikes, Lovebirds, checked out fish and terrapins, petted Guinea Pigs and checked out Stick Insects and Praying Mantis.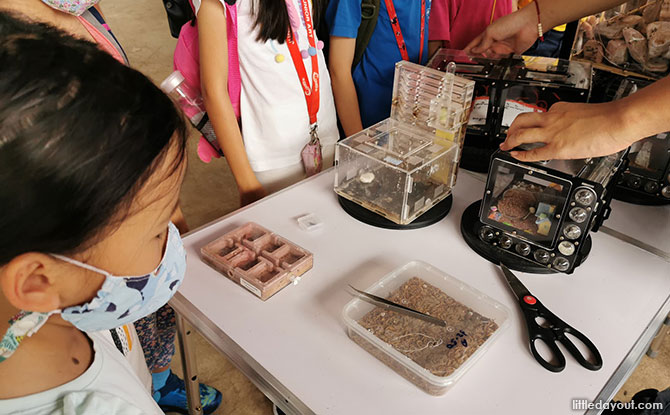 Of course, getting up close to the animals was the best bit of the experience to the children! Seeing the animals in various life stages also taught them how animals grew. They could also observe how different animals had different diets, and you could tell what kind of food the birds eat from the shape of their beaks!
---
Review of EcoTrail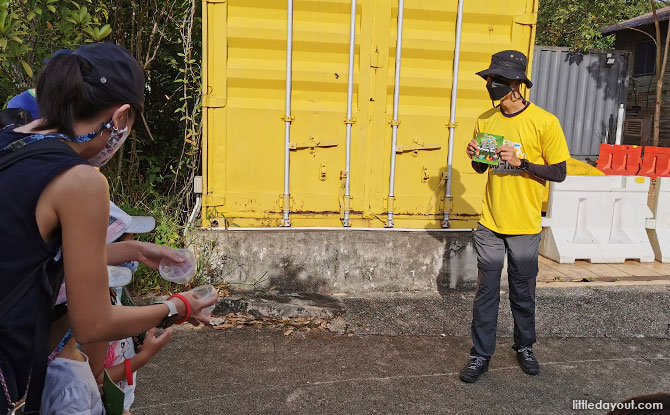 We loved it! The walk was planned well and you could tell a lot of thought was put into curating the exhibits to highlight different aspects of the ecosystem. Our guides engaged each child well and ensured that even the youngest could participate by guiding them gently back to the main activity.
Each child was also given a booklet so they could take it home and consolidate their learning through activities in the booklet.
It was an easy trail that can be done by city kids who want a glimpse of nature without getting dirty. I felt that this was perfect for any family keen to get some nature learning done since it was just a 1.5hour walk. It was definitely beginner-friendly even for little ones.
The experiential factor helped to enliven the lessons and we would welcome even more hands on activities like digging through the soil to find worms or harvesting fruits and vegetables.
I would recommend the walk for 3-8 year olds. But there is something to learn given the richness of the biodiversity. We could see a few migratory birds while walking too.
Do bring insect repellent and try to book early morning slots or late afternoon slots for a cooler time. Also bring along plenty of fluids to stay hydrated.
---
A Wonderful Nature Walk to Encourage Biophilia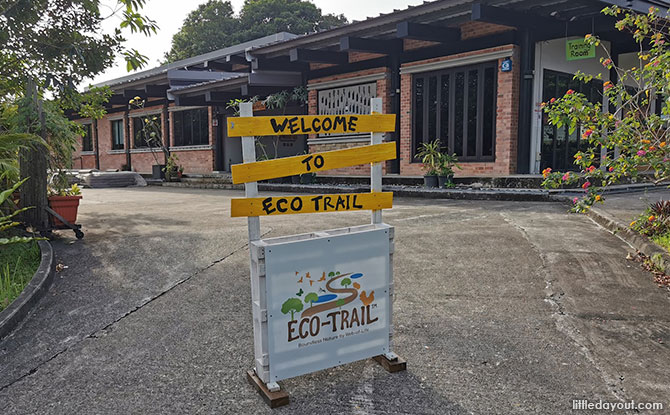 Nurture the love for nature in your child at EcoTrail. The immersion in an environment rich in flora and fauna will be one way to help your child appreciate food on the table (perhaps their greens?), the wonders of the ecosystem and be more mindful about resources and energy usage.
To book your spot on EcoTrail, head to this site.
EcoTrail is located at 91 Lorong Chencharu and open 9 am to 5 pm on weekends and during school holidays.