When looking at our cosmopolitan city, it's easy to forget that Singapore has several farms along with a passionate community of farmers. Although you might be able to find the stereotypical scenes such as of large plots of land, straw hats, and the sound of animals in the background of some farms, here are some Singapore farms to visit and show your support!
---
Best Singapore Farms To Visit
Jurong Frog Farm
Take a trip and visit Singapore's only heritage frog farm! Jurong Frog Farm is a familiar name to many of us and we've been to Jurong Frog Farm for multiple visits. The only licensed frog farm in Singapore, Jurong Frog Farm has reared American Bullfrogs since the 1980s and now hosts educational tours and activities for anyone who wants to learn more about frogs. You can also visit their farm and try fresh food products such as frog meat, crocodile tail, venison, and locally-produced Hashima, also known as Snow Jelly.
Read more about our visit to Jurong Frog Farm here.
---
-- Story continues below --
---
Hay Dairies Goat Farm
The only goat farm in Singapore since 1988, this is the best place to be if you want to find out more about goat farming and of course if you're looking for the place to get the freshest goat milk in Singapore. At the farm, you can watch how the farmers milk, feed and care for the goats. You can also purchase pallets to feed the goats on your own! Hay Dairies Farm conducts educational farm tours regularly but also offer a free and easy option for anyone who wants to chart the course of learning by themselves. Admission into Hay Dairies Goat Farm for a free-and-easy visit is free. However, groups of 10 or more will have to make a booking with the farm.
Read more about our visit to Hay Dairies here.
---
Bollywood Veggies
We've been told as kids (and have probably been telling ours) to eat our veggies! Bollywood Veggies is a great spot to not just teach kids about the process of planting, growing and harvesting this important food group, but they also have a café that you can dine at to try dishes made out of the freshest produce that is grown on the farm. Bollywood Veggies is also Singapore's largest producer of bananas with more than 20 varieties. Other activities to look out for include purchasing some fresh produce for your next homecooked meal, shopping at the Bolly Jolly Farmer's market, and exploring the Bollywood Bhanchha & Food Museum.
Read more about our visit to Bollywood Veggies here
---
Qian Hu Fish Farm
Proud to call themselves Singapore's leading integrated one-stop ornamental fish service provider, Qian Hu Fish Farm's services range from the breeding of Dragon Fish to the farming, importing, exporting and distribution of ornamental fish as well as manufacturing aquarium and pet accessories. Join in one of their guided tours that teach participants in greater detail some of the origins of the unique fishes on their farm. They even offer a fish spa package for anyone who wants to experience this unique way of sitting back and relaxing.
---
City Sprouts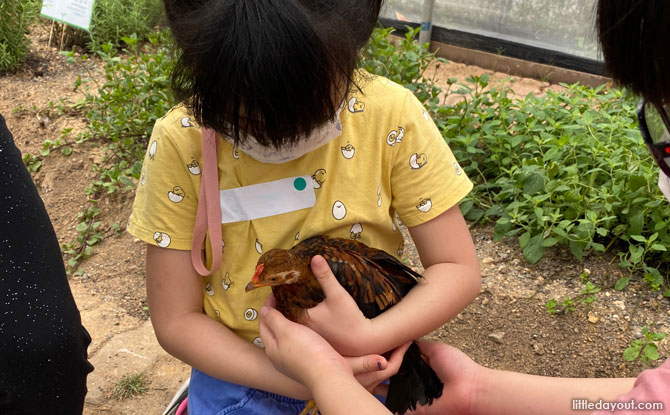 Interested to have a chat with urban farmers in their personal little greenhouses? City Sprout is Singapore's first plot share urban farm where urban farmers can gather to exchange knowledge and have access to their own pesticide-free produce. This Singapore also conducts tours suitable for different ages and occasions and they were our partners for a few of our online virtual camps.  From getting to talk to the farmers to holding a silky chicken, see the fun our campers had at City Sprouts here.
---
Bee Amazed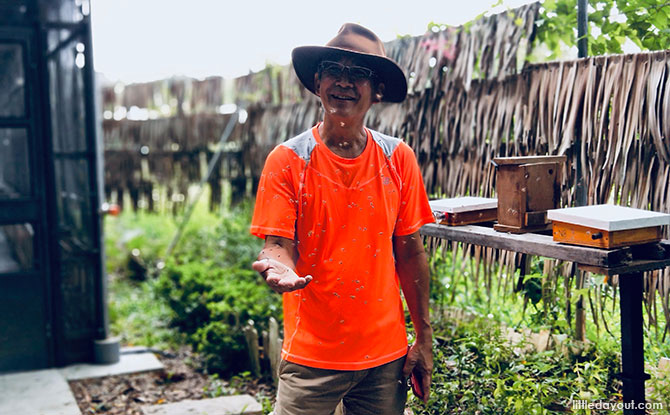 Located in the depths of Lor Chencharu, the Bee Amazed garden is run by former educator John Chong who has now turned his colony of bees into his own backyard classroom. Join a tour to learn from the bees by walking through John's observation gallery and meeting the bees up close but at a safe distance. At the end of the tour, you can also experience a honey tasting sessions featuring My Honey, Bee Amazed range of honey specially brought in from Israel. Read more about our visit to Bee Amazed here.
---
Kok Fah Technology Farm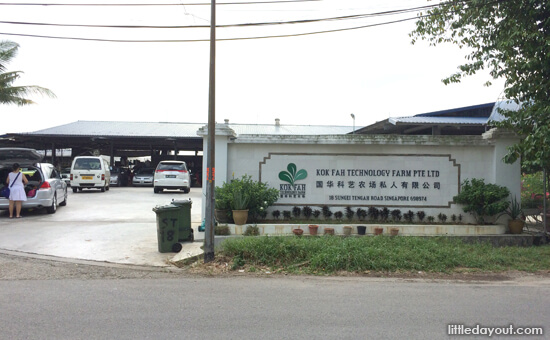 Pay a visit to this vegetable farm at Sungei Tengah. There is a weekend market where you can buy vegetables just tens of metres from where they are grown. It also has plants and flowers for sale. Kids can wander around its rustic environment. The family-friendly spot keeps kids entertained with its tanks for fishes. There is feed available too. It is open on weekends and public holidays, 9 am to 5 pm, only.
---
Animal Resort
Reminisce the kampung days back by taking a visit to the Animal Resort. With various species of animals such as horses, birds, rabbits, storks, peacocks and more, visitors will be able to visit this Singapore farm with kids and get some close encounters and interactions with the residents on the farm. The Animal Resort Farm is open on Friday, Saturday, Sunday and public holidays. Admission is by registration only and you can book your farm visit by visiting the Animal Resort Website.