This year, Pesta Ubin 2019 is being held from 18 May to 30 June. Themed "Support Ubin Businesses" Open House, Pesta Ubin is Pulau Ubin very own island Open House.
Held annually since 2014, Pesta Ubin – with "Pesta" meaning festival or party in Malay – is heartfelt, organic and wholly community-led and a great way to really get to know Pulau Ubin.
Pesta Ubin 2019 – Support Ubin Businesses
For Pesta Ubin 2019, organisers are hoping to increasing the visibility of and support for the unique businesses and services that everyone visiting Pulau Ubin enjoys; from the bumboats to the local food vendors.
With activities scheduled all month, there will definitely be something that piques your interest. Here are some key events that you can look forward to at this year's Pesta Ubin.
---
-- Story continues below --
Hari Raya Crafts Workshops
Spend Hari Raya with Ubin's residents at Pesta Ubin's first Hari Raya Crafts Workshop. Learn how to make ribbon ketupats and make your own Hari Raya Cards in this free activity. The ketupats will be used to decorate the Public Jetty and Main Village in celebration of the festive Hari Raya season. Find out more about these workshops taking place on 26 and 27 Mary 2019 here.
Ubin Day
Visit Pulau Ubin on Saturday, 29 June 2019 for Ubin Day. There will be activities and booths organised by different Ubin interest groups along with kid-friendly activities. Ubin Day takes place from 9 am to 4 pm so be prepared for a full day of fun.
Balik Chek Jawa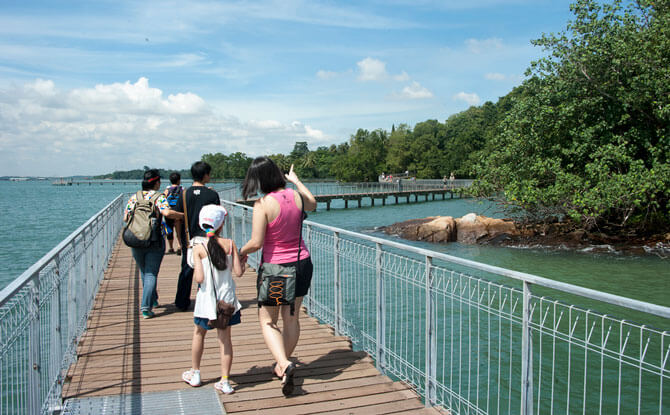 Always considered visiting Chek Jawa? There is no better time to do so but on 2 June 2019 during Balk Chek Jawa – the Chek Jawa Open House. Get to meet volunteer guides along the boardwalk and learn about the amazing inhabitants around the shoreline.
Pesta Ubin Run by Coffee Tea Runners
If you love a good run and want to experience some fresh Pulau Ubin air, sign up for the Pesta Ubin Run with Coffee Tea Runners, and make some new friends along the way!
Wake up nice and early on Sunday 26 May 2019 to be a part of this no-frills 12 km run around the island, and enjoy the best – and most unspoilt – that Pulau Ubin has to offer. 
Hands-On with Young Nautilus
The little ones can get in on the action too during Pesta Ubin 2019!
Find out more about our marine life through interactive games and such organised by Young Nautilus, an education enrichment partner for schools and families that provide fun and engaging science learning journeys.
Visitors will get the chance to see taxidermised sea turtle specimens or feel up specially designed Mystery Boxes aimed at teaching us about the dangers our marine life are facing due to actions.
This will be held on 19 May, and 2, 5, and 29 June at the Nature Gallery opposite Ubin Jetty from 10 am to 4 pm, all are welcomed and no registration fee is required.
To keep updated on Pesta Ubin 2019, go here.