Exams are out of the way and it's PSLE marking days for 4 whole days! Just how can you keep your kids occupied? Little Day Out suggests a mini-calendar weaved round the free storytelling/workshop sessions held at the various libraries:
Monday, 15 October 2012
The Fearless Twins And The Magical Kaleido: A Narrow Escape
2.00 pm – 3.00 pm @ Central Public Library
Take a ride with Toby, Tammy and their fun loving Uncle Al. Armed with an incredible magical device, the twins swoop back in time to Singapore in 1935. Let you kids look forward to an interactive time with a craft activity kit and stickers to bring home!
Mondays: 1.00 pm to 7.00 pm, Tuesdays to Sundays: 9.00 am to 7.00 pm @ Singapore Philatelic Museum
Hop down the road to Singapore Philatelic Museum and let your kids' imagination continue to fly as they discover dragon legends in every continent in the world at this year's Dragon-themed gallery. Discover what makes the mythical creatures tick, explore a dragon's lair and unearth some 'real-life' dragons.
Tuesday, 16 October 2012
8.45 am – 9.45 am @ Harbour Front Tower 2 or Mount Faber
Get into the skin of an Angry Bird and soar away with the Singapore Cable Car atop Mount Faber. Enjoy the magical experience with the famed plush companions.
10.00 am – 10.00 pm @ VivoCity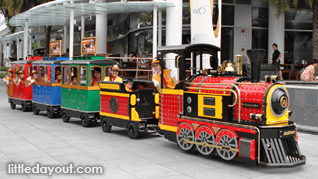 Get back down onto land and be transported back to the 19th century in the Mini Express outdoor electric train service. The scenic ride will let you take in picturesque views along the 300-metre waterfront Promenade of VivoCity.
Then end off the day with a good splash at the wading pools on the rooftop of VivoCity or at the open-air playground on the second floor.
Wednesday, 17 October 2012
3.00 pm – 4.00 pm @ Sengkang Public Library
How much do your kids know about Man and Human History? How fast can they solve a crossword puzzle? Challenge yourselves to find out. Get creative in the 'Let's Be Inventors' contest and your masterpiece could win you great prizes!
10.00 am – 6.00 pm @ Singapore Science Centre
Let them continue the learning about humankind – themselves! – at the Singapore Science Centre. Let them think about what makes them special, why they look different, think differently or behave differently from others!
Thursday, 18 October 2012
3.00 pm – 3.30 pm @ Bishan Public Library
There was once a happy little girl named Lisa, whose life turned around when her parents met with a car accident. Learn how little Lisa overcame her fear and problems, and as a result, changed for the better!
Bishan Playground Fun!
Bishan Bus Terminal Playground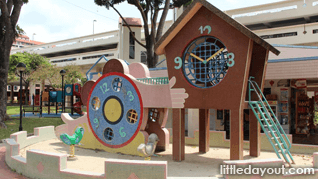 Let the kids have some good ole fun at this cuckoo and alarm clock-inspired heritage playground, near the Bishan Public Library.
Wallholla Vertical Playground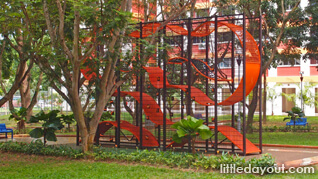 Venture a little further in Bishan for some vertical adventure!
Or explore the expansive Bishan-Ang Mo Kio Park!
Have four great Little Day Outs this PSLE Marking season!